As one of the most biologically diverse places on earth, Corcovado National Park attracts wildlife and nature lovers from every corner of the world. Due to the many diverse tropical ecosystems, wildlife ranging from the mysterious jungle cats to the colorful scarlet macaws call this area home. Every visitor who comes to this national park is on a mission – to see as many animals possible and discover this little corner of Costa Rica.
As this area is a bit more remote than the rest of the country, picking the perfect place for your Corcovado trip can be a bit tricky. There are limited hotels and they're not an easy drive from SJO airport. However, there is one hotel that makes this all easy and allows you to get as close as possible to the national park without sacrificing comfort, Casa Corcovado Jungle Lodge.
We stayed at Casa Corcovado Jungle Lodge for 2 nights and we never felt closer to nature during a hotel stay. Want to know more? Read our 10 reasons why you should choose Casa Corcovado Jungle Lodge as your home base to explore Corcovado National Park.
The boat ride
Casa Corcovado Jungle Lodge is only reachable by boat and it is a gorgeous 2 hour boat ride from Sierpe. You go all the way down the Pacific Coast so you get beautiful views of the Sierpe river, the biggest mangroove forest in Central America, Drake Bay and the rest of the Osa Peninsula. It is one of the most beautiful boat rides we've ever gone on in Costa Rica.
One nice thing Casa Corcovado offers is that they have their own private dock and boat at Sierpe. Their office and boat dock is very close to where the public boat taxi to Drake Bay is but they have their own private parking lot, their captain is one of the best in the area and you don't have to crowd into a boat with other passengers. They also wrap up your luggage which is very nice!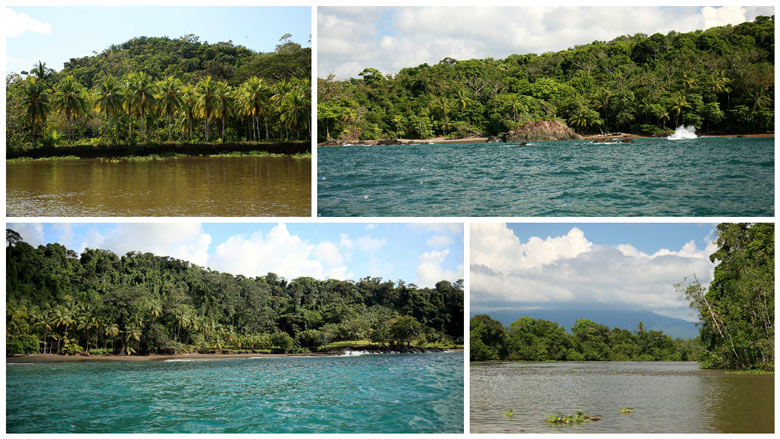 They are truly an eco-lodge
Eco-friendly travel and sustainable tourism is a big deal in Costa Rica and while many hotels advertise them as eco-friendly, it's not always true. If you're concerned about your carbon footprint, Casa Corcovado is a true eco-lodge, awarded 5 leaves which is the highest recognition from the Costa Rican Tourism Institute.
They use a solar power system to generate energy, a mini-hydroelectric turbine and utilize other eco-friendly practices for waste and water. They don't use air conditioning (you won't need it), they change sheets/towels every 3 days and hot water is powered by a combination of solar power and propane.
The lodge's mission is "Different by nature" and "Working with nature" and their main goals are to offer a luxury experience while maintaining the lowest amount of disturbance possible. They are truly a model for sustainable tourism in Costa Rica!
They offer all-inclusive packages to make it easy
All your meals, tours and transportation are included in their all-inclusive packages so you don't need to worry about any of it. They means transportation from SJO airport by air and then to the lodge by boat. For tours, they also include rubber boots if you need them and they have a small gift store where you can buy necessities like toothpaste and medicine.
You can choose from a variety of packages such as Classic, Wedding Bells and Ultimate Jungle Safari so there are options for everyone. All you have to do is select how many nights you want to be there, what tours you want to do and all done!
You're right next to the national park
You're so close that Casa Corcovado Jungle Lodge has its own private trail to the San Pedrillo Ranger Station in the national park. Most packages include a hike to the station so unlike other tours where you go to San Pedrillo by boat, you walk the trail from the lodge's property. This gives you more chances to see wildlife (it's frequented visited by tapirs) and learn more about this unique part of Costa Rica.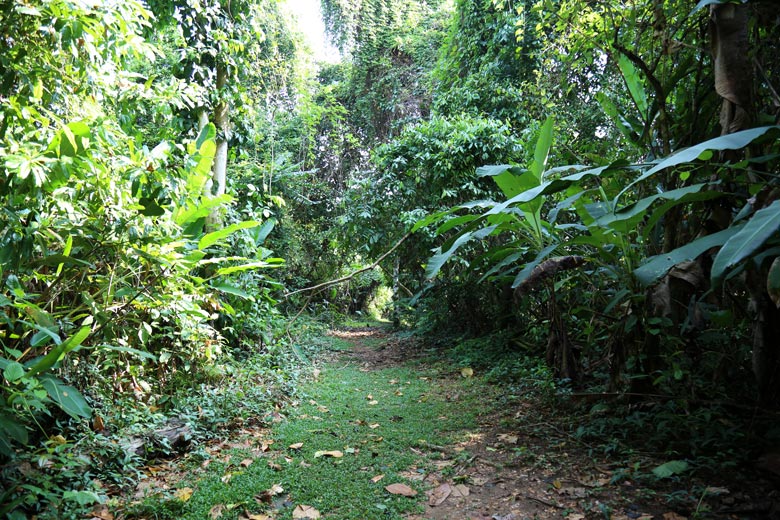 The beautifully landscaped property
The hotel is on a 170 acre property right where the jungle meets ocean. You can spend a whole day hiking their private trails, visiting the waterfall and bat cave and walking along the beach.
Up at the hotel, the entire property is beautifully landscaped and maintained, filled with a variety of trees, flowers and plants. Each spacious bungalow is intricately designed to allow maximum air flow and plenty of privacy. They obviously spent a lot of time making sure that their layout harmoniously blended in with the pristine nature of the national park.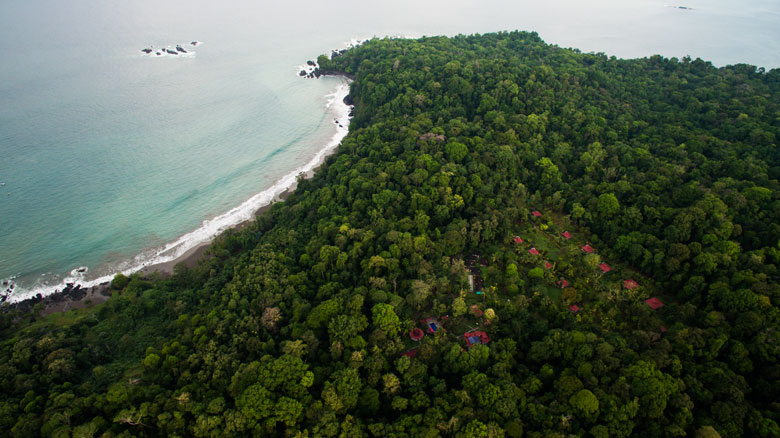 You don't have to go far to see wildlife
Since the lodge is right next to the park, it isn't uncommon for wildlife to wander over. Tapirs commonly use the exact same trail visitors hike to get to San Pedrillo Station, coatis meander throughout the gardens, birds make their nests in the trees on the property, snakes and frogs can be found on the trails and ocelots regularly wander around the edge of the hotel.
We saw tapir footprints on the trails and ocelot scat at the Margherita Sunset Point. Our guide set up a trap cam at Margherita Sunset point and photographed an ocelot there a few times! He also set one up on the trails which caught an adult tapir checking the camera out.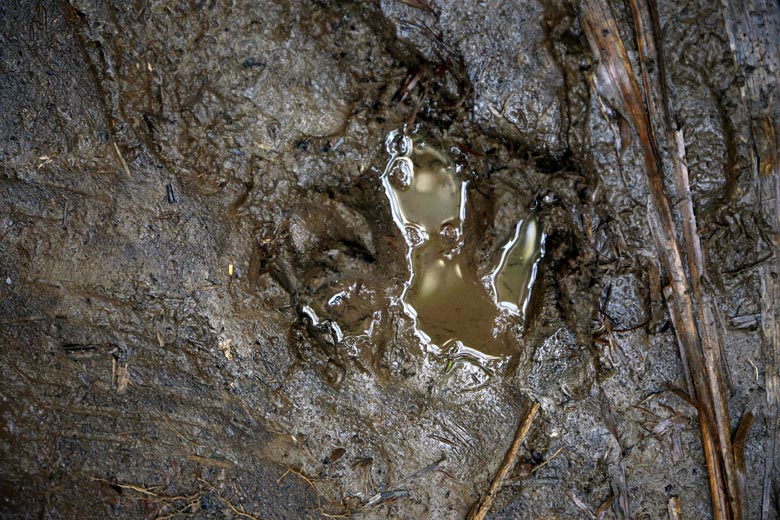 Spacious rooms
They have 3 different bungalows: honeymoon suite, deluxe bungalow and junior suites with more than enough space for couples and families. The queen beds all come with a mosquito net, there is a sitting area and the toilet and shower each have their own enclosure.
Our bungalow had 4 queen size beds which is more than what we needed for 2 people (we used two of them to put our equipment on) and the beds were incredibly comfortable. After a fun day hiking/snorkeling/exploring, there's no better feeling than resting your head on a soft pillow!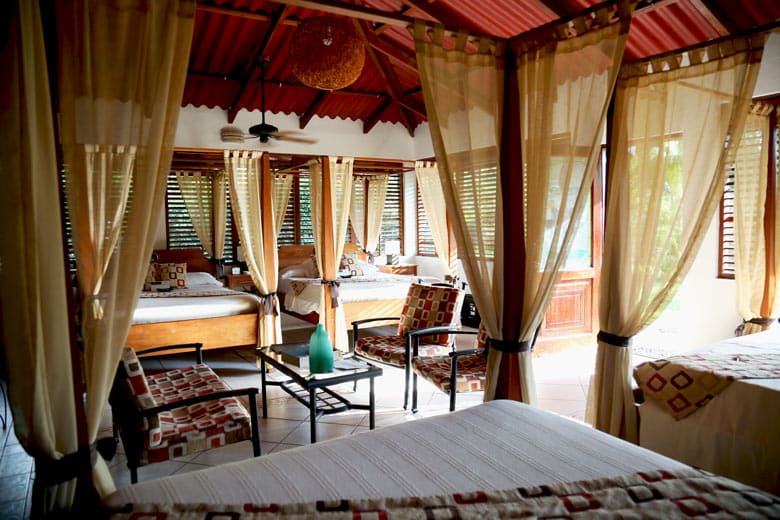 Gorgeous sunsets at Inspiration Bay
There are two places to see the sunset on the lodge's property: Margherita sunset bar and Inspiration Bay. Most guests go to the sunset bar because there are seats, snacks and drinks. However, you can't actually get a clear view of the sunset from that point, so the next best place is Inspiration Bay.
At Inspiration Bay you get gorgeous views of the coast, including a full view of the sunset. It's a short walk from the hotel to the bay and this is also a place ocelots like to visit, so keep your eyes open when you go!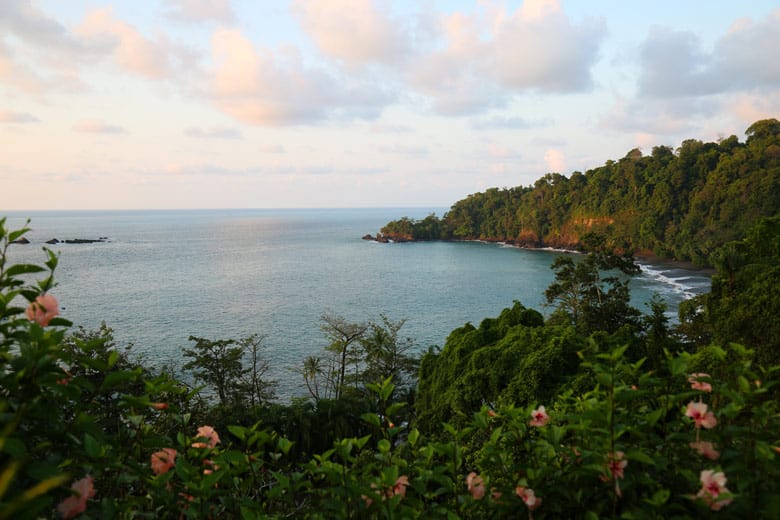 The food
With no restaurants or supermarkets nearby, one would hope the lodge had good food and they do. You get to choose your breakfast from a few options such as typical, American or something else. Lunch is set and dinner consists of a salad, soup, a main course and dessert that changes everyday. Yum!
It's even more amazing when you realize that all of the food was brought to the hotel by boat!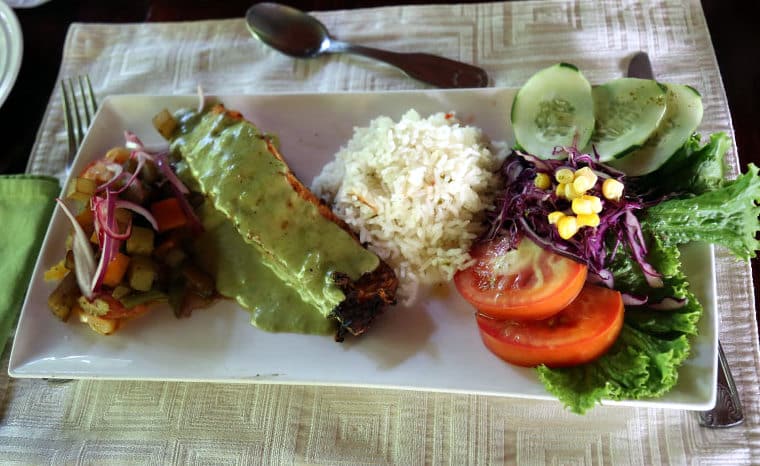 Get away from it all
There's no other hotel in the Osa Peninsula that offers something like this. It's the most remote lodge in the area and the closest to the national park, creating an unforgettable experience for all their guests. You're in the jungle, but staying in style. All their guides are passionate about nature, wildlife and Costa Rica which you automatically feel when you talk to them.
Food is top notch, the grounds are simply beautiful and you feel like you have your own piece of jungle paradise. Every bungalow has the utmost amount of privacy, so your only neighbors are birds. Lay in the hammock surrounded by the trees and discover the beloved destination that is Corcovado National Park.
Watch our video to see what the lodge is like.
Huge thanks to Casa Corcovado for hosting us!