For New Year traditions in Costa Rica, Ticos sure do know how to party! Playas del Coco gets crazy on the night of Dec. 31st. And I mean there are thousands of people just absolutely packed onto this one small street of the town stretching all the way down to the beach.
One year, we spent it at one of our friend's house with his family and then went to town right after midnight. We had a late dinner on his rooftop and once 12 AM rolled around, you could see fireworks from all over with the fire balloons flying all around (the paper lanterns they light and let off into the night).
Now going out and partying is the thing to do for New Years especially as a youngster but some traditions still hold strong. I spent it with Yeison and our friends and got to experience the best of both – crazy pelota and quiet countdown with a Costa Rican family of three generations.
Radio Reloj – Before big screen TVs and instant messaging, the way to spend New Years was to gather around with family and friends and listen to the radio. Radio Reloj is the name of the program where they just talk about life in general and countdown until midnight.
Eating Pork Leg
For New Year's eve dinner, they normally eat fairly late (we ate around 10) and it's tradition to eat pork leg. We also had mashed potatoes, vegetables, pineapple salsa and salad. Yum!
12 Grapes
This tradition seems to exist in many countries and also in Costa Rica. Once midnight strikes, eat 12 grapes for good luck. We didn't eat any but hopefully we'll still have good luck for the coming year!
Walking around with your suitcase
For good luck and future travels, they have a tradition where you fill up your suitcase and walk around your neighborhood with it. Seem a bit silly but hey, do whatever for travel right?
Wear yellow underwear inside out
Interesting… didn't ask if our friends did this but that's OK.
Throwing coins in your house
Old tradition which we didn't do but now I wish we did!
Washing the entrance
This is right after midnight, not at midnight.
Our New Years
We sat around, listened to the radio, lighted a couple globos, watched fireworks and enjoyed some wine. Unfortunately there were a few tall trees in front of us so we couldn't see the beach fireworks very well but our neighbor and the people at the top of the hill were lighting fireworks like crazy!
This was taken with our GoPro so the low light isn't the best and the fireworks are far away. Lighting and setting off a balloon isn't a tradition, it's fairly new but still fun all the same.
And another tradition for those who suffer from the goma the next day, the best hangover food in Costa Rica is, what else but gallo pinto. Gallo pinto with some carne en salsa and bread. Yum!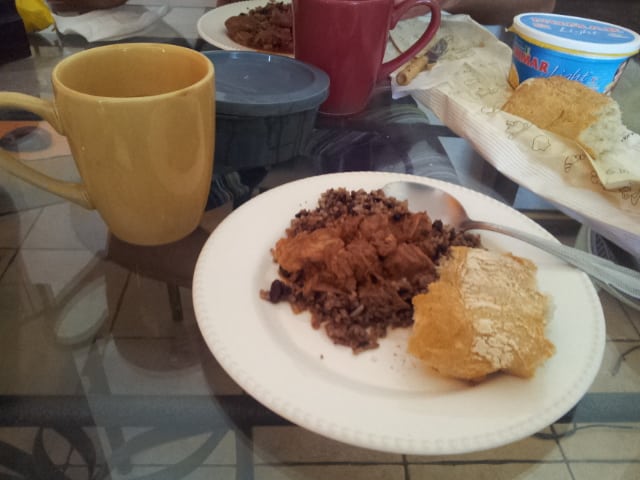 As my second new year in Costa Rica, I would have to say it went pretty well. Great food, good company, finally got to see some fireworks and experienced some of the craziness downtown. Wonder where we will be celebrating the coming of 2015!
Learn more about the culture of Costa Rica