Have you ever seen photos or videos of people surfing in dreamy, tropical destinations and wished that it was you? Well stop dreaming and make that a reality! With a plethora of surfing beaches all up and down the coast, Costa Rica is a true surfing paradise. You can sign up for a lesson or get really into it by joining a surf camp. If learning to surf has always been on your bucketlist, then a surf camp is the best option for you.
We spent a few days with Surf Expedition Costa Rica, a surf camp down near Pavones, one of the most remote parts of Costa Rica. Read our post to see what we thought and why you should join this surf camp in Costa Rica!
Surf Expedition Costa Rica Surf Camp is 371 kilometers (231 miles) and a 6 hour drive from San Jose. It is 7 kilometers (15 minute drive) from Pavones and a 1 hour drive from Golfito in the southern part of the Puntarenas province.
The Surf Camp
When it comes to location, I have to say that there are not many surf camps in Costa Rica with a location as fitting as Surf Expedition. It has everything you would imagine for a surf camp in Costa Rica: thick jungle, uncrowded waves and abundant wildlife.
The closest town is Pavones but you won't find any condo towers, all-inclusive resorts or big buildings in this part of Costa Rica. Instead, you'll find a tiny town and an expat/immigrant community that was brought together by one passion: surf.
Pavones has one of the longest left hand waves in the world and because of this, surfers from around the world visit one of Costa Rica's "best kept secret." At the same time, they are trying to keep it a bit hush hush so they can have this incredible wave all to themselves.
And as you can see, this makes it a very ideal spot for a surf camp!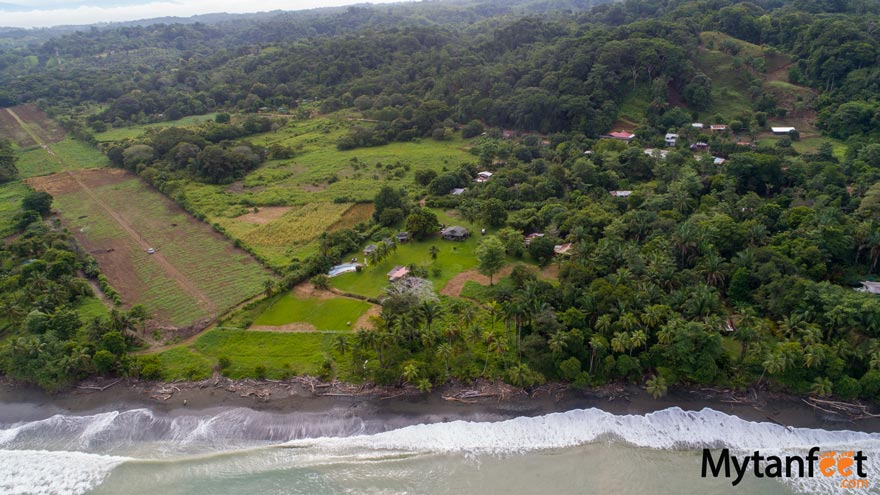 Tucked away in the corner of Pavones Bay, it's the perfect escape from the hustle and bustle of everyday life. Guests can spend a week immersing themselves in surf and reconnecting with nature to truly "get away from it all." Wi-Fi is unavailable at the camp to encourage guests to get to know each other, converse, laugh, share stories and have fun in the moment. At Surf Expedition, you'll make cherished memories and invaluable relationships that will last a lifetime.
Accommodations
Surf Expedition offers dorms (cheaper) and private bungalows (more expensive). Although the highlight of the surf camp are not the rooms, the simple bungalow we stayed in for 3 nights was quite comfortable and spacious. This area is very humid but it cools off at night and we slept well with a fan.
Surf Lessons
For the one week surf camp, there are usually two lessons a day depending on the tide and they go almost everyday. They had two instructors when we were there: Jack, an Australian and Cedric, who took care of the French speaking clients (the owner is from Montreal so they have a lot of French speaking guests).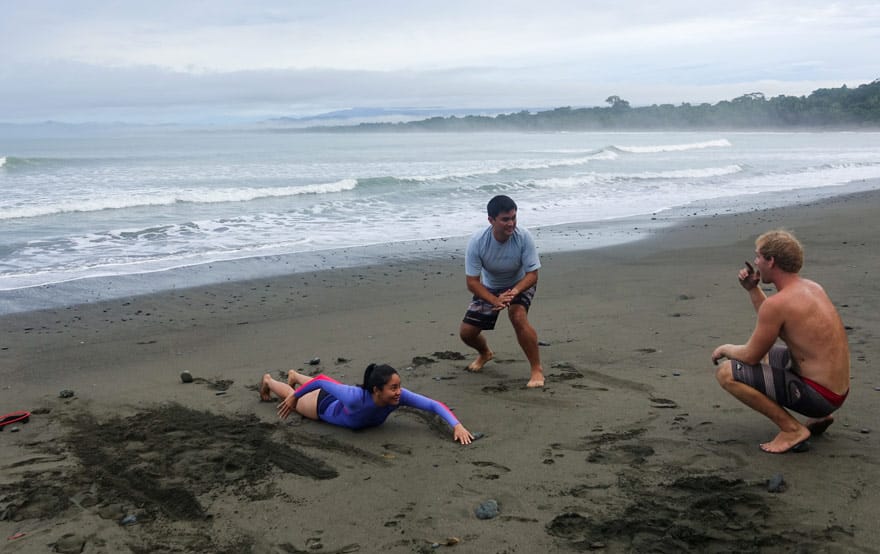 For our first lesson, they took us to a beach about a 2 minute drive from the surf camp in Pavones Bay. I couldn't believe just how perfect the waves at this beach were for beginners and first timers! Jack gave us a quick introduction and we did a short practice in the sand before heading out.
Small Class Advantages
Another advantage to their location is the amount of people. Since it's such a remote area with only one other surf school around, we had the entire beach to ourselves. In fact, for the two lessons we had, our group was the only one out there! And since classes are no more than 4 students per instructor, we had the most personalized attention which was awesome.
It's so different to surf on a beach packed with people to an empty one. If you go to other popular surf destinations in Costa Rica like Jaco, Hermosa, Tamarindo, Grande, Dominical, Cocles or Avellanas, there will always be lots of people. Don't get me wrong, it's a lot of fun to be around other people but when you want to sharpen your skills and not have to fight others to catch a wave, an empty beach is as good as it gets!
Our Experience with Surf Expedition Costa Rica
Jack paddled out with us and helped Yeison and I with popping up and turning. Yeison and I have taken several surf lessons in Costa Rica before but Jack was excellent and honestly much better than some other instructors we've had in Costa Rica. His knowledge, charisma and gregarious personality really helped boost my confidence and made me trust him as an instructor.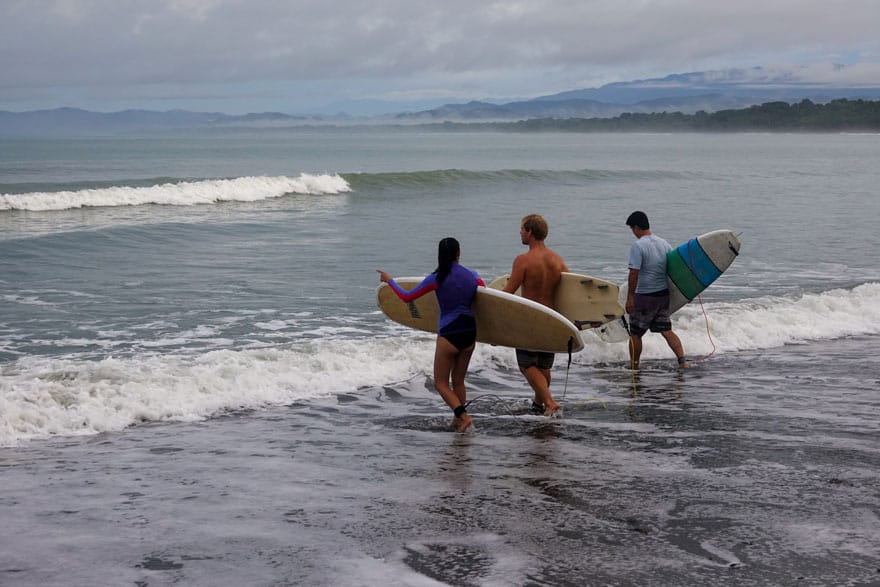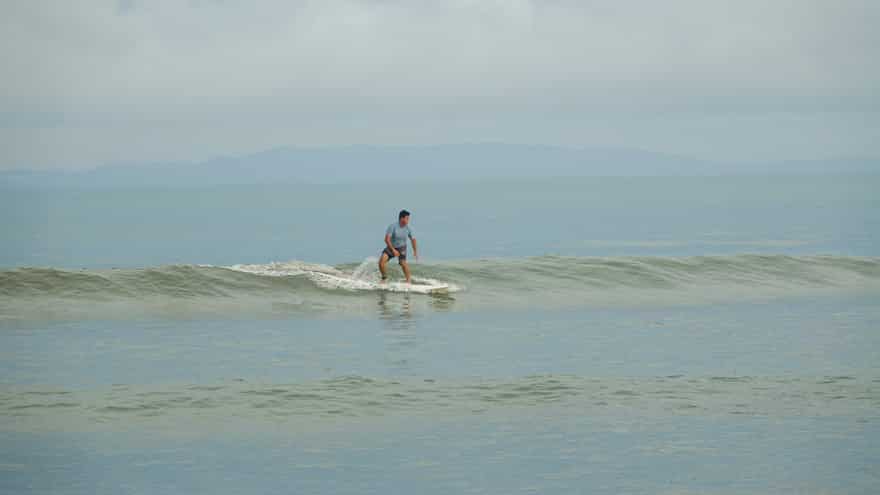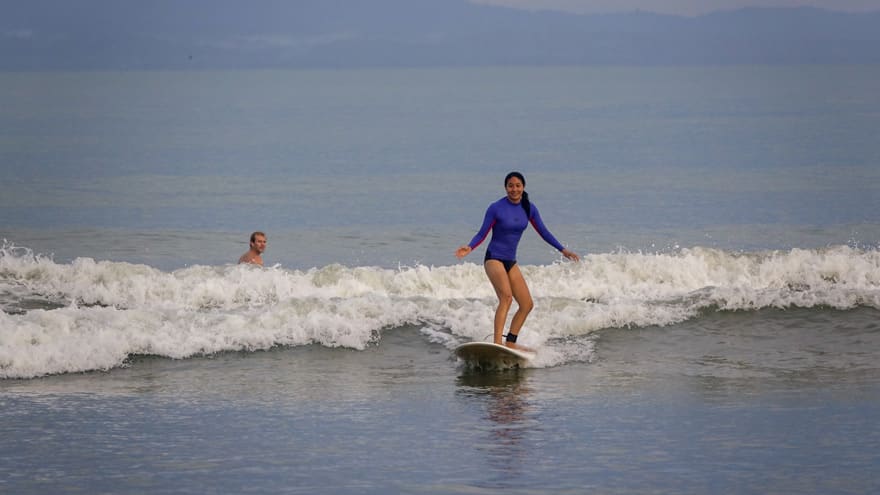 The Instructors
All their instructors are certified with ISA (International Surfing Association) and have a lot of experience teaching. Out in the water, Jack gave us tons of tips and advice and always had us thinking about what to improve on and what to do for the next wave. I really wanted to learn how to start turning and go down the line so he gave me many helpful pieces of advice. After a few waves, I managed to turn left which I was having trouble with!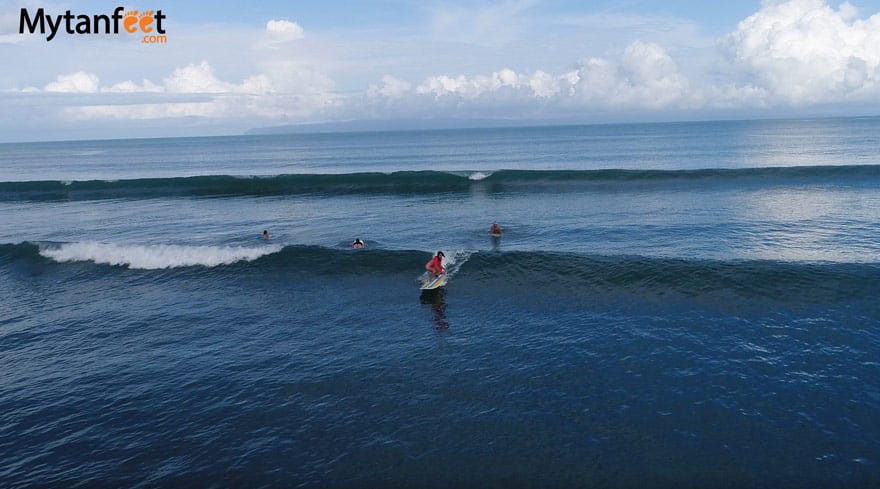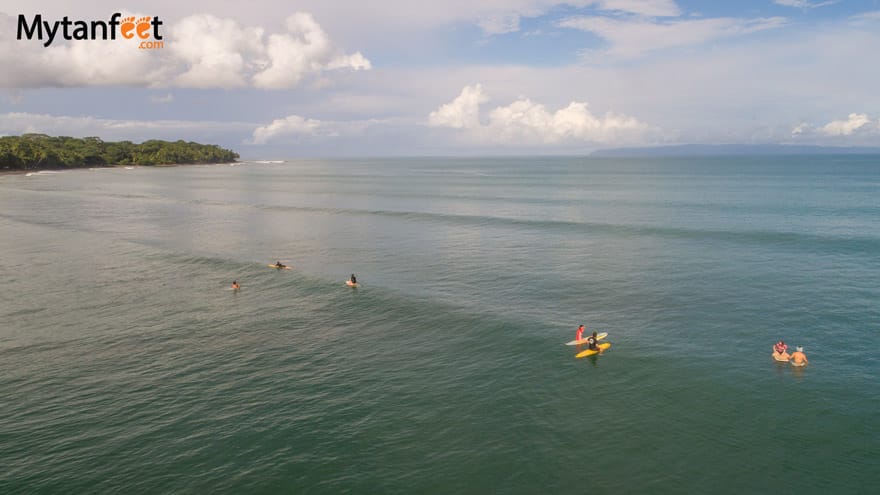 With such clean and organized waves, it is an incredible place for any first time surfer or first time visitor to Costa Rica. You get to experience the remote jungle of the Osa Peninsula (which holds 5% of the world's biodiversity) and learn how to surf at an uncrowded beach. Surf Expedition sure did chose the perfect location for a surf and yoga camp out in the Costa Rica jungle!
As for the lessons, Jack was an excellent instructor, so good in fact that if we ever visit Australia, I'll be sure to contact him for lessons there. If you join the surf camp and he's there, know that you are in great hands!
Other Things to Know About the Surf Camp

Their surf camps in Costa Rica are 7 days, 6 nights. They also offer Nicaragua!
They offer "free surf" for those who are intermediates ($1450 USD) and don't need lessons and beginner camps with lessons ($1750 USD).
All meals included. The owner's wife is a professional chef and her food is excellent. She can easily accommodate to vegan/vegetarian/gluten free/dairy free or any other diet restrictions. Besides the fun waves, the food was the second highlight of the camp!
Daily yoga and stretching everyday.
They include a boat trip to the other side of Golfo Dulce to surf and explore the Osa Peninsula. The Osa Peninsula is much more pristine than the Pavones side with a ton of wildlife like dolphins, turtles and whales in the water and monkeys, toucans, sloths and parrots on land.
6-12 surf lessons with classes of 2-4 people per instructor. Surf theory classes with photos included.
Surfboards included.
Video
Here is a short video we made from our time at the surf camp.
What Are You Waiting For?
If you're looking for a surf camp in Costa Rica to boost your confidence, perfect your skills and meet other like minded people, then definitely check out Surf Expedition. A couple of the guests we met had already done one or two of their surf camps which showed just how much they loved it. They also run surf camps in Nicaragua so many clients go to both countries with them.
After one week of surfing, you will notice and see your improvement for sure!
If you want more information about the surf camp or are interested in booking it please email Surf Expedition at info@surfexpedition.com
All thoughts and opinions are our own. Our stay was in exchange for an honest review.