Traveling to Panama from Costa Rica is quite of an easy and not that expensive option for travelers who are looking for more adventures in Central America.
One of the best things about Central America is that you can get anywhere in a few hours by bus and it's not very expensive. Panama offers a combination between paradisaical islands, a modern city, rich history, and a plenty of activities to do and places to visit.
We ended up visiting Panama City, San Blas Islands and Bocas del Toro due to their unique attractions. If you're thinking about doing the same, here are the steps we took to planning our trip to Panama from Costa Rica.
Planning our trip to Panama from Costa Rica
Click the section to skip to what you want to read about first.
How to get from Costa Rica to Panama City
Flying
You can fly to Panama City from Costa Rica and a round trip ticket starts at $350 and up.
Flying can be quite expensive but it's a lot faster so you need to decide how much you want to spend versus how much time you want to be in transit.
Bus
There are 2 bus companies that takes you directly from San José to Panama City (+16 hours drive).
TicaBus: There are 2 daily buses, one at noon and the other one at 11 pm (executive scheduled) but there is no big difference between one and the other besides the price and time. The executive costs $58 USD and the normal bus $42 USD and the executive provides you with 2 "meals" (McDonalds big mac) but it is exactly the same type of bus.
There is another bus company that goes to Panama from Costa Rica but they don't go to Panama City. Tracopa goes from San José to David, and el Bocatoreño goes from San Jose to Changuinola every day.
We decided to take the Ticabus at 11 pm. Make sure to have a sweater, socks and a jacket because these buses keep the A/C very cold all the way!
All the buses are going to take you to the main bus terminal located in the Albrook Mall so if you know where you are going from there, you can take the metro bus or taxi to your destination.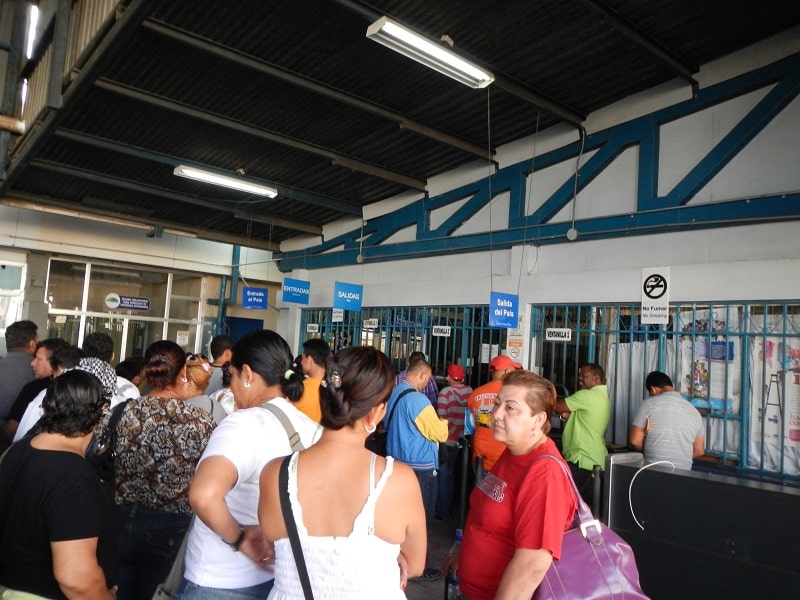 Panama City Lodging
At the beginning we booked a hostel named Mamallena in Panama City for $33 USD a private room but we stayed there for only one night because we didn't like it.
After talking to some people, we found out that there was plenty of options in town cheaper and nicer than the hostel. For $30 USD a night including A/C, Cable TV and a private bathroom, we stayed at Hotel Cibeles which is near the bus stop and a couple blocks from Cinta Costera.
If you want to stay at a hostel in one of the hot spots of the city, check out Luna's Castle Hostel. It's in Casco Viejo and is one of the most popular hostels in Panama City.
Booking San Blas Islands tour
You can look online for San Blas Island tours and since this was our first time going to the San Blas islands, we were looking for a 2 days camping package. After all our research, we decided to go with panama1trip (FYI: they are no longer an operating tour company).
We paid $240 USD per person for transportation from Panama city, all the meals, 2 nights camping at Dog Island (they provided the tent and mattress) and a tour to different islands.
One extra thing you have to pay for that is NOT included is the mandatory $10 USD entrance fee to the indigenous territory.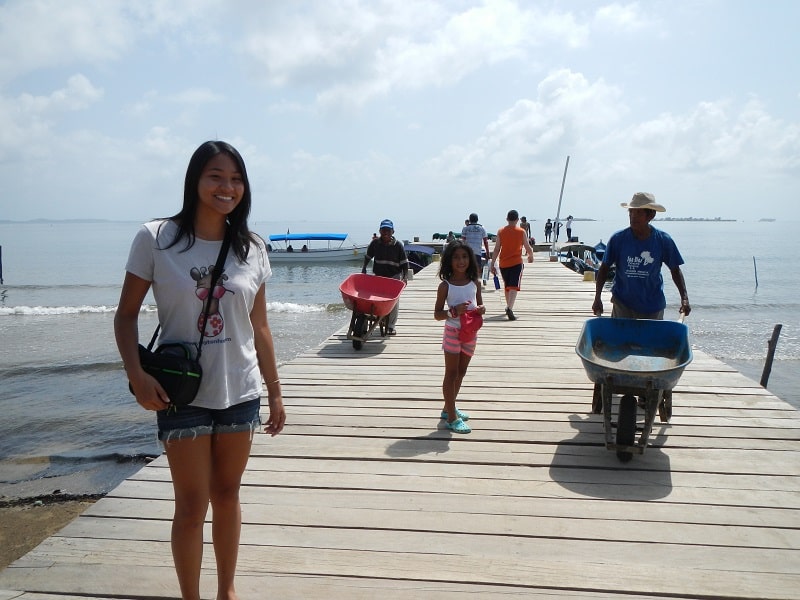 Going on your own
We learned from other travelers that you can also go on your own. Book transportation from Panama City to Carti and then take a boat to your island from $55 USD to $70 USD round trip.
There is a $2 USD dollar tax fee for every island you visit, $10 a night fee per person in a tent and $15 USD for a hut. At Dog island they were selling breakfast for $7 USD and lunch and dinner for $8 USD each.
They also let you cook on the island if you bring you own food, so at the end the total cost would be cheaper to go by yourself but you'd also need to bring your own snorkel gear and such.
Panama City to Isla Colón (Bocas del Toro)
Taking the bus
The bus terminal at the Albrook mall is the place where you take buses to all over the country. They have a bus to Almirante which is the bus that you need to take in order to go to Island Colon in Bocas del Toro.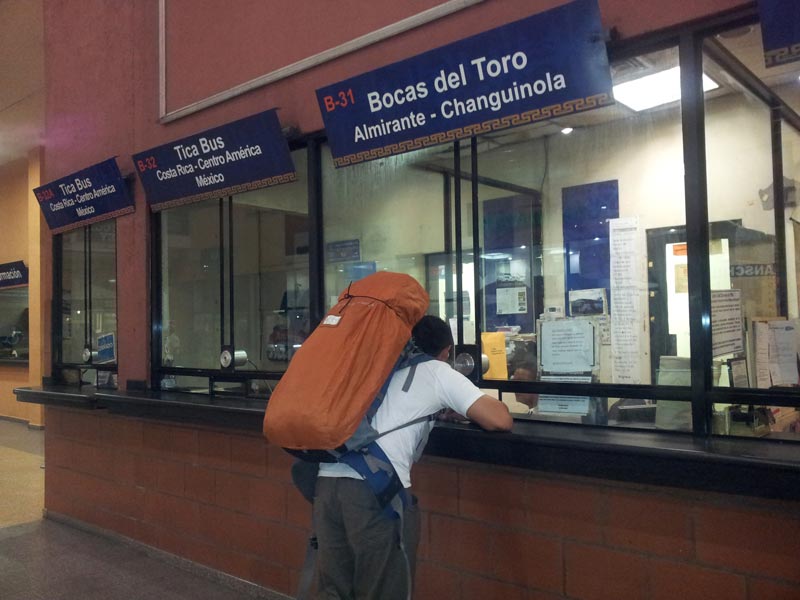 The bus ride takes around 10 hours and they only go overnight at 8:00 pm, 8:30pm and 9:00 pm. They do 2 stops on the way where you can use the bathroom or get a snack and you end up at Almirante around 6AM.
At the Almirante bus stop you can take a taxi for $1 USD that will take you to the boat taxi to Isla Colon for $4 USD a person.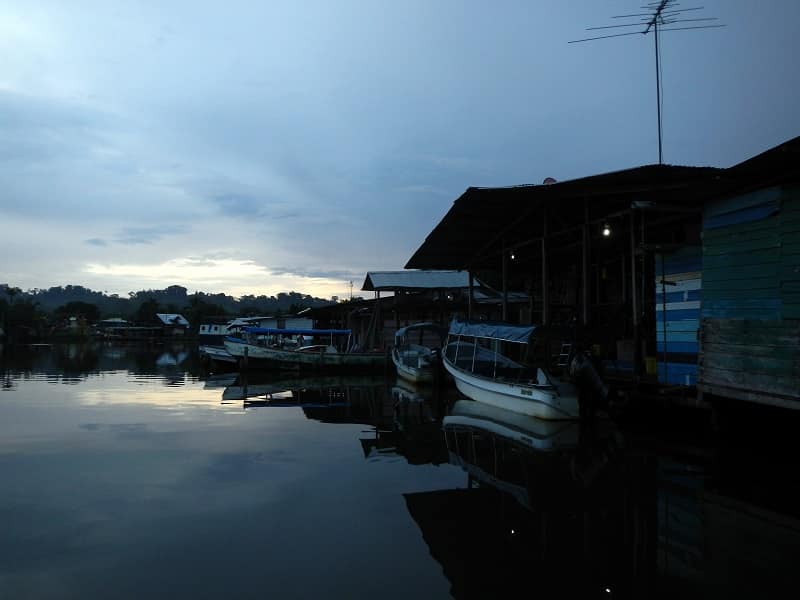 Isla Colon Lodging
On Isla Colón you can find hostels and decent hotels. We stayed at Hotel Cayo Zapatilla for $20 USD a night for a private double room, a fan (AC costs $10 USD more), cable tv, hot water and a shared kitchen.
Isla Colón to San José Costa Rica
One boat, one taxi, two buses in one day
On our way back we took the boat from Isla Colón to Almirante (before 7 am), a bus to Changuinola and the Bocatoreño bus that leaves by 10 am from Changuinola to San Jose.
There are other options to get to San Jose, such as taking the Nature Air flight to San Jose or after you cross the border, take the bus from Sixaola to San Jose.
There are also shuttles at Bocas Del Toro that can take you to either Puerto Viejo in Limón or San José.
As you can see it's not that hard to get from Costa Rica to Panama and vice versa. It takes a bit of planning to figure out when bus times are but other than that, hotels are cheap in Panama and the bus can take you anywhere you want to go. All while on a budget.
If you have any questions about the process of planning our trip to Panama from Costa Rica, leave a comment!
For more Panama posts, check below: