Our trip to the Philippines was a spontaneous decision but one that I was looking forward to immensely. I had seen stunning photos of the country, heard incredible things about it from friends and every video I watched on Youtube was giving me killer wanderlust.
With so much nature, wildlife and landscapes on the islands it seemed like the perfect paradise for the outdoor lovers like us. There have been very few times in my life where I've been rendered speechless during travel. I'm an excitable person and it's hard for me to contain my emotions when I am somewhere I absolutely love but there are times when words can't do the situation justice.
I've gone through all the adjectives on Thesaurus.com when I was writing this post to see which word or words could most accurately describe how I felt and what I was seeing when we were in the Philippines but I couldn't find it. Nothing seemed good enough! So I will do my best to describe one of the highlights of our Philippines trip, the Underground River on Palawan.
Although our trip didn't turn out exactly how we planned due to typhoon Hagupit, this was an experience both of us will forever cherish as our first adventure in the Philippines.
Puerto Princesa Underground River
The island of Palawan certainly has a terrific reputation. It has recently been named the best island in the world beating out their sister island of Boracay and the Philippines has a lot going for it in terms of tourism. With awards and titles like these, I knew the islands wouldn't disappoint especially as it is now home to one of the new seven wonders of the world, the Subterranean River.
The Subterranean River National Park
This UNESCO World Heritage site will surprise, delight and astound any visitor as they take a boat ride through bright blue waters to a hidden underground river connecting directly to the ocean. The cliffs and mountains views as you climb onto shore will leave your mouth agape in wonder. And that's just the beginning of why this new wonder of the world has been so aptly named.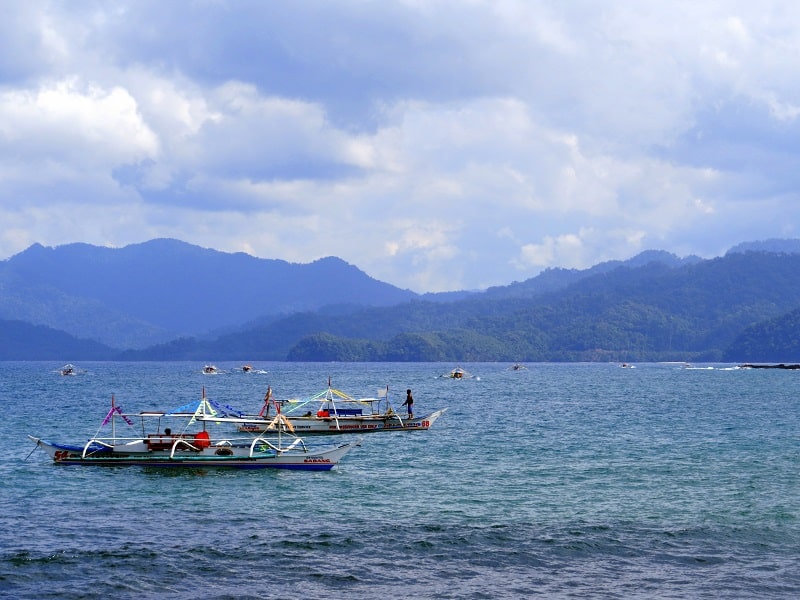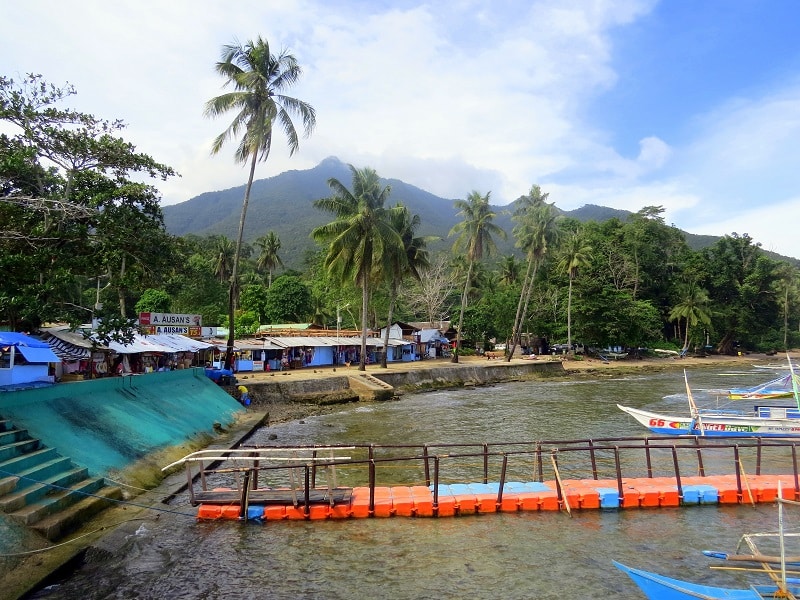 The entrance to the underground river looks like any other innocent beach shore. If I had happened to stumble upon this beach before it became a national park or UNESCO site, I would have no idea that such an amazing natural wonder was hiding right behind the trees.
As you approach the shore from your boat you see this magnificent view laid out in front of you.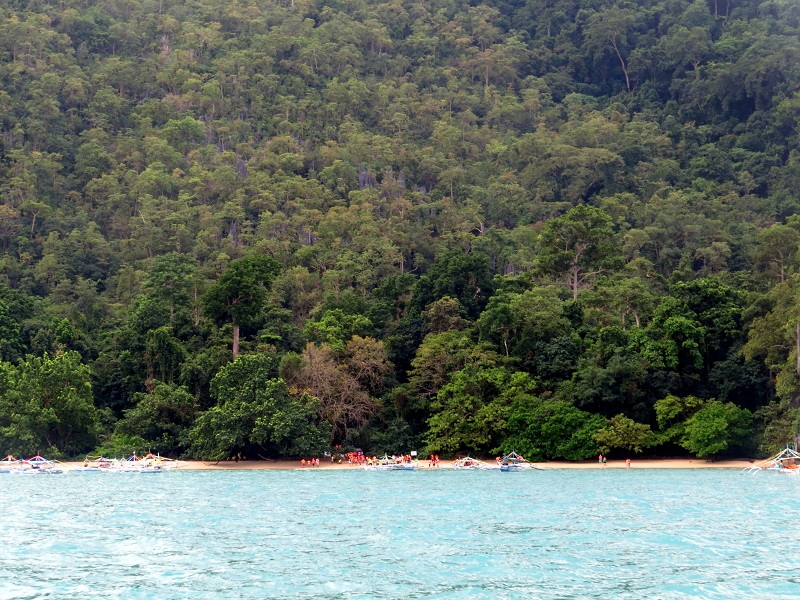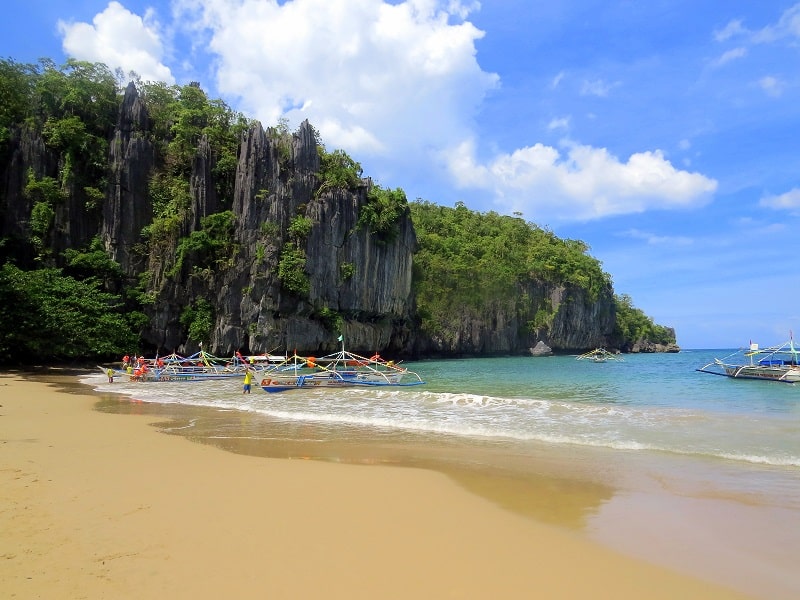 When you get off, you'll see monkeys jump around above your head and you have to be careful when you walk so you don't accidentally step on one. Walk through a short path in the forest and a spectacular sight emerges right before your unsuspecting eyes…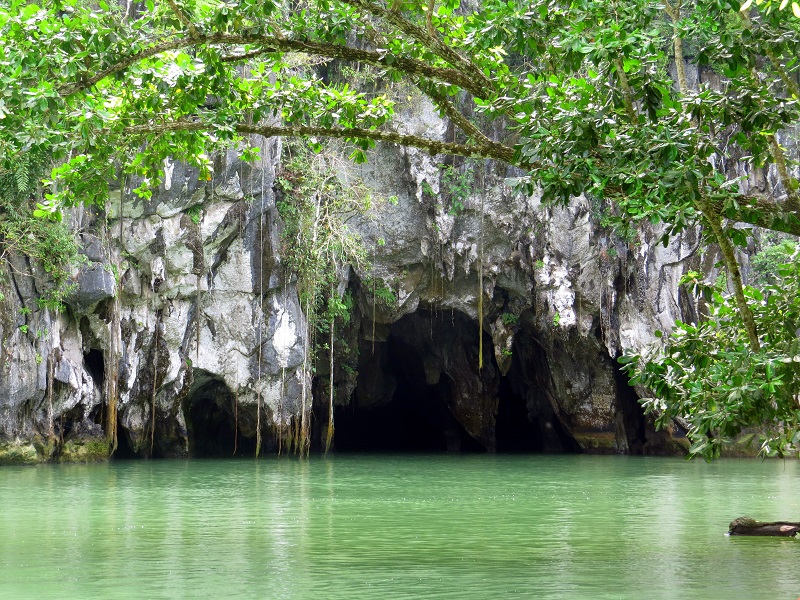 The water is truly this green. It's almost impossible to believe at first glance.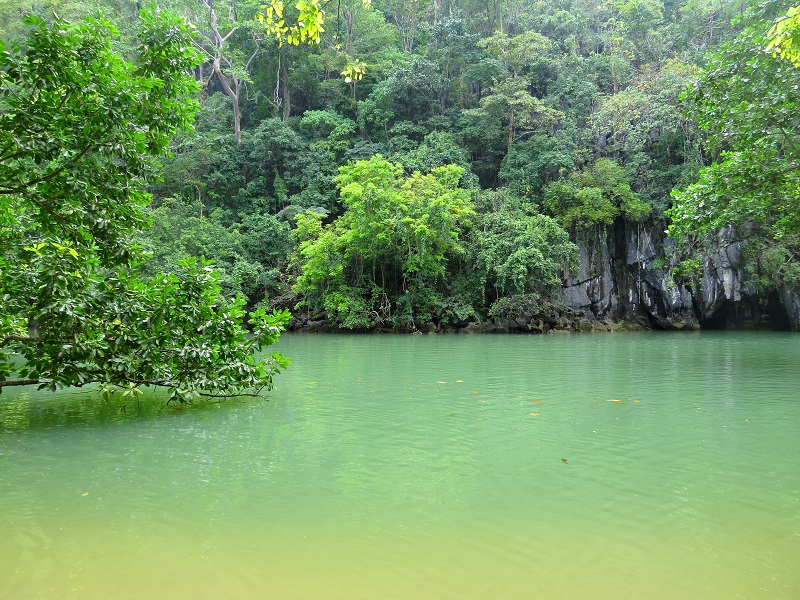 Then everyone piles into a small canoe to enter the longest navigable underground river in the world, boasting caves full of natural rock formations made of dissolved limestone.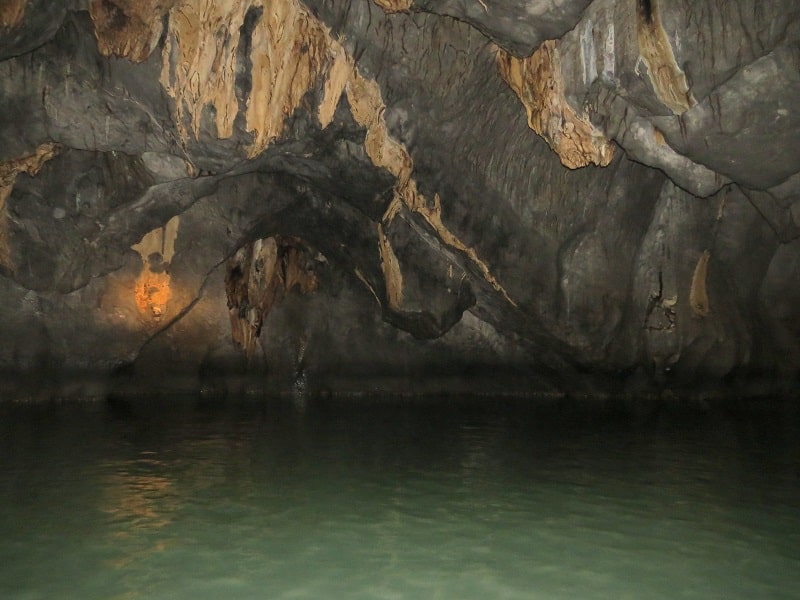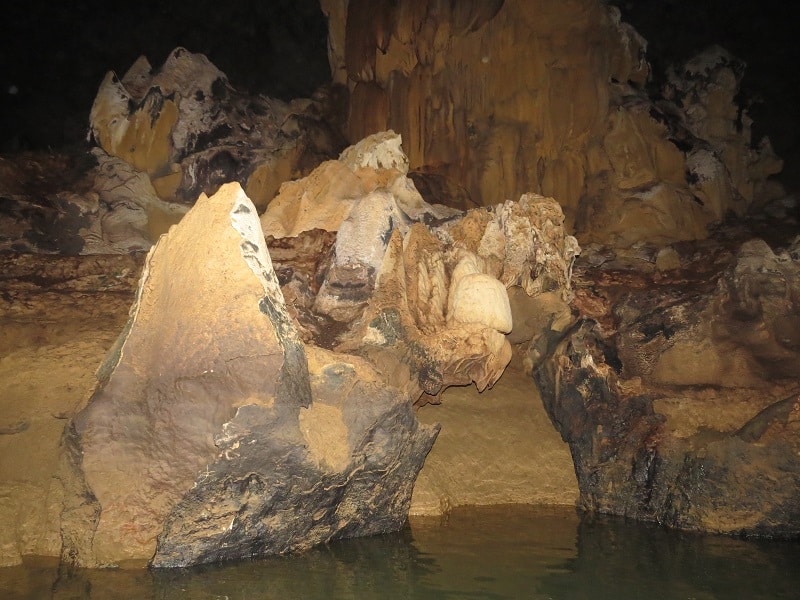 Our guide proudly told us about the history of the Underground River and how important it is to the people of Palawan. Using a torch light to point out the different formations, we got to see the Virgin Mary, corn, and various other shapes. We glided quietly along the river but we humans were not alone. Thousands of bats were living in the caves and helmets were given us to prevent bat droppings fall onto our heads.
As we were told not to look up and open our mouths, I could only imagine how many thousands of these winged mammals were perched right above our heads the entire time. The boat ride lasted about 45 minutes and when we turned back, I couldn't help but thank my lucky stars how fortunate I was to witness this phenomenon with my own eyes.
I'm a virgin when it comes to the natural wonders of the world and the Underground River lived up to all its expectations for my first one.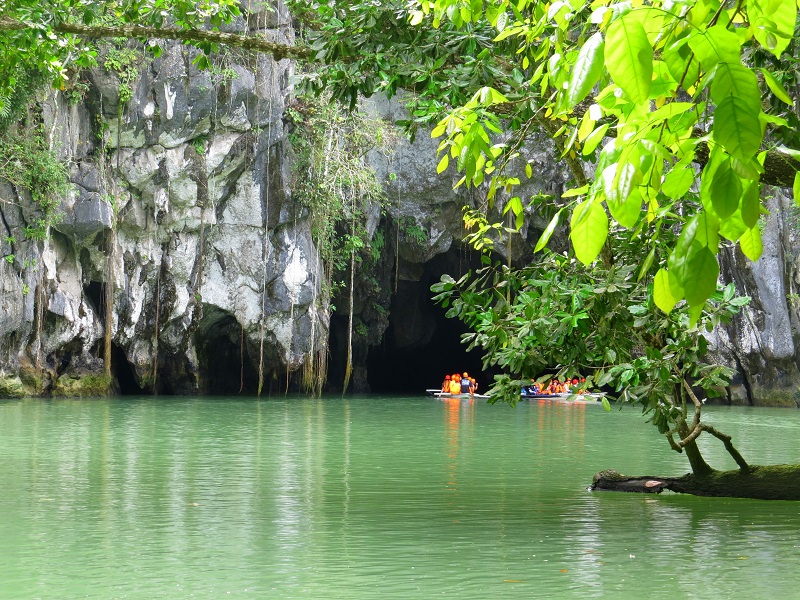 Though I tried to encompass all of the Underground River's beauty in my photos and words, this video will give you a further idea of just how amazing this place really is.
After all of the photos of the Philippines I've seen, I now understand why it has earned the title it has being the best new destination to travel to in 2015 and Palawan as the best island in the world. Plus the Underground River is just one small part of the country, I can't even begin to think just how many other stunning places there are to visit!
Hopefully one day we will go back and explore the Philippines more as we barely got a taste of all it had to offer.
Tips for Visiting the Puerto Princesa Underground River
It takes three trips from Puerto Princesa to the Underground River. From our hotel in Puerto Princesa, we went first to Sabang. Second a boat trip from Sabang docks to the bay where the river lies. Then a short walk to the river entrance.
You need a permit to enter the national park. Since we went with a tour company, they arranged our permit for us beforehand. Book the tour a week or two early if possible to give the tour company time.
If you go on your own, you'll have to arrange the permit on your own in Puerto Princesa
Wear shorts and flip flops, you'll be getting into the water a couple times
You can bring a DSLR camera but put it in a plastic bag or waterproof backpack. You can use it during the boat ride and you definitely want to take lots of photos!
Read more Philippine adventures here!