Taiwan is not a big island at 13,974 square miles making it really easy to get around. If you're planning on traveling to Taiwan for a good period of time, you can definitely go around the whole country.
Taiwan's transportation system is excellent, you can get from one end of the island to another in just a few hours by high speed rail and there are a few options for methods of transportation.
Yeison and I recently traveled the whole island of Taiwan by train, spending one month to slow travel through the main areas. As the route is along the coast, it is the most beautiful scenery in the country and it's a fabulous way to discover Taiwan.
You can also rent a car and drive but for our trip, we opted to take the TRA to get us around. With mountain and coast lines, we would be able to enjoy a leisurely train ride with spectacular landscapes and scenery to take in the beauty of Taiwan.
Travel Taiwan by train
Taipei Main Station – TRA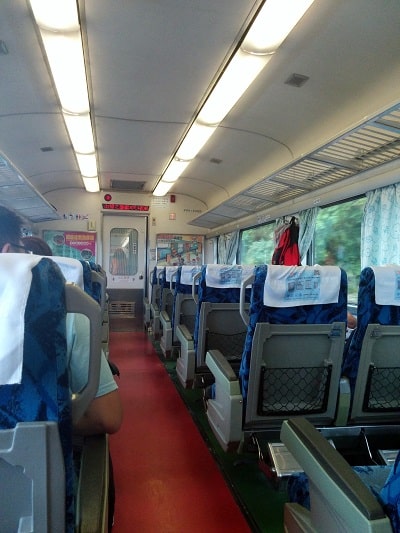 More likely than not, your starting point will be in Taipei. The TRA and the HSR are both located at Taipei Main station so depending on your preference, you can take either one to the west coast.
Taking the TRA (Taiwan Railways Administration) is so easy. Our starting point was Taipei so from Taipei Main Station, we grabbed a train to our first stop, Hualien. We decided to go east first and go around the island clockwise. We purchased tickets at the TRA counter and I advise getting there at least half an hour early just in case.
We took the JuKong (莒光) train from Taipei to Hualien which took us around 4 and a half hours. They have a cart they bring around occasionally selling snacks and random trinkets but it's not very much. You can also order a lunchbox from them if you get hungry.
Seats are incredibly comfortable. You have a lot of leg room, those things to put your feet on and you can lean your chair back. Ahhhhh.
Keep your eye out during the ride because the scenery is pretty nice. The day we went was raining but you still get views like this (just imagine it with clear sunny skies).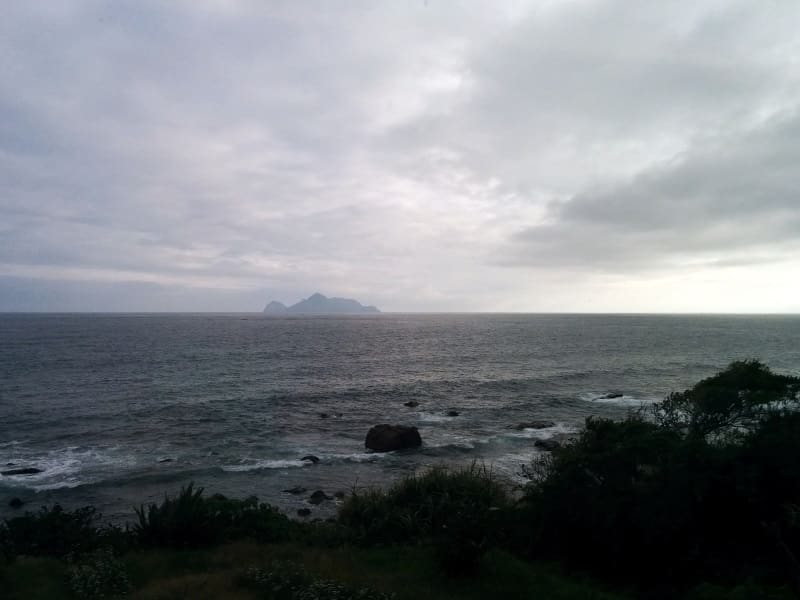 Hualien Station
From Hualien Station we went to Taitung. This ride wasn't as long at around 3 and a half hours and we took the mountain line. The scenery was gorgeous, it was just green green green the whole time!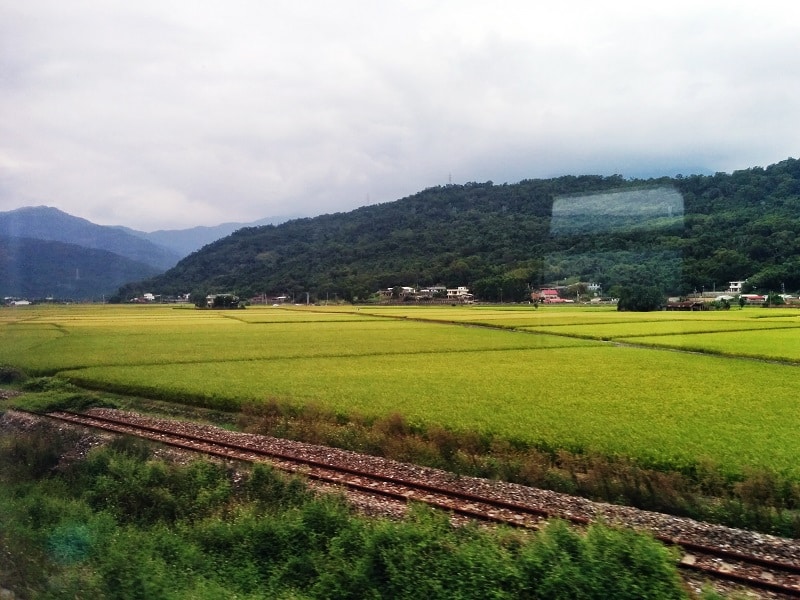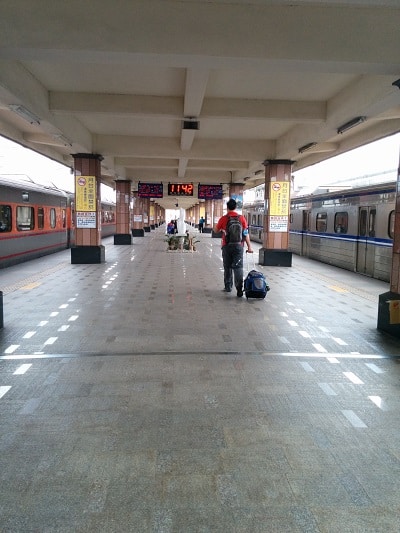 Each train is slightly different. You may get one that is a bit older with different seats. Either way, they are all comfortable and spacious. If you have a lot of luggage, most of them have the overheard compartments or space in the back where you can stow it.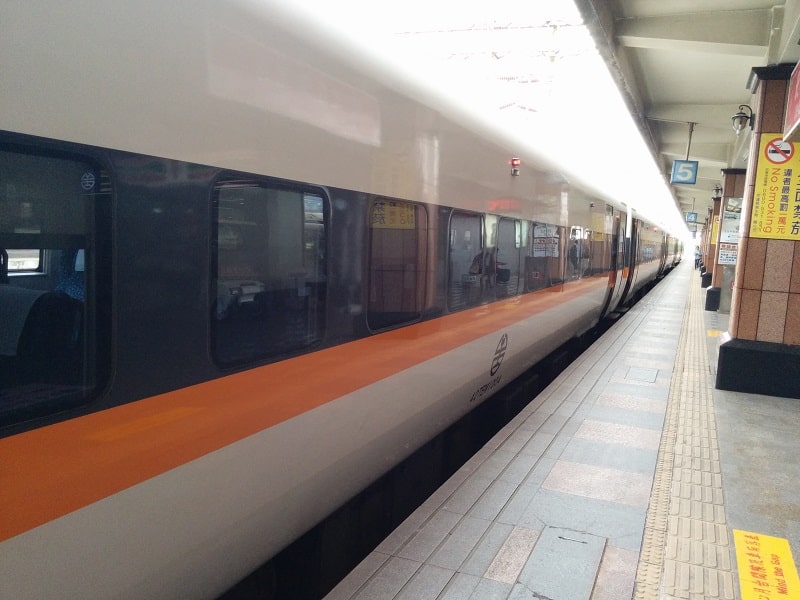 Kaohsiung
From Taitung we took the train to Kaohsiung. Now this was a beautiful ride! About 3 hours long, we got lovely views of the coast.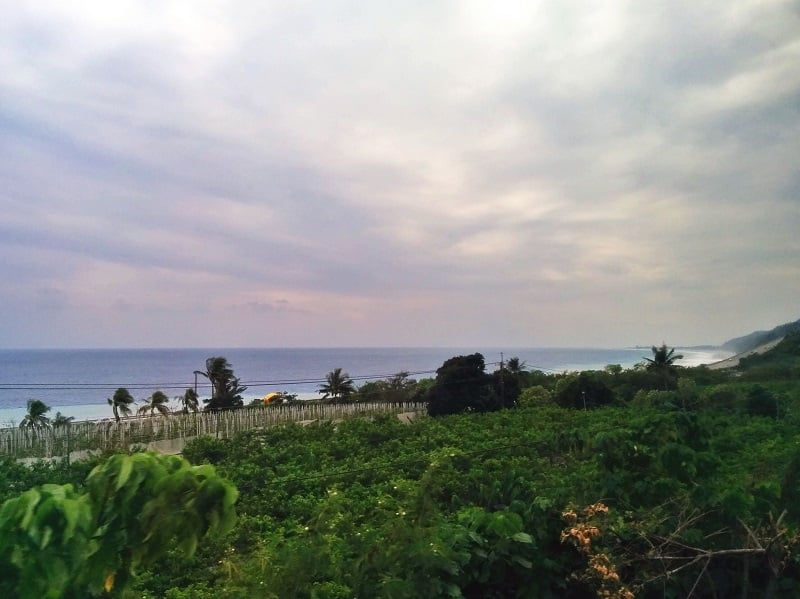 New Taipei City
From Kaohsiung we took the train to New Taipei City where we stayed for a week. This one was another long one, nearly 5 hours. We didn't take express so every train we took made a good amount of stops.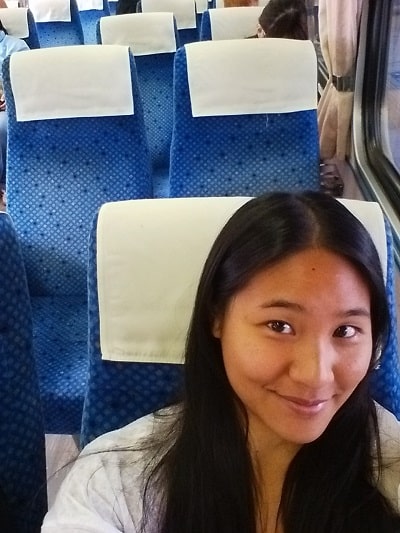 Taoyung
From Taipei Main Station, we took the TRA back to my great-aunt's house which is in Taoyuan. We made the mistake of taking the TRA instead of the local train so we had to stop at Taoyuan first and then grab the local train to NeiLi station, the one closest to her house. NeiLi is a smaller station that goes through a local route so if you take the TRA there, the train will pass it and drop you off at ZhongLi.
Tips for Taking the TRA
It may seem a bit confusing at first taking the train but it's really simple. You can either purchase your ticket online and if you do so, they'll ask you to input your passport number as the ID. You must show your passport when you go to pick up your tickets at the counter.
If you don't purchase them in advance, you can go to the ticket counter and tell the agent where you want to go. They have a schedule in the front so you can also tell them if there's a certain train or time you want to take.
If not, they'll ask you if you want to take the earliest one. When you get your ticket, it'll look like this.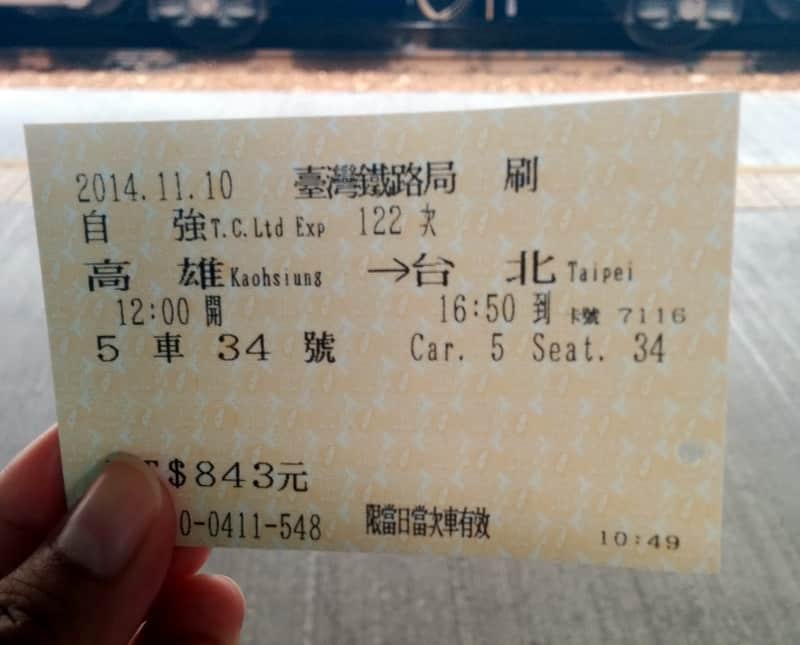 The important thing to note is the train number (122 in this example) and time. There are boards all over to let you know which platform you need to get on, which car and seat. You must keep your ticket as you need it to get out of your arrival station and the train master will come through once during the ride to punch your ticket.
Another note is to book reserved seats. If you don't, it's likely you'll have to stand in the area in between cars or get stuck standing and that's pretty terrible for a 4 hour ride.
Other than that, that's about it! It's really simple. If you ever have questions, you can ask the train masters or just show them your ticket and they'll point you in the right direction if you don't speak Mandarin.
HSR (High speed rail)
You can also take the HSR for the west coast route. This saves you a ton of time as it runs at a top speed of 300 km/h or 186 mph. The HSR goes from Taipei to Kaohsiung (Zuoying station to the west) in just a matter of hours and from there you can go to Kenting if that is your destination. It is more expensive but it saves you a lot of time if your trip isn't as long as ours. We didn't mind taking the slow train since we enjoyed the views and it was more budget friendly.
Taking the TRA from NeiLi (Taoyuan) to Taipei City takes around 40 minutes. On the HSR, it takes 14. It is fast!
Efficient and Affordable
Taking the train is definitely the way to go and I highly recommend to travel Taiwan by train. You can also rent a car but it's nice to be able to just sit back, relax and take in the views.
There are many stations and stops so you can plan your trip around where you want to go by that since there are so many amazing and beautiful places to explore in Taiwan.
Want to read more stories about Taiwan? Here you go!