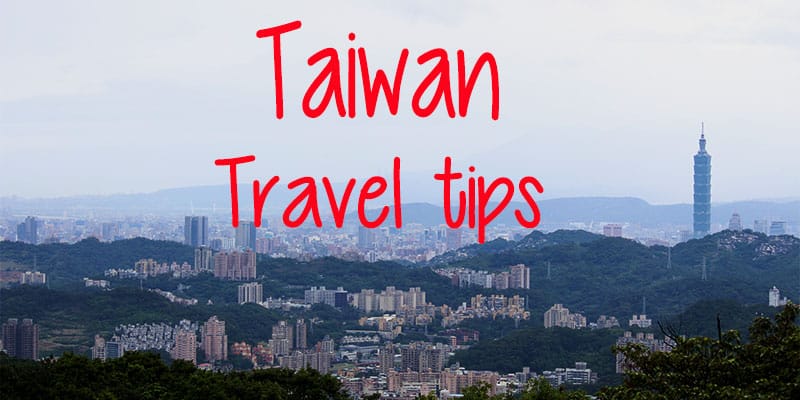 Taiwan is often times left out when visitors map out their epic Asia trip but more people are realizing that this little island is actually an excellent travel destination.
Taiwan has a bit of everything and it's efficient transportation system, low cost of travel, security and kindness of locals are just a few reasons why it's becoming a popular destination.
You can find a great amount of resources online for traveling in Taiwan but there are a few things to know before you go that will help make your trip go a lot smoother.
We spent two months traveling around Taiwan and as a Taiwanese-American with lots of family there, I can give you some insider Taiwan travel tips.
Taiwan Travel Tips
Click the section to skip to it.
Important Things to Know Before You Go
What to bring – Read our post on packing for Taiwan for any time of the year
Taiwan does not take USD, Canadian dollars, euros or any type of foreign money so make sure you exchange it. Banks open at 9 AM and you need your passport to exchange money. Some hotels can also exchange money. Exchange rate is currently 1 USD to 32 New Taiwan Dollar or NT.
Taiwan uses the same voltage as United States, 110V. If you're coming from Europe or somewhere not 110V, get an adapter.
Tipping is not part of the culture in Taiwan. In fact when I tried to tip my hairdresser when I got a hair cut, she got offended.
It is incredibly safe in Taiwan. It is even safe for a woman to walk the streets at midnight because of the many night markets and 24 hour restaurants. But as always, use your common sense.
Getting Around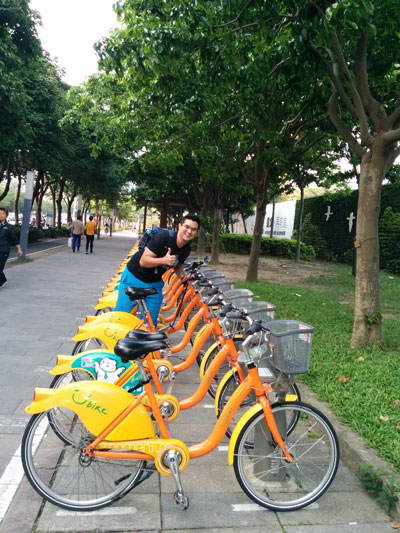 If you are lost, don't know which bus to take, or need a ride, call

0800-024-111

. It is a toll free 24 hour tourist hotline in Chinese, Japanese and English and they can help you with whatever you need help with. In case of emergency, call 119
Write down some of the important travel words in Mandarin (traditional) like bathroom, how much, I'm lost, etc. Many city locals speak a degree of English and will help you to the best of their ability but it's good to have the words written down or bring a Mandarin phrasebook. When Yeison was by himself, they didn't hesitate to speak English to him.
To rent a car, you have to have an international driving permit for the first 30 days you are in the country. You can get one at the American Automobile Association or theMotor Vehicles Offices in Taipei(check requirements). Longer than 30 days you must apply for an extension.
If you take the public bus in Taiwan, you must have exact change if you don't have a happy card. Tell the driver where you are going and he will tell you how much it is. Write your destination down because most drivers don't speak a lick of English.
To rent a YouBike, you must have a happy card and register it at the kiosk. Great way to get around Taipei!
Taxis are pretty cheap in Taiwan but like bus drivers, make sure you write down where you are going (or learn to say it in Mandarin). Make sure they use the meter and buckle your seat belt – they drive a bit crazy!
The MRT is super easy to use as well as their train system. If you don't have a happy card, you must use the machines to purchase a token each time you use the MRT and train. Find out how we traveled all of Taiwan by train.
Staying in Touch
If you want a prepaid sim card for your phone, you can go to any phone company office and buy one. All you need is an unlocked phone, your passport and pay in cash. We got a 30 day sim card loaded with 100 TWD for calls and unlimited data for 900 TWD (~$30) from Chunghwa Telecom. Read our full guide to getting a sim card in Taiwan.
Wi-Fi in Taiwan is easy to find, in fact the island is like one giant hot spot. There are 4,400 free iTaiwan hot spots for foreigners and all they need is a local number to register.
Food and Drink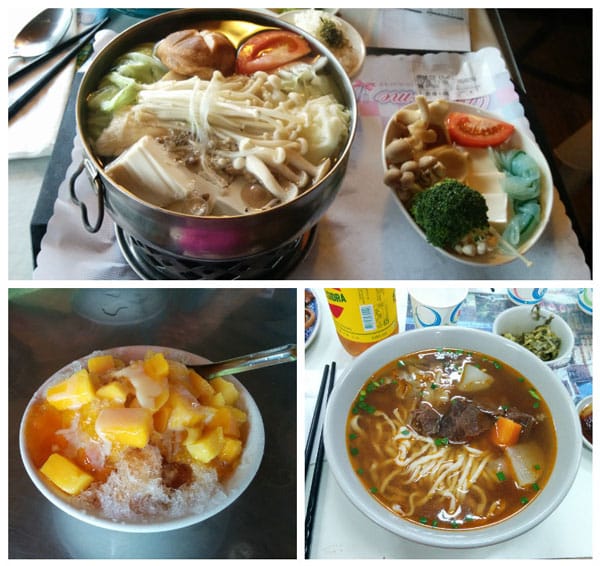 Food is very cheap in Taiwan… if you eat local. If you don't like Taiwanese food, be prepared to pay for it because it costs more to eat Western food like pizza, sandwiches or pasta. Eat local and you can spend less than 300 TWD ($9.50) a day per person for all three meals and dessert. Eat something different and you're looking at paying at least 200 TWD ($6.50) per person per meal.
Taiwan has some of the best food in the world so I highly recommend trying some local dishes. Find out the best dishes to eat in Taiwan.
If you want to eat something more Western for a cheaper price, look for a brunch or breakfast place in Taiwan. They usually have omelets, hamburgers, sandwiches, hash browns and toast for local prices (50 – 100 TWD).
Only eating on a budget? Avoid the mall and look for places that sell lunch boxes which are really cheap, usually less than 60 TWD (~$2). You get rice, a meat, vegetables and soup.
If you are allergic to shellfish/shrimp/seafood, write it down and show your waiter. Yeison is deathly allergic to shrimp which is commonly used in well, almost all their dishes so I made sure to ask every single time we went out to eat if it had shrimp.
Lodging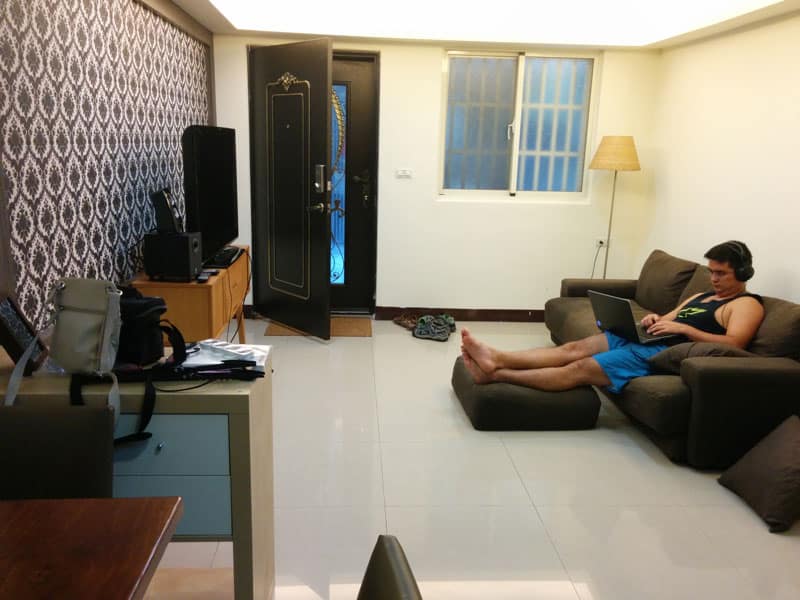 Hotel rooms are more expensive on Saturdays, they can be up to twice as much or more. Sign up for hotel website newsletters for insider deals. I used Hotels.com and Agoda when booking hotels in Taiwan and got great deals.
If you find yourself in need of a cheap hotel room, look for a motel. Even though most of them are technically love motels, they are actually a good deal if you're without a place to stay. Most are 1000 TWD ($31) a night and some even have a spa and massage chairs.
Airbnb is getting big in Taiwan so take a look for good deals.
Meeting Other Travelers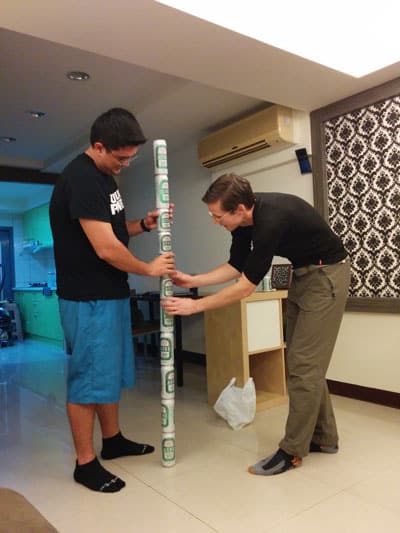 If you're interested in meeting up with other travelers, join the Taiwan travelers Facebook group. There are a lot of people who are looking for people to travel with.
One of the best place to meet people besides hostels is in the clubs. When I went clubbing on my first trip to Taiwan by myself, I met so many people from all over the world at the night clubs. The clubbing culture in Taiwan is actually fairly healthy and for an introvert who doesn't drink, I had a blast. Some popular ones are Myst, Roxy and Spark. Unfortunately my favorite, Luxy has closed.
Things to do in Taiwan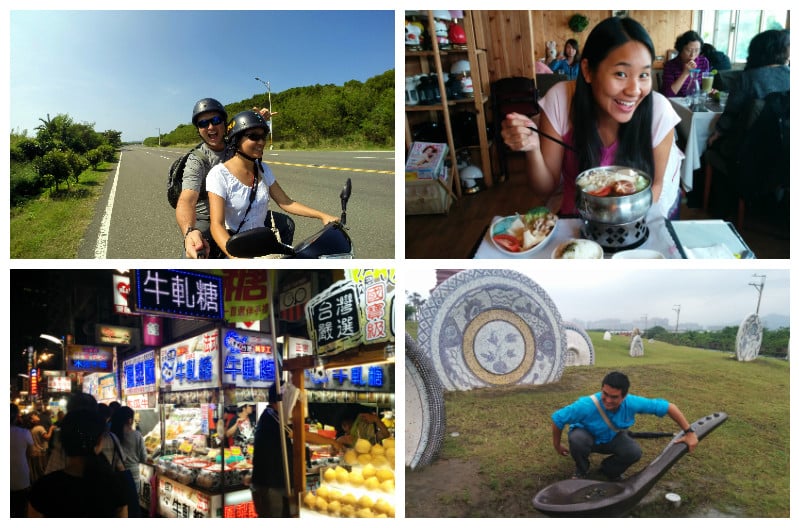 Night markets. One of the most popular things to do in Taiwan. Make sure to sample the food, play some games, eat, shop for cheap stuff and oh did I mention eat? Feel free to barter which is common but if you look like a foreigner or "外國人", expect to pay more.
Hike. Taiwan is mostly covered by mountains with phenomenal hiking. Many of them lead to panoramic views and great spots for the sunrise/sunset. Some of the popular places are Teapot Mountain, Yushan and Beidawushan.
Eat. I can't stress enough how much amazing food there is to try in Taiwan.
Hot springs. Taiwan has over 100 hot springs and has one of the greatest concentrations in the world. Best places to go are Beitou and Yangmingshan.
Drink. Taiwan's Kavalan Solist Vinho Barrique was named the best single malt whiskey on earth in 2015 (I've tried it, it is good). Taiwan tea (green, oolong and black) is one of the best in the world and their oolong tea accounts for 20% of the world's production. Taiwan made the list for top 10 best coffee destinations in the world in 2015.
Shop. Forget the malls, hit the old streets in Taiwan where you can find unique souvenirs and arts and crafts. Read our guide to the old streets in Taiwan.
Rent a scooter. Once you get to Taiwan, you'll understand why. The scooter culture in Taiwan is insane and it is a great way to see the country!
Read our post for things to do in Taipei if you're staying primarily in the city.
Top Destinations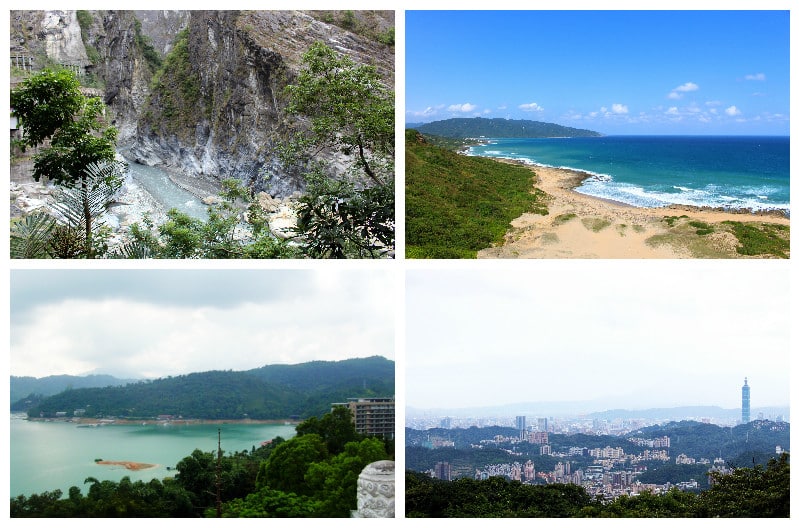 Taipei. As the capital city, there is so much to do in Taipei (don't forget New Taipei). Go shopping, eat, visit the zoo, hike, visit memorial halls and museums, go to the night markets and so much more.
Taipei 101. The previous ruler of tallest building in the world where visitors can eat, shop and go up to the top for amazing views. Or watch the many protests that occur and learn more about the current political conflicts surrounding Taiwan.
Hualien. Hualien county holds some of the most beautiful natural landscapes. Taroko National Park and Quingshui Cliff are just a couple favorite spots.
Sun Moon Lake. This famous lake in Nantou county is the largest body in Taiwan and is one of the most popular tourist destinations due to the shape. The east side of the lake resembles a sun while the west side looks like a moon, hence the name and has spectacular sunrises.
Kenting National Park. This national park sits in the southern part of the island where visitors can visit the southernmost point. The road through the park offers beautiful scenic viewpoints, surfing, beaches and is a favorite vacation destination for city locals.
Alishan. A mountainous area of Taiwan, Alishan is known for hiking, stunning mountain views, waterfalls and tea plantations.
Jiufen. The city with the old street that inspired the movie Spirited Away, Jiufen is the gateway to some of the best hikes on the island.
Yushan. For hiking lovers, this is a must. Yushan is not only the highest point in Taiwan, but in all of East Asia at 12,966 feet.
My best tip for enjoying these destinations and any other in Taiwan? Get there early. To enjoy these places in peace and quiet, get there early as soon as they open.
Visiting Taiwan
Every person I know who has visited Taiwan always leave with a good impression and love their time there. In fact, something that every single one of them has said to me is that Taiwan is fun. With lots of attractions, cultural sites, outdoor activities and delicious food and drink, Taiwan will make any visitor fall in love with the beautiful island.
Read our expenses breakdown for one month traveling in Taiwan. See how much we spent on food, transportation, lodging, activities and more.
This post has affiliate links.