Old streets in Taiwan are such an important part of the country's architectural, economic, cultural and culinary history.
You can find old streets in nearly every town and each one is home to a unique piece of Taiwan. Many old streets are famous for one thing in particular, largely for what it produced the most years ago.
Now the old streets in Taiwan have developed to become tourist attractions but still hold onto their roots, proudly displaying the lifestyles of the olden days.
Old streets may not hold much significance to foreigners who don't know about the history so do some research before you go to have a richer experience. Many of them have brochures for tourists near the visitor area so you can check out the best and must-sees of each one.
If you know a Taiwanese person, ask them to take you. Many of the best eats and treats are known only to locals since the majority of the old streets don't have anything in English so tourists miss them.
Fortunately, I've gone through and written out this awesome guide to the best old streets in Taiwan (mostly around Taipei) to describe what each one is known for. Old streets are incredibly fun to browse around for local goodies, it is kind of like a night market but in the day!
Yingge Old Street (Yingge Ceramics Street)
For those interested in arts, pottery or ceramics, head to Yingge Old Street. This district is famous for their pottery and ceramics, producing the highest quality of tea sets back when Hakka Chinese immigrants started settling in Taiwan. Now you can find some of the most unique ceramic knick knacks and it is fabulous for souvenir shopping.
To learn more about the pottery culture of Yingge, there is a ceramics museum where you can take a look at some of the most prized pieces and even learn how to do it yourself! Take a pottery class and bring home your own homemade souvenir.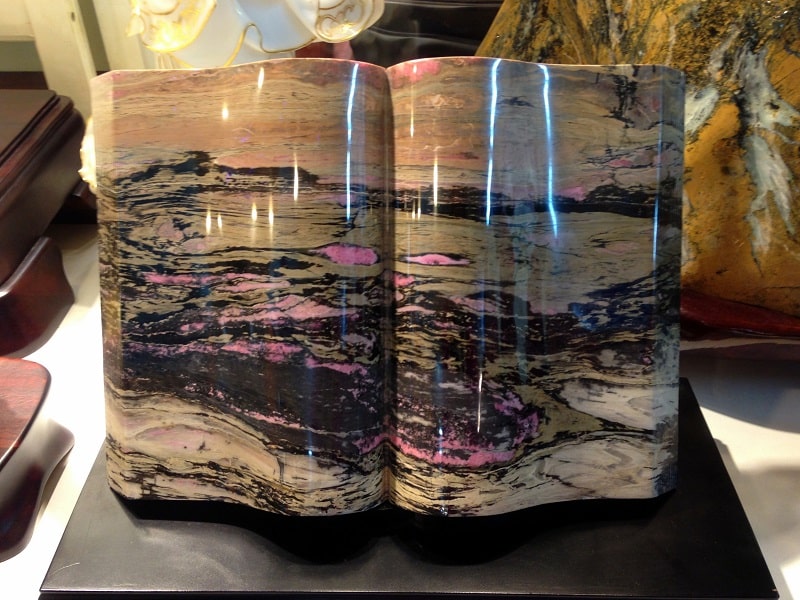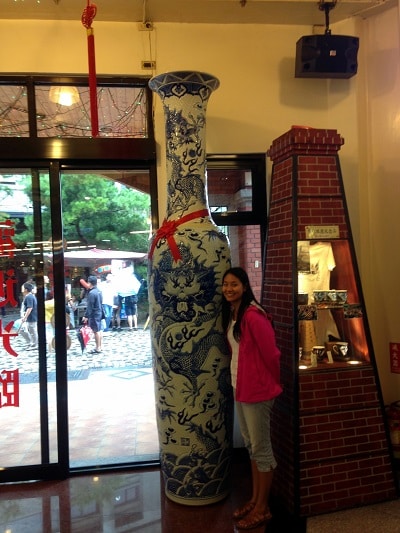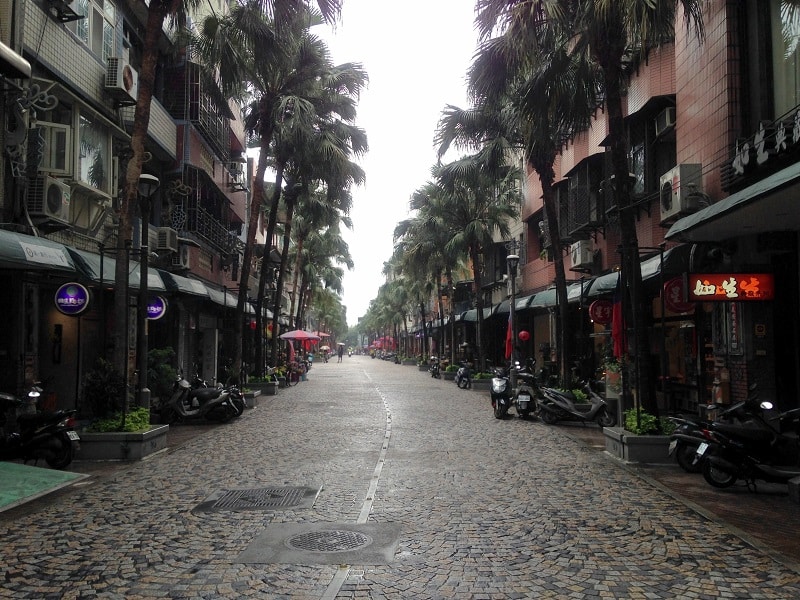 Nearby there is a park full of huge ceramic pieces like spoons, plates and bowls. It's a fun stop on your way out to take some pictures. In the middle is a large replica of a clay piece.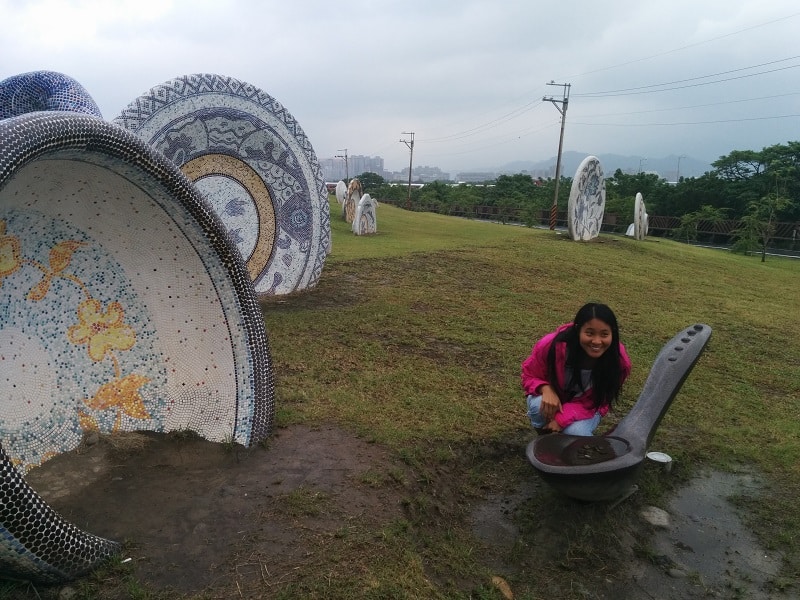 Where to eat: There is a lot to eat at Yingge including street food but head to the Taiwanese pork chop house for the famous Taiwanese fried pork chops and clam soup.
How to get there: Take the TRA train to Yingge Station. Walk 10 minutes towards downtown.
Sanxia Old Street
Sanxia Old Street is known for their architecture, with arched red brick hallways on both sides of the street so you feel like you're walking in a tunnel. The old street is part of Minquan Old Street where in the past, it was a strong front for goods distribution in northern Taiwan, most commonly dyes, tea and manufacturing materials.
Although it no longer plays that role, it is now geared towards tourism educating visitors about the district's key historical role.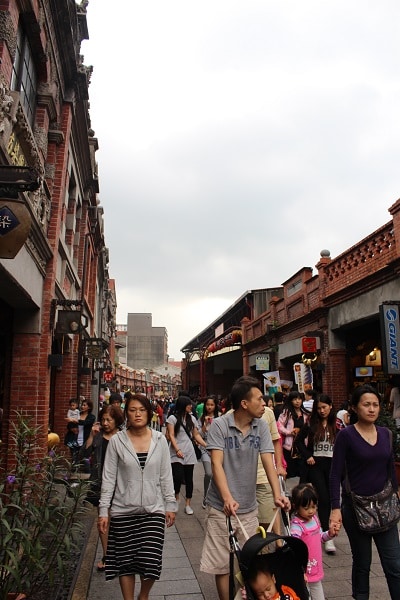 What to buy:
Sanxia has plenty of old school items and classic Taiwan souvenirs.
What to eat:
Sanxia is known for their bull horn croissants which you can recognize from the signature shape.  If you're feeling adventurous, you can pick up one of the famous pig blood cakes on a stick.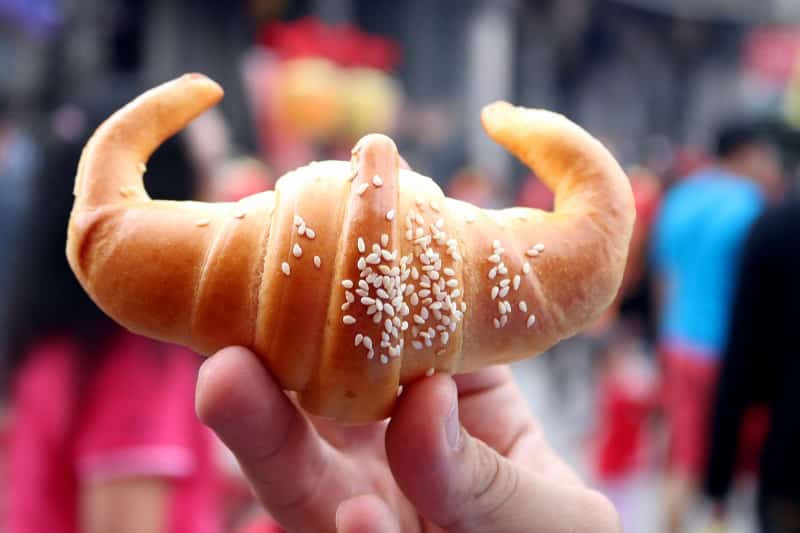 What to see: There is one main famous temple, Zushi. When we went they were having a performance and ceremony which was really interesting to see.
Old traditional buildings have a plaque over their front door describing what the store sold. Different shapes are included to ward off bad spirits or wish good luck.
There is also a Sanxia historical museum and Li Mei-Shu Memorial Gallery.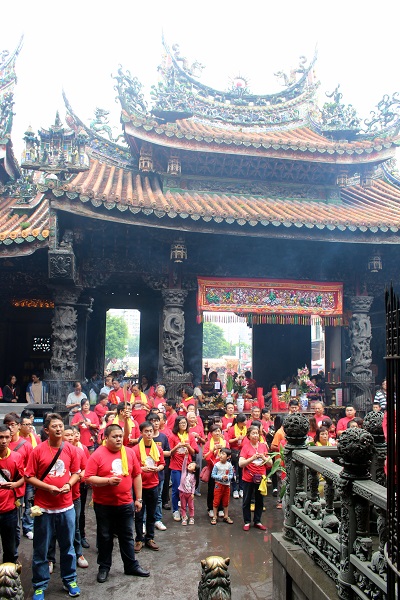 How to get there:
Sanxia is very close to Yingge so you can also take the TRA train to Yingge station and take a taxi to Sanxia.
Daxi Old Street
Daxi is an important township in Taiwan due to it being an important trading post. It is known for their traditional Taiwan souvenirs, the architecture and detail of their houses that have been there for hundreds of years, dried tofu (dougan) and douhua a silky tofu pudding treat.
To read more details about Daxi, check out our post dedicated to this township and old street.
Tamsui Old Street
This is one of my favorite old streets. Tamsui is a really popular area for visitors to go since there is so much to do there and the view is really nice. Tamsui district was the center of shipping in the 19th century and now it has historical attractions, a waterfront, old street and harbor to enjoy. The sunsets here are particularly spectacular.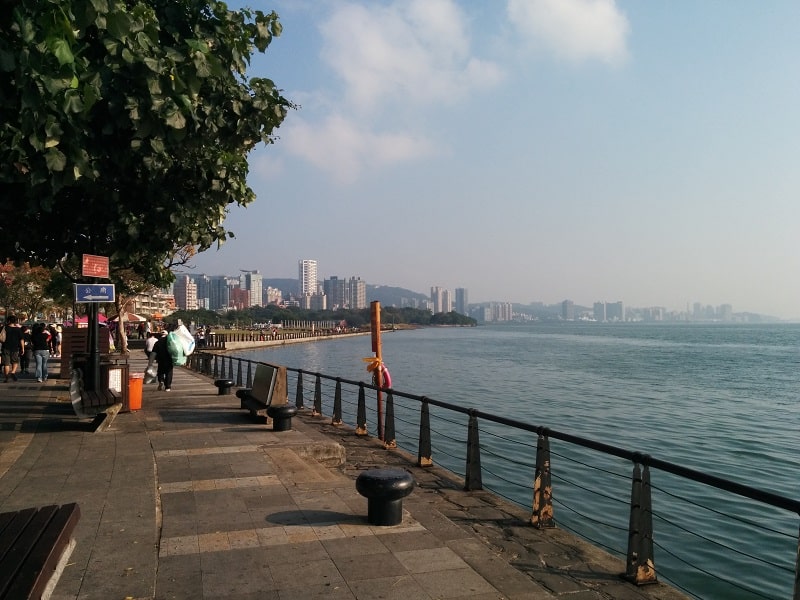 You can spend some time at the old street shopping for souvenirs, tasting some of the cheap street food, listening to the street musicians and enjoying the waterfront view. There is also the Fisherman's wharf, the ferry pier, a cat cafe and even a castle to explore. We bought many of our souvenirs here including some fun graphic Taiwan tshirts.
Some must eats are the Tamsui fish balls and iron eggs.
How to get there: Take MRT red line all the way to Tamsui. Get off and walk straight out from the station (there are signs) to the old street.
Jiufen Old Street
Jiufen Old Street is incredibly fun, this was another one of my favorites. This town used to be the center for gold mining, located up in the mountains and became prosperous when someone found gold in the hills. It was even nicknamed little Hong Kong/Shanghai due to the period of time when it was the gold city of Asia.
Now Jiufen contains just a glimpse of its golden past and is a popular area for locals and visitors to experience a piece of Taiwan's mountainside. Hike enthusiasts pass through Jiufen to reach the Teapot Mountain hike but the most famous part of the town is the Old Street.
Fun fact. You know that movie Spirited Away? Director Hayao Miyazaki got his inspiration from Jiufen for that movie! If you haven't seen Spirited Away, you have to. It's my top 3 favorite movies of all time.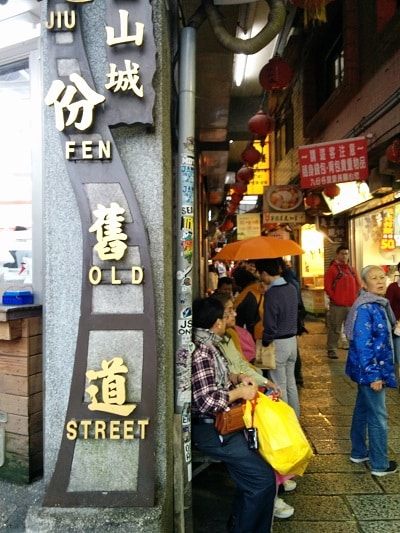 Unlike the other old streets, this one is enclosed and consists of many streets, not just one main one. Souvenirs and trinkets can be seen from every corner along with the best of Taiwan's street food. Yam is the most famous snack of Jiufen and you can try yam buns (I had one it was delicious) or indulge in one of the tea houses lying on the hillside with breathtaking views.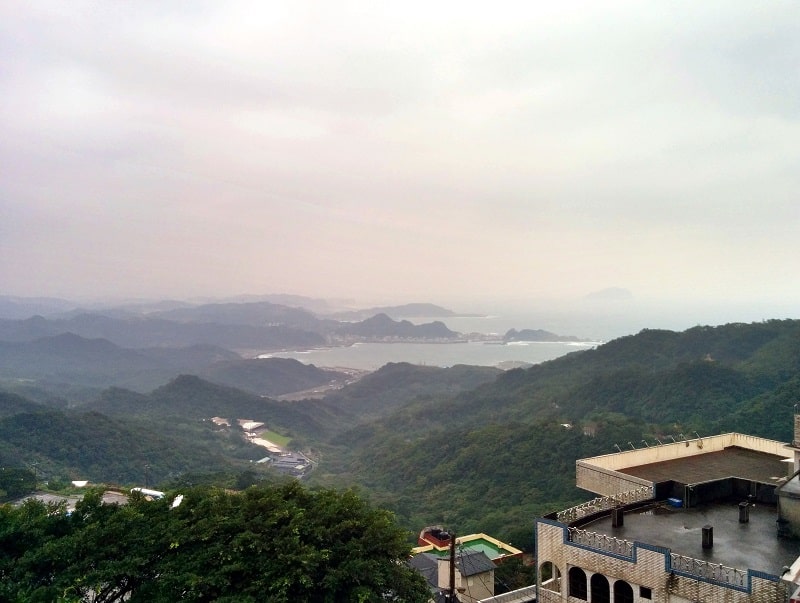 How to get there: Take TRA from Taipei Main Station to Riufen Station. From Riufen, take the Keelung bus (or any bus that goes up to Jiufen or the Gold Museum).
Tip: GO EARLY! The old street is quite narrow and once it got to be about noon, it got super crowded.
Lukang Old Street
Lukang is one of Taiwan's oldest towns and the old street is extremely popular. It was a busy port in the 1600's with their name coming from the deerskin they used to export (Lukang means deer harbor).
This old street has many old traditional houses but the highlight are the temples. Longshan and Tienhou temple are the most famous, with Longshan being the first Buddhist temple in Taiwan. People from all over the world come to visit this historical attraction.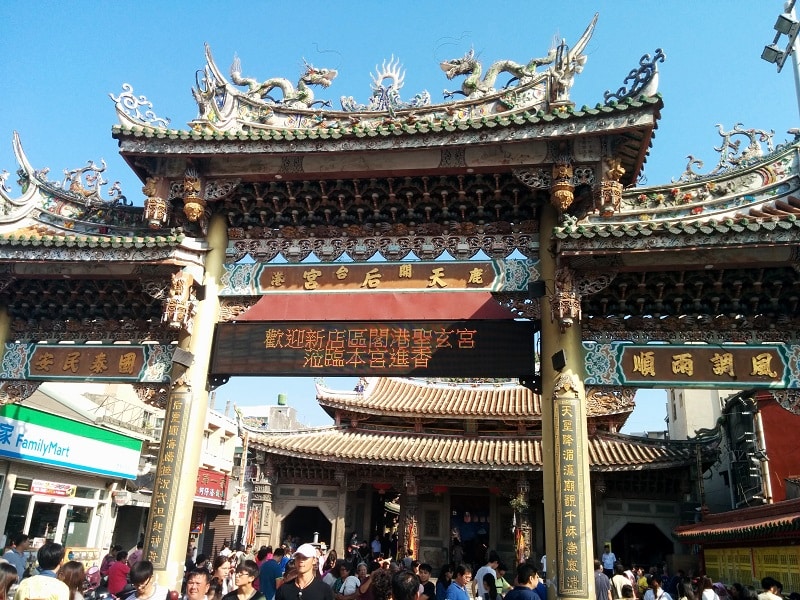 Seafood is also famous in Lukang. Everywhere you walk on the old street you'll see buckets of shrimp, octopus, oyster and more.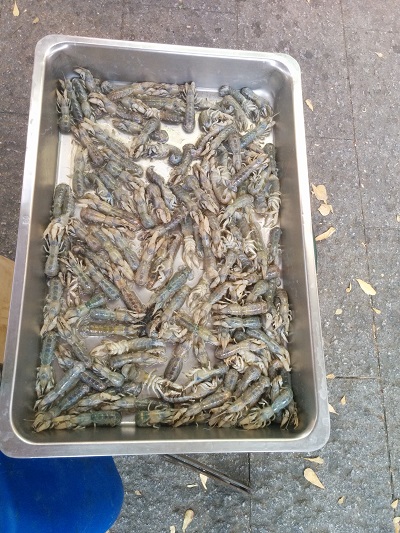 How to get there:
Take TRA train to Chunghua train station. From the Chunghua train station take the bus for Lukang at the bus terminal across the street. At Lukang Terminal, walk about 10 minutes to Lukang Old Street.
This old street was the most packed among all of the ones we went to. Try to go on a weekday because when we went on a Sunday, it was insanely crowded.
Some other honorable mentions
Like I mentioned before, nearly every town in Taiwan has an old street. Some other honorable mentions are Beipu (we stayed here but didn't go to the old street), Shenkeng, Nanzhuang, Bopilaio, Fengchichu, Xinhua and Anping.
No matter which one you go to you are sure to have an authentic Taiwan experience, tasting the local food and learning about the importance of each one. It's one of the best ways to learn more about Taiwan and how the country came about, you might be surprised as to just how strong Taiwan's economy was and still is!
Best tip: If you see a long line of Taiwanese people, check out what they're lining up for. The Taiwanese rule of thumb is if there's a long line, it's because what they're selling is really good. This way you can enjoy what the locals enjoy!
Read how much we spent in Taiwan below!