Despite being dethroned as the tallest building in the world from 2004 to 2009 by the Burj Khalifa in Dubai, Taipei 101 is a spectacular building and impressive to see in person.
Though you can see Taipei 101 from many spots in Taipei, there is one place that is known as having the best view of the building: Elephant Mountain or 象山. Not only does it have great views of Taipei city, it's also a popular spot for locals to exercise and tourists to hike. It's easy to get to, free and a nice activity for all visitors.
So if you want to get that ooh-ahh wow photo of Taipei, you have to head to Elephant Mountain. Here is all you need to know about visiting.
Hiking Elephant Mountain in Taipei
How to Get There
Take the red line on the MRT all the way to Xiangshan. It's the last stop on the line, one past the Taipei 101 stop. Take Exit 2 from the MRT station and you'll see signs for the hiking trail to the left.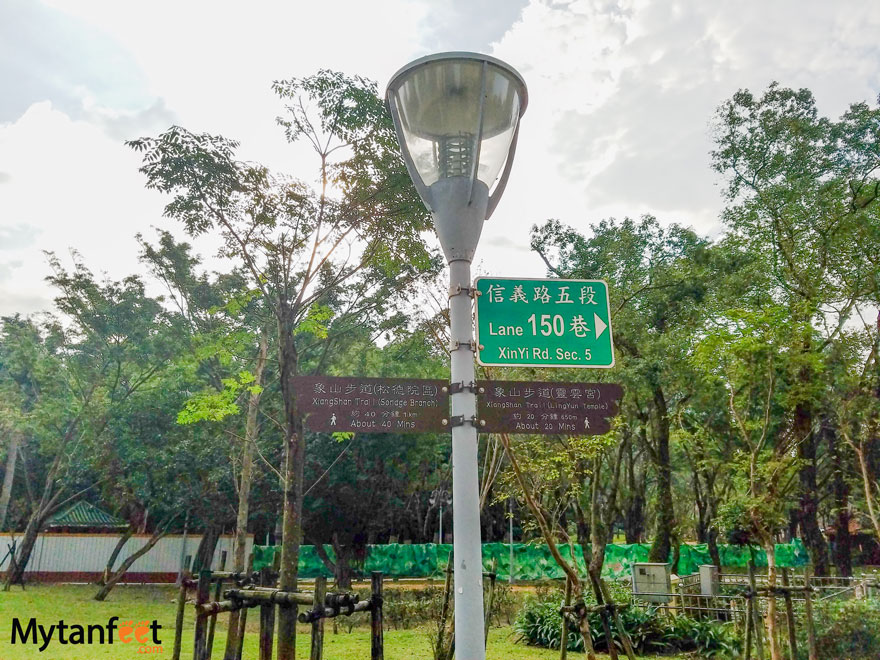 Continue left on this road for about 8 minutes, you'll keep seeing signs for Lane 150, Hiking trail. There's a sidewalk you can walk on.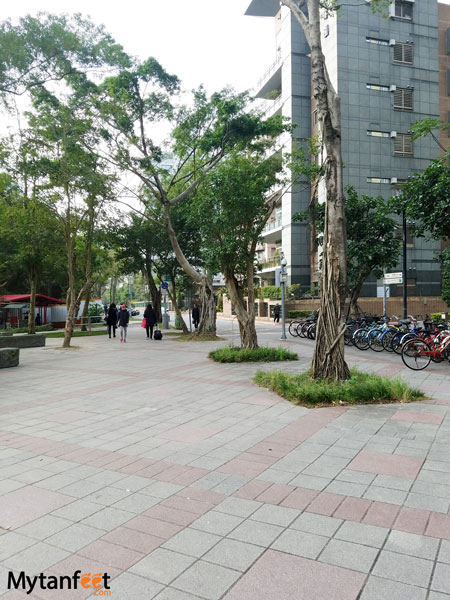 The road goes past a basketball court to the left and then curves up to the left with a park on the right. You'll notice that it starts getting steep to prepare you for the climb up! Once you go up the top, follow the road to the right and around the curve, you'll see the trail head to the left.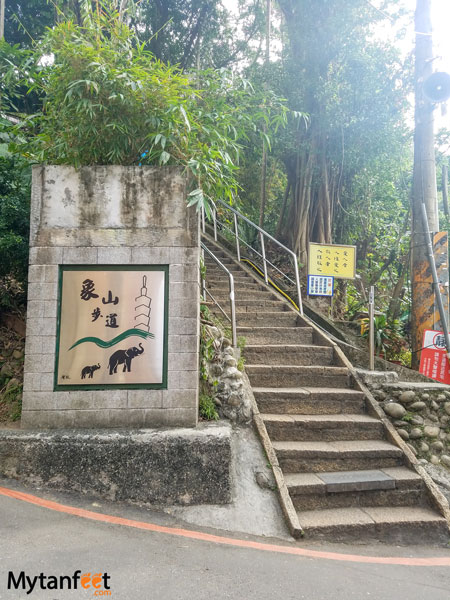 And now begins the climb. You can make it to the top in about 15 – 20 minutes if you're in good shape, if not, give yourself more time because it's a steep climb with a ton of steps!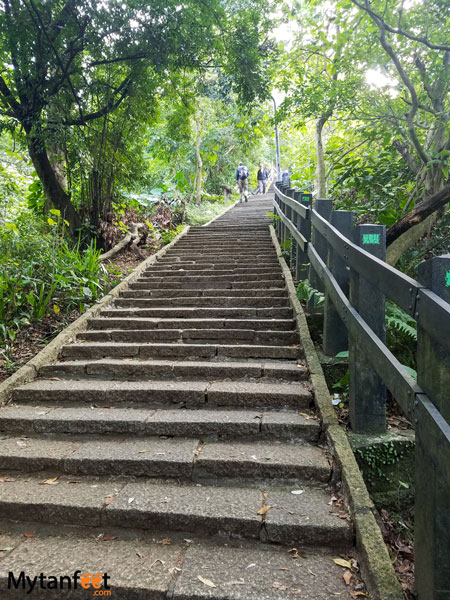 It's a very straightforward path, just stick to the right and you'll end up at a viewing platform which has a great view of Taipei 101 and the city. If you continue on this path, there are facilities on the other end and a trail down.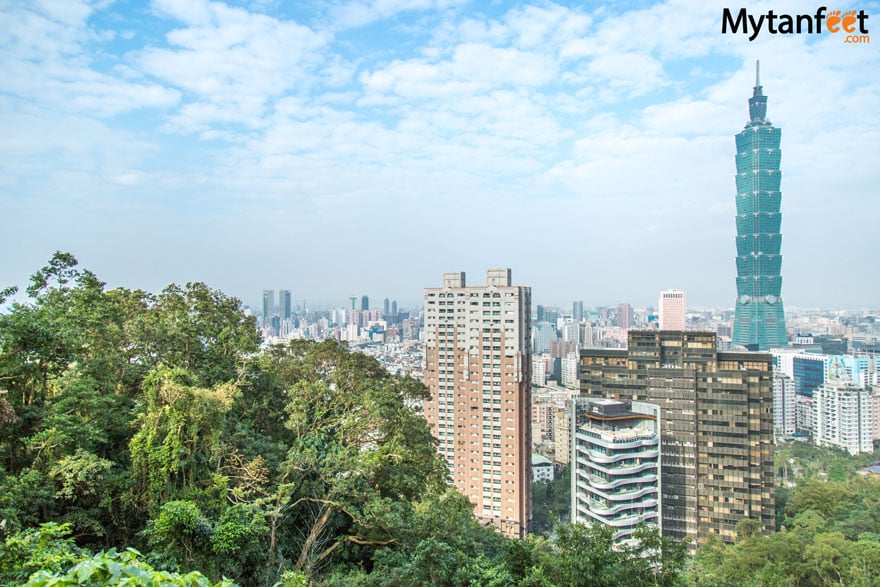 But the best place for a photo op is to continue up to the right (there is a sign that says temple, 5 minutes) to get to the boulders.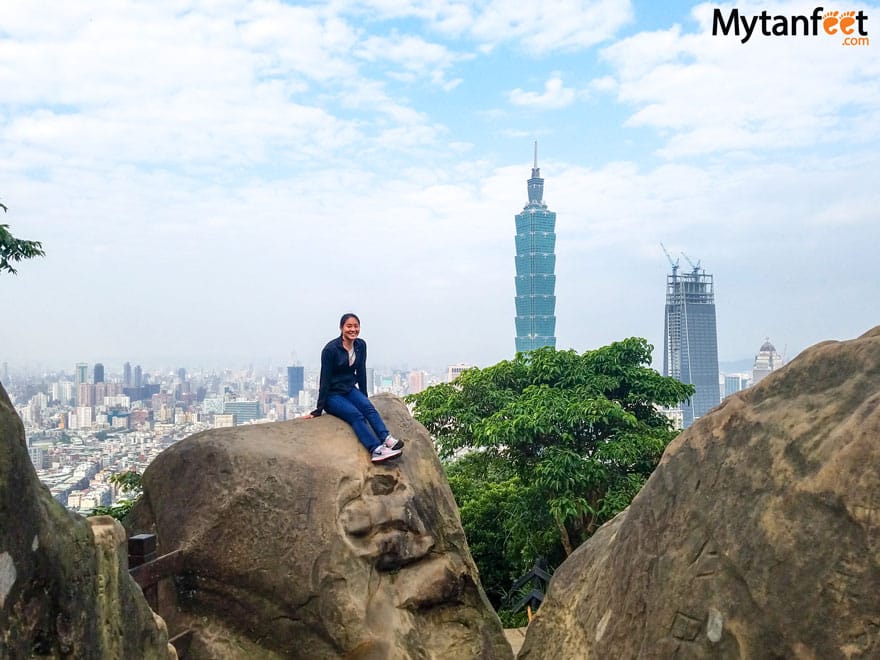 If you have time or want to keep going, you can. The entire trail is 1450 meters long and takes about 1 hour to complete. I didn't have enough time so I just went up to the boulders and the viewing platform, took some pictures and headed back down. Here is a trail map if you're interested. I definitely recommend hiking the whole trail if you have the time!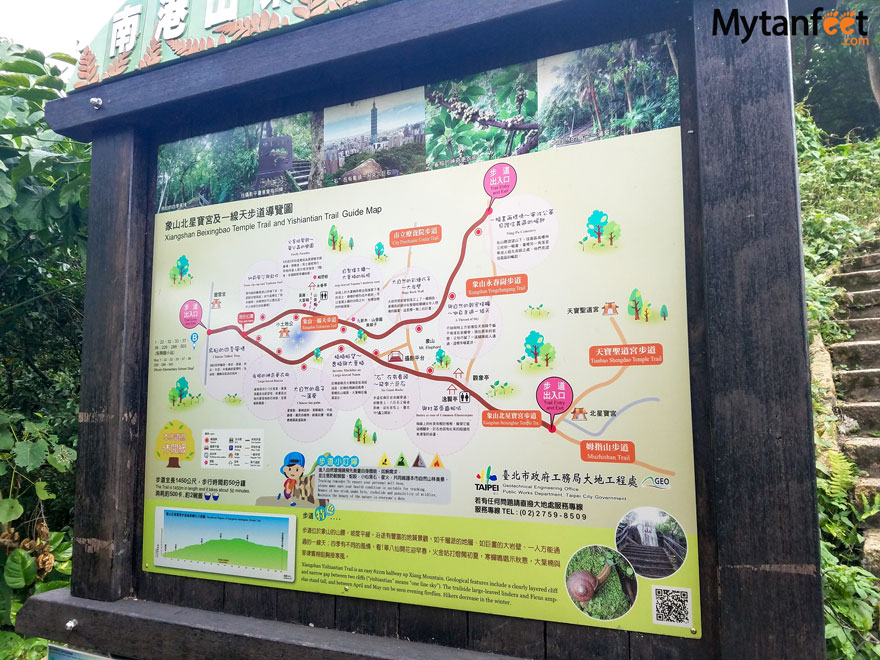 Along the way, you may see some birds or small mammals and this is an excellent place to see the sunset. Photographers love this spot because they can get some spectacular sunset photos of Taipei.
Tips for Elephant Mountain
Try to go early in the morning on a weekday if you don't want to be around crowds. I went on a Tuesday morning around 9 AM and there weren't many people there, mostly locals exercising. But come around 4 PM on the weekend for the sunset, it gets crowded. So stake out a spot if you want that epic sunset photo of Taipei.
Wear sneakers/running shoes. It's not a long hike but like I said, it's steep and you'll need comfortable clothes and good shoes.
It's a short trail so no guide needed, there is no entrance fee.
Read about more things to do in Taipei, Taiwan here!
Taipei Zoo and Maokong Gondola
Or read our Taiwan travel tips!