More and more visitors are including Taiwan in their Asia trip but this small island still remains a mystery to many. A big misconception is that Taiwan's an industrial country with nothing but cities, machines and factories taking over when it's actually quite the opposite.
Taiwan has plenty of nature as 2/3rds of the country is covered with forests, it has some of the best food in the world, and even if you're not a city person, you'll find something awesome to do in the capital city of Taipei.
With its easy to maneuver subway system, tons of mouth watering restaurants and friendly locals, Taipei isn't that intimidating for such a large city. Whether you want to weave your way through the high rise buildings and skyscrapers or if you want to breathe the fresh mountain air, Taipei's got it all.
Since I have family in Taiwan, we've visited several times and spent a good chunk of time in Taipei. Here are our recommended 20 things to do in Taipei!
Play With Kitties at a Cat Cafe
Did you know the original cat cafe is said to have been in Taipei? It's been operating since 1998 and now cat cafes have popped up not only in Taiwan, but all over the world. Animal lovers will love these cafes as they get to sip coffee surrounded by happy cats.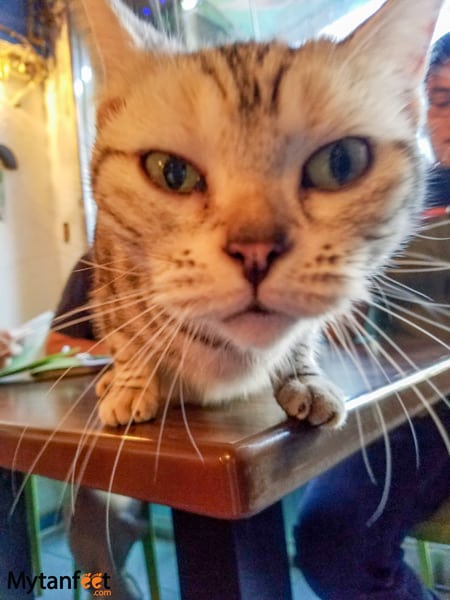 We visited a cat cafe in Tamsui District but there are a ton in Taipei. It's an excellent way to not only play with some adorable felines but to help the stray cat population in Taiwan which is sadly not well attended to. Many of the cats living in the cafes were taken in as strays by the locals.
Cat cafes in Taipei:

Cafe & Cats 1998: 129 Fuhua Rd, Shilin, MRT Zhishan
Mask Cat: 64 Changan West St, Zhongshan District; MRT Zhongshan
Spring Day Cat Cafe: 1/F, No. 361 Yanshou Street, Songshan District
Hike Yangmingshan Mountain
Yangmingshan National Park is one of 9 national parks in Taiwan and it's not very far from Taipei, making it a great outdoor day trip. There are many well maintained hiking trails of various levels with beautiful views of the surrounding landscapes and volcanoes.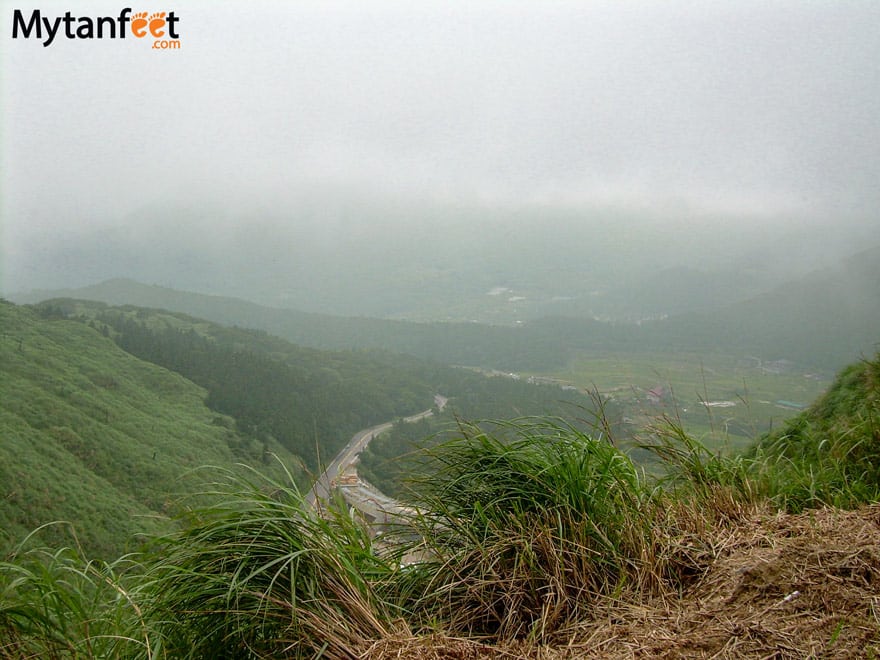 You can also check out the cherry blossoms if it's the right time of year, the hot springs, walk around Garden 91 and if you're an avid hiker, conquer the 1120 meters Seven Stars Peak for an incredible view of Taipei city.
How to get there: Take the red MRT line to Jiantan station and leave exit 1. There is a bus station to the left, take bus R5 to Yangmingshan station. You can also take the small bus S15 at Jiantan station or take Bus 260 from Taipei Main Station. No entrance fee to the national park.
Visit Raohe St. Night Market and the Rainbow Bridge
No trip to Taiwan is complete without a stroll through the famous night markets. Though there are a bunch of them in Taiwan, the most popular one in Taipei right now is Raohe St. Night Market where you can try the delicious pepper buns.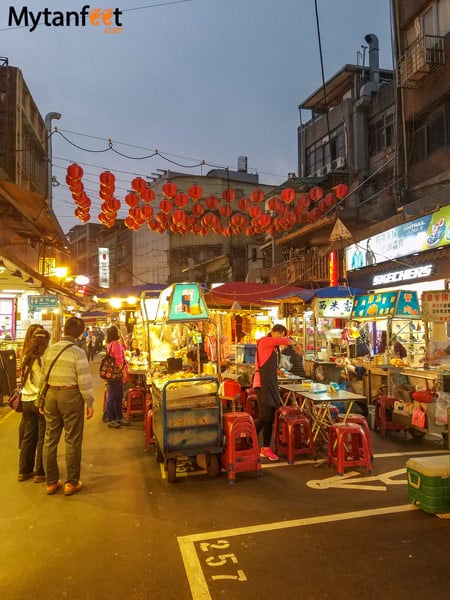 You can also sample other Taiwanese treats at the many food stalls or shop for clothes and souvenirs. Don't forget to visit the Rainbow Bridge just a two minute walk from the market. It's a very cute place to people watch as many locals walk or bike in this area.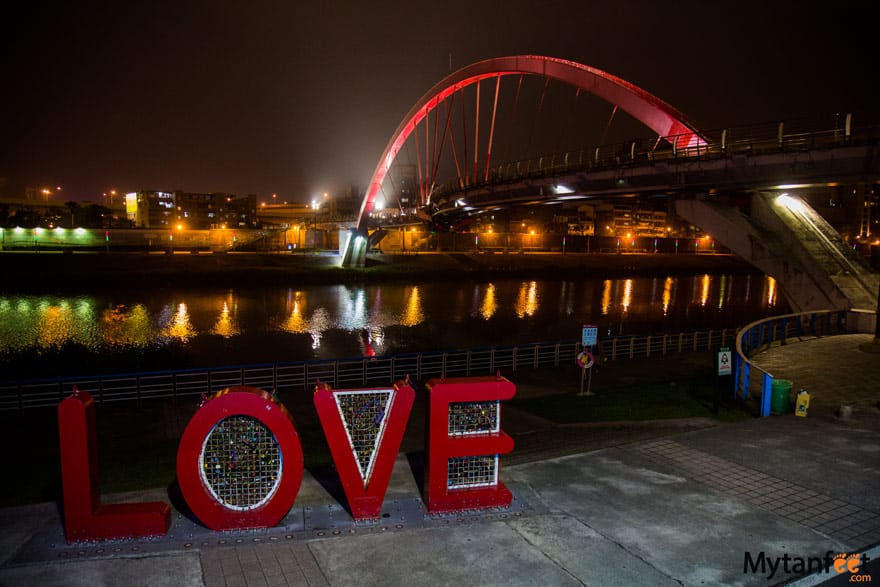 How to get to Raohe Night Market: Take the green MRT line all the way to Songshan (last stop), leave exit 5 and you'll see a temple nearby. The night market is right next to the temple.
Ride the Maokong Gondola
For more spectacular views of Taipei, ride the Maokong Gondola up to Maokong mountain. This 4.3 kilometer ride goes up 200 feet and takes you to the mountain which has many fun things to do. Since Maokong is known for their tea plantations, you can visit a tea house to learn the proper way to drink tea, walk the trails, explore the tea fields and buy souvenirs.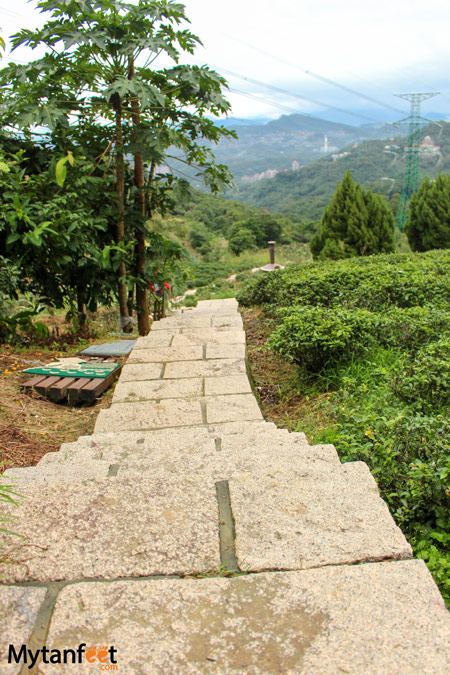 How to get there: Take the brown MRT line Line 1 to Taipei Zoo. The gondola entrance is right next to Taipei Zoo so you can visit both in one day. It only costs 50 NT one way to the mountain making it one of the cheapest fun things to do in Taipei.
Take the Kids to Taipei Zoo
Taipei Zoo is more than just a zoo, they are leaders in conservation, research and education. It's also the biggest zoo in Asia at over 90 acres with pandas, tapirs, giraffes and more animals. If you have kids, this is one of the best things to do in Taipei with the family.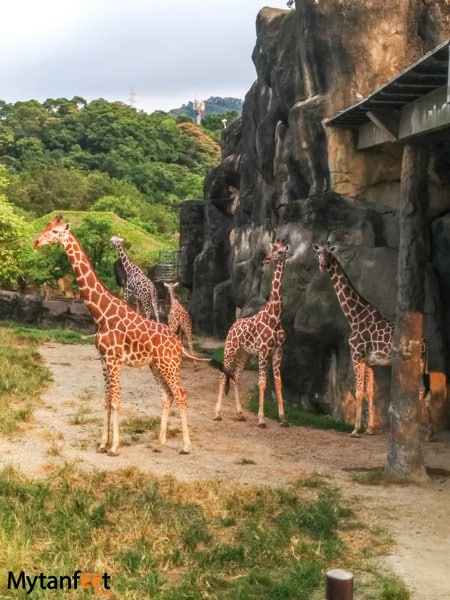 This is a wonderful activity for kids and it's cheap! It's around $2 for adults and $1 for kids under 18. When we visited, we did the zoo in the morning and Maokong Gondola in the afternoon.
How to get there: Take Line 1 MRT to Taipei Zoo, brown line. It's the last stop and there are signs everywhere pointing you to either the zoo or gondola.
Learn Taiwan's History at Chiang Kai-Shek Memorial Hall
Taiwan has a very interesting history and it's one of the biggest mysteries surrounding the island. Many people don't even know if it's a country or not! (The US does not recognize Taiwan as a country.) So you can learn about how Taiwan came to be, the role Chiang Kai-Shek in Taiwan and why he is so important at the memorial hall.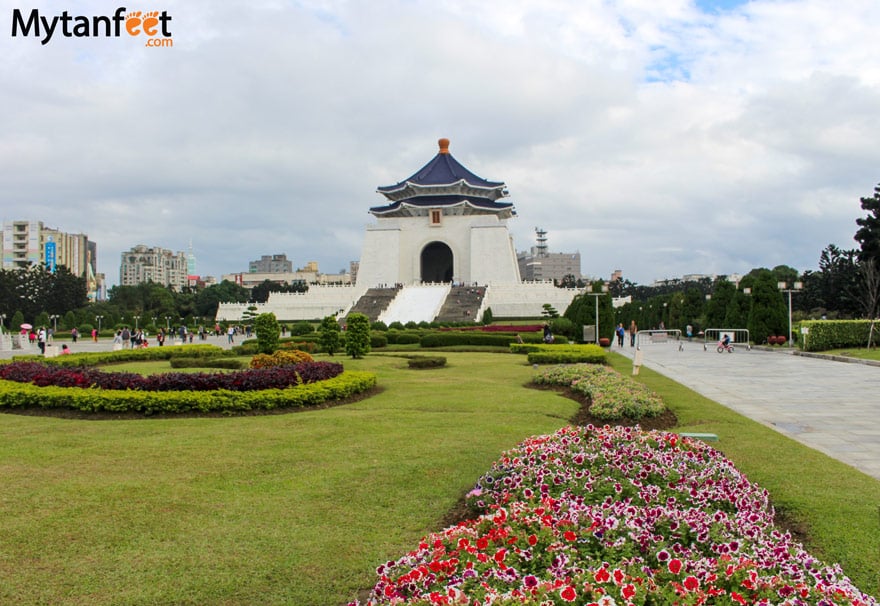 Walk up the steps to see the statue and the hourly changing of the guards or head downstairs to visit the museum dedicated to his life. When you get to the top, you get a great view of Liberty Square and the National Concert hall.
You can also visit Sun Yat Sen Memorial Hall to learn more Taiwan history and culture.
How to get there: Take the red line MRT to Chiang Kai-Shek Memorial Hall station. No entrance fee.
Hike Elephant Mountain and the Four Beasts for Awesome Views
If you're a sucker for awesome views and love to hike, another excellent place is Elephant Mountain, part of the Four Beasts Mountain. Elephant Mountain is a not too challenging hike that leads to incredible views of Taipei and Taipei 101.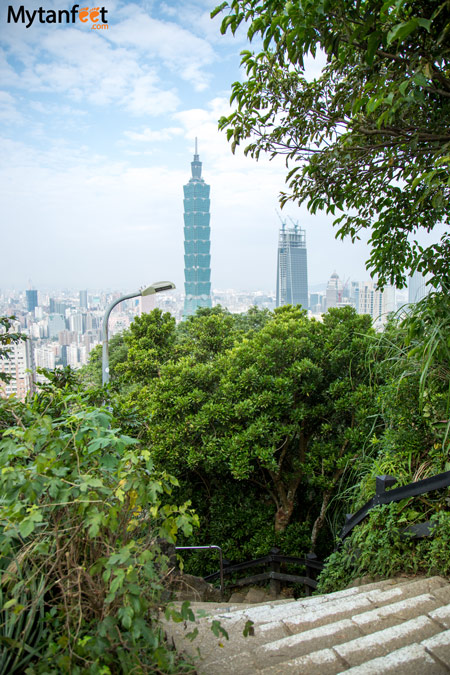 The main viewpoint is at the boulders and it's a short but steep climb up. If you have time, you can continue on to the rest of the trail. Once you're up there, you feel like the city is a world away even though you're actually not that far! Definitely worth the hike, especially for photographers who want to capture that iconic picture of Taipei 101 at sunset.
How to get there: Take the MRT Red Line all the way down to Xiangshan. Leave exit 2 and walk about 10 minutes on the road to get to the trail head. No entrance fee.
Visit Taipei 101 (and Go Up the Observatory)
Taipei 101 is a building known around the world and is worth a visit. The inside of the building is honestly not that exciting – it's actually a shopping mall! But you can take the elevator up to the observatory to get a spectacular view of the city. If you're not interested in spending $20 to go up, you can explore the building and gaze at it from the bottom.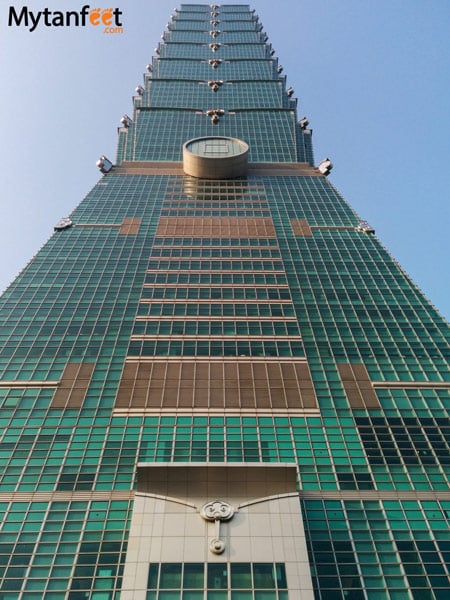 We loved to relax at the little plaza outside Taipei 101 as many local artists play live music there. We would grab a cup of coffee and enjoy the night.
How to get there: Take the MRT red line to Taipei 101 station.
Relax at Beitou Hot Springs
Did you know Taiwan has over 100 hot springs? You can find them all throughout the country and Taipei has one very famous hot spring area: Beitou.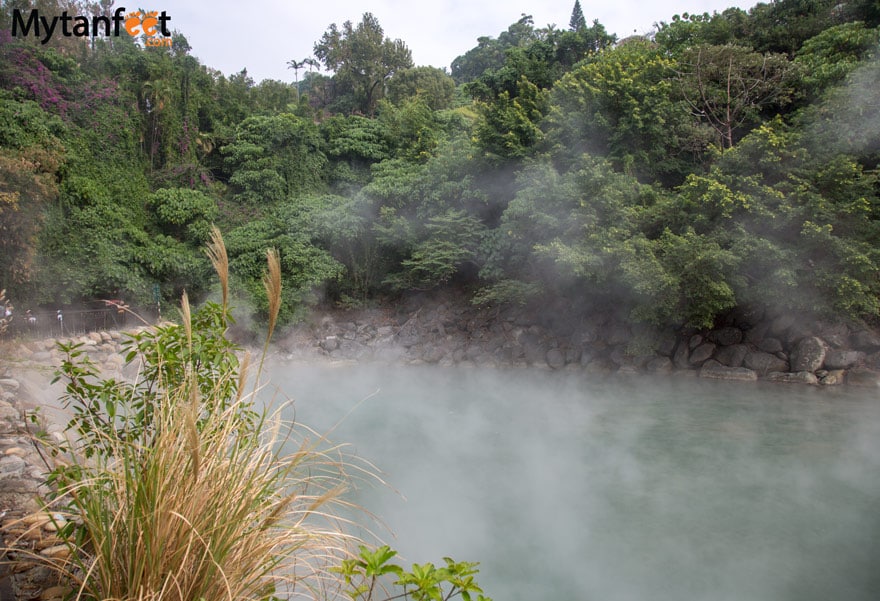 You can take a day trip to Beitou or stay at one of the many hotels in the area to take advantage of the full hot spring experience. It's incredible how close volcanic hot springs are to a bustling city! If you want to add a few relaxing days to your Taiwan itinerary, indulge in the many spas, tea houses and hot springs in the Beitou area.
How to get there: Take the red MRT line to Beitou. Get off at this station and you will transfer to another subway station. Ride one stop to XinBeitou.
Take the Taipei Hop On Hop Off City Bus
This new service allows visitors to see Taipei from a different perspective. The double decker hop on hop off bus has two routes through Taipei so that travelers can pick and choose which places they want to see at their leisure. Even though the subway is an excellent transportation system, you don't get to see as much of the city since you're underground and you still need to figure out which way to go from the MRT station.
With the hop on and hop off bus, they take you directly to all the points of interests. The bus is equipped with Wi-Fi, free phone chargers and has open and sheltered seats.
A 4 hour ticket costs NT$300 (~$10), a full day ticket costs NT$500 (~$16) and a night ticket costs NT$400 ($12). There are two routes: the blue and red line. They both start at Taipei Train Station. The blue line goes around Ximending, National Palace Museum and Chiang Kai-Shek Memorial Hall, running from 9:10 AM – 4:20 PM. The red line runs from 9 AM to 10 PM and goes around Sun Yat Sen Memorial Hall and Taipei 101.
Visit the National Palace Museum
Love art, history and culture? The National Palace Museum has to be at the top of your list of things to do in Taipei then! This museum has over 700,000 pieces in its permanent collection of ancient Chinese imperial artifacts and art.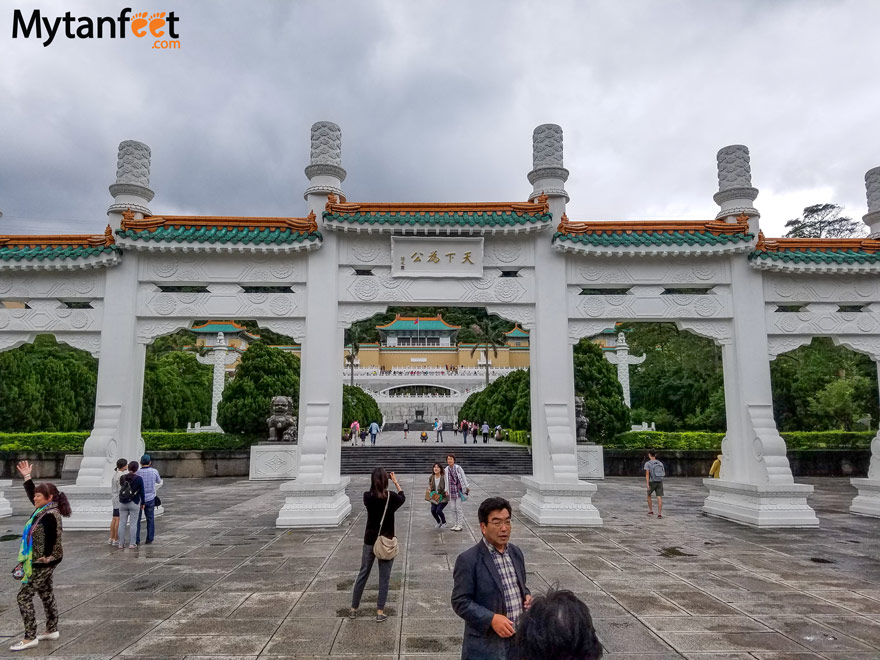 You can spend a whole day looking at different pieces, many of which were owned by China's emperors. It's fascinating to walk through history and see the transformation of China through art.
How to get there: Take the red MRT line to Shilin Station and exit. Take the bus R30 to the museum. It costs NT$250 (~8) per adult.
Explore Taipei by Bike
All around Taipei, you'll see these yellow bikes called YouBike parked outside the MRT stations. Locals and tourists both use these bikes to get around. The government set up the YouBike system to promote outdoor activity and as a low pollution way to travel short distances.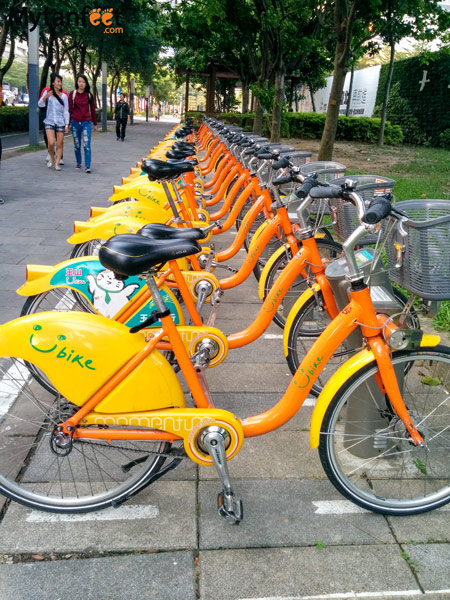 You do need to have an Easycard to rent the bikes which you can purchase at the MRT stations or 7 11. It's a cheap and fun way to explore Taipei! We rode around Taipei 101 and the neighborhoods.
It's free the first 30 minute and then it's 10 NT every 30 minutes for 4 hours.
Observe the Many Temples
Taiwan is full of temples and they are attractions not to miss. Each temple has a unique story and most old districts all have at least one. You will find three types of temples in Taiwan: Buddhist, Taoist and Confucius.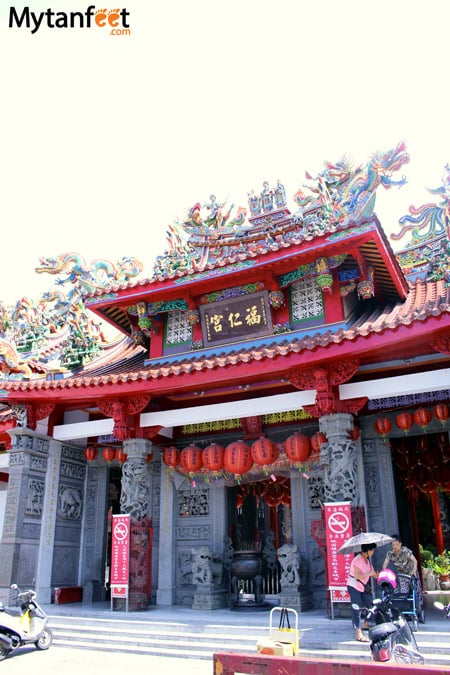 Popular and easy to get to temples are Longshan, Baoan and Qingshan. The one in the picture is the temple at Daxi District.
Shop and Eat at the Old Streets
One of the best ways to experience different aspects of Taiwanese culture is to visit the old streets and it's one of the best things to do in Taipei. There you can learn about the history of the area, visit temples and buy souvenirs. Each old street has a specialty and it's usually food. For example, Sanxia old street is famous for their bull horn croissants or pig blood cakes on a stick.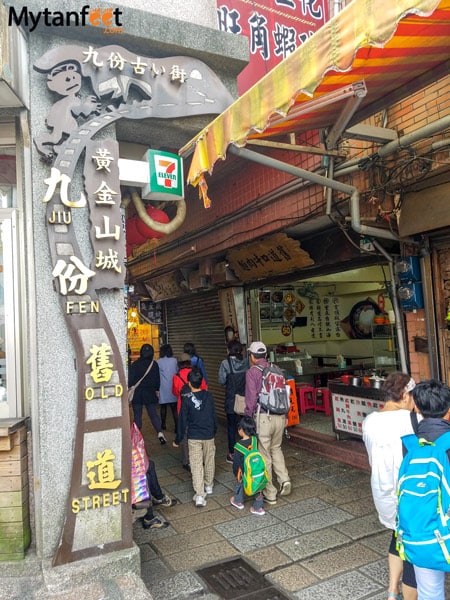 Popular old streest in Taipei are Tamsui (by the water), Jiu Fen (inspiration for the movie Spirited Away) and Yingge (famous for their ceramic items). Read our guide to visiting the old streets of Taiwan.
Drink Tea at a Tea House
Taiwan produces 3 types of tea: oolong, green and black. Taiwan's oolong tea accounts for 20% of the world's production and it's some of the best in the world. Drinking tea is taken very seriously in Taiwan so if you are also a tea lover, we highly recommend visiting a tea house to learn the proper Taiwanese way to drink tea.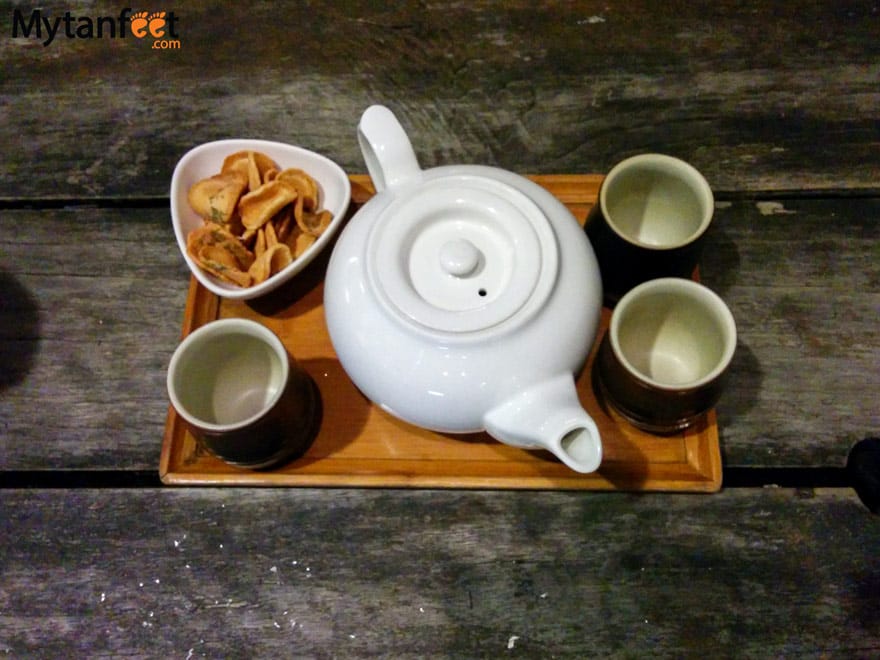 You can find tea houses at most old streets/districts. We visited a famous one, the A-Mei tea house in Jiu Fen old street. Remember how I said the director of the movie Spirited Away based much of the movie on Jiu Fen? Well the bathhouse Chihiro worked at is an exact copy of the A-Mei tea house and you can drink tea and eat snacks there.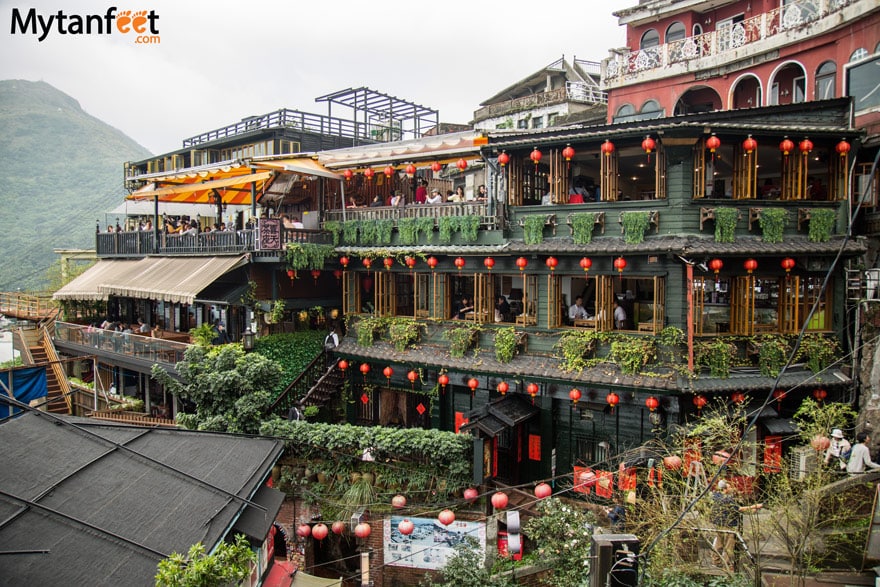 Even if you're not a big tea person, it's worth trying a cup or two. And if anything, at least try some bubble tea!
Take a Day Trip to Visit a Waterfall
It's hard to believe that not very far from busy Taipei are some stunning waterfalls like Wufengqi Waterfall (五峰旗瀑布). Most of the waterfalls you can visit from Taipei in one day are pretty accessible and don't have very tough hiking trails.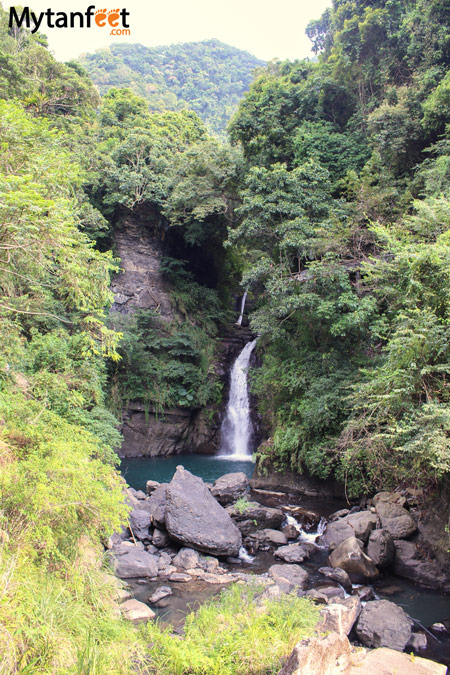 The waterfall in the picture is in Taoyuan so it's a bit further away from Taipei but the Wufengqi Waterfall is just a train and bus away from Taipei. From Taipei main station, take the train to Jiaoxi Station and then take bus 111 to The Wufengqui Scenic Area (about 2 hour trip total).
Go Clubbing
Taipei has excellent nightlife and clubbing is a must if you love a fun night out. Clubs in Taipei are crazy fun since you can find people from all over the world and they're generally very clean with an awesome atmosphere.
Popular clubs in Taipei are Myst, Omni and Elektro. Most of them are actually located near Taipei 101 so it's in a convenient location if your hotel is around there.
Eat as Many Soup Dumplings as Possible
Taiwan's restaurant Din Tai Fung didn't gain worldwide popularity for nothing! Those small but scrumptious soup dumplings will have your mouth begging for more at first bite.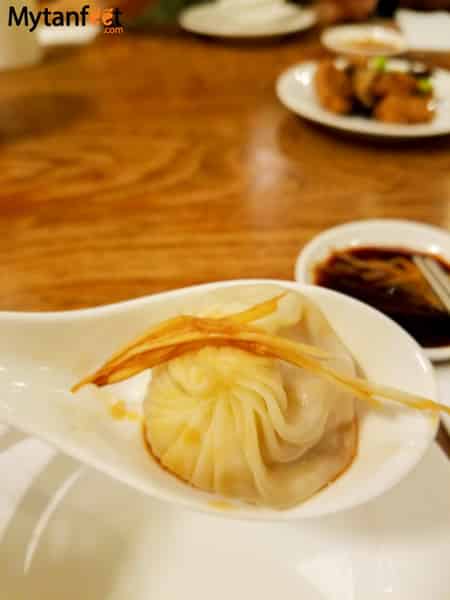 There is a Din Tai Fung at the bottom of Taipei 101 and you can usually find them in the SOGO malls. We always order soup dumplings, fried rice, green beans, cucumbers and chicken soup but they also have noodle soups and lots of other dishes.
Go Birdwatching at Guandu Nature Park
Taiwan has 156 species of birds and 8 endemic species on the island so if you love birds, bring your binoculars and head to Guandu Nature Park. It's open every day except Monday and costs $2 for entrance fee. At the park, you can see tons of migratory birds like waterfowl and shorebirds.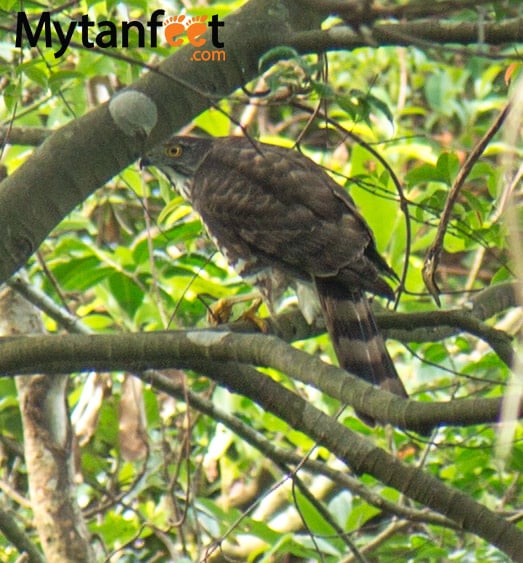 Guandu Nature Park has recorded 229 species of birds and you can also see other animals like fish, insects and reptiles.
How to get there: Take the red MRT line to Guandu Station and you can then take a bus (R35 or S23) to the park entrance or walk ten minutes.
Eat a Bowl of Beef Noodle Soup
And last but not least, you must eat a bowl of beef noodle soup while in Taiwan.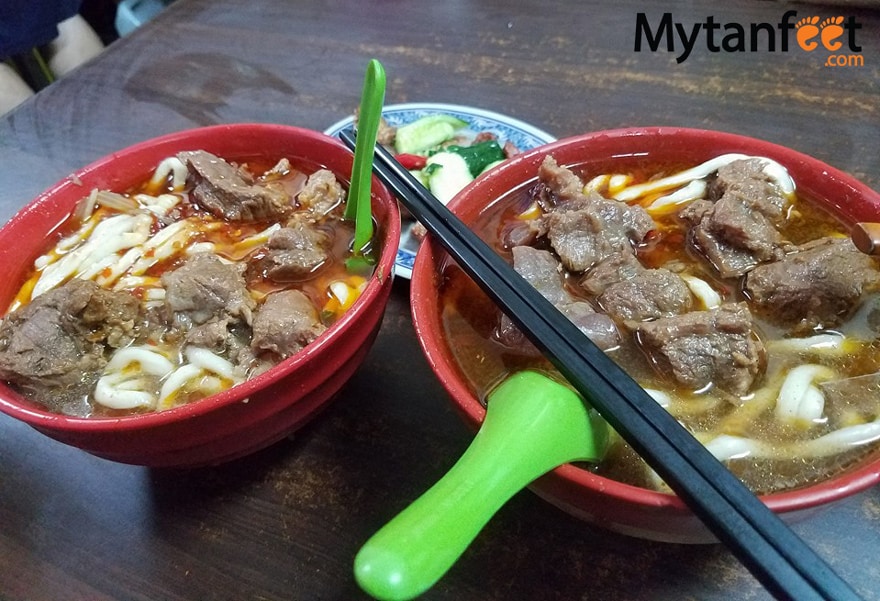 There is a famous beef noodle soup restaurant right outside the ZhongShan MRT station but you can find beef noodle soup restaurants everywhere. If you're interested in eating more delicious Taiwanese dishes, check out our post dedicated to Taiwanese food.
Day Trips from Taipei
Taiwan is not a big country and you can do a lot of day trips from the city. Some popular ones are Puli Wine Factory, Sun Moon Lake and Alisha.bi
Where to Stay in Taipei
There are several areas you can stay in Taipei. If you want to be close to Taipei 101, then you want to stay in the Xinyi District. But since the MRT is so efficient and cheap, you can stay in other parts of Taipei like Shilin District or Daan District and still be close to the many attractions. Here are the hotels we recommend.