How to Start a Travel Blog
You love to write, take photos and of course travel !
Your friends and family have been telling you to start your own travel blog for awhile but you've just never gotten around to it. It's been in the back of your mind for awhile and after reading other travel blogs, the idea of having your own has been growing and growing.
Well what are you waiting for ?
Start your very own travel blog today! We can't even stress just how much fun it is and it is such a wonderful way to keep track of your travels, plus you can even turn it into a side business or just have it as a hobby.
It'll take you less than 20 minutes to get your blog up and running and even publish your very first post!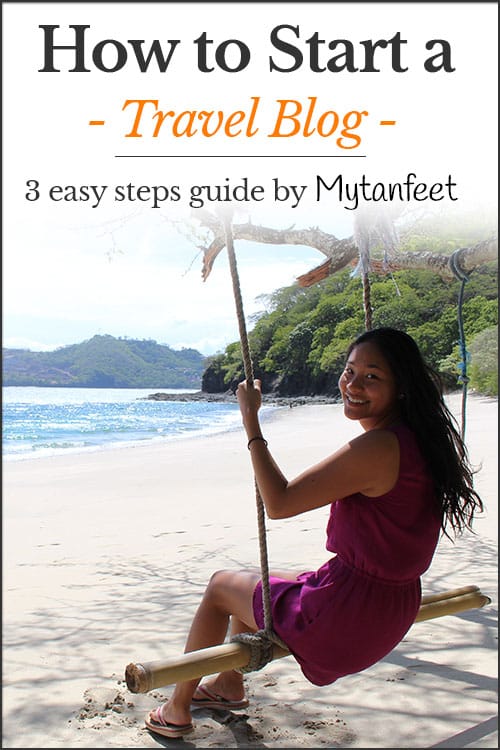 Disclaimer: Some of the links below are affiliates which we earn a small commission if you purchase through them. All the products we recommend are ones we use ourselves. If you have any questions, feel free to leave a comment and we'll do our best to answer them.
Let's start your own travel blog!
In these three steps, you'll learn how to:
Set up your hosting and domain
Install WordPress
Publish your first article and customize our blog
1. Domain and Hosting
The first step into the travel blogging world is to pick your domain name. (Our domain name is Mytanfeet just in case you are not sure what that is). Think of some that sounds good to you and once you've decided, head over to Bluehost to see if it's available.
If the name you want is available, complete the form to purchase it. (Be 100% sure, you can't change it after you buy it!)
Now you need to host your brand new domain. We recommend Bluehost for beginner bloggers since it is cheap, has good service and they give you a free domain name when you host with them. Now who doesn't love free stuff? 🙂
For the package details, these are the recommended features.
I suggest going with the 12 month package for $6.95 a month and it's recommended to get the Domain Whois Privacy, it privatizes your personal address and phone number.
2. Installing WordPress
Now that your domain and hosting is all done, you need to install WordPress. WordPress is a blogging software that is widely used by bloggers since it is 1. Super easy to use and 2. Google loves it.
If you're worried about learning how to design your website and deal with all the techy stuff, don't worry! There are tons of helpful websites and Youtube tutorials out there on WordPress that can answer your every need.
Log into your account on Bluehost, click CPanel and then WordPress.
After it finishes checking the requirements, click Start. Select the domain you want to install WordPress which will be the one you just bought.
Next, click Advanced Options and fill out the form. Remember this as you will use it to log in.
Now WordPress will begin installing. It takes a few minutes so just let it do its thing and relax 🙂 Are you getting excited? You should be! You're just one step away from being a full fledged travel blogger!
And it's done! You just installed WordPress on your blog! Click My Installs to access your brand new WordPress domain.
Click Admin login and it'll take you to this log in page. Enter the information you filled out earlier.
And that's it! You have just completed the first steps to starting your own travel blog!
You are now officially the owner of a travel blog! Congratulations and welcome to the blogging world!

See how easy that was?! Now comes the fun part!
3. Making it your own
Now you can personal and customize your blog to make it your own. The first thing you need to do is pick a theme and there are a ton out there to play around with. You can find a bunch of free and paid WordPress themes to make your blog look nice and professional.
We started Mytanfeet with ThemeForest which we highly recommend.They have a huge selection of premium themes with excellent customer support in case you have trouble installing it or have any other problems.
That's all there is to it!
Now the rest is all up to you, new travel blogger! Start writing posts, uploading photos and filling up your blog with your fun stories and awesome travel photography. Share with your family and friends and watch it grow.
Need more help?
We are building the perfect guide that will take you to the next level on blogging subscribe to our blog for updates. In the meantime you can check out the posts we've written about blogging such as formatting posts, hosting, and more here.
Happy blogging my friend!