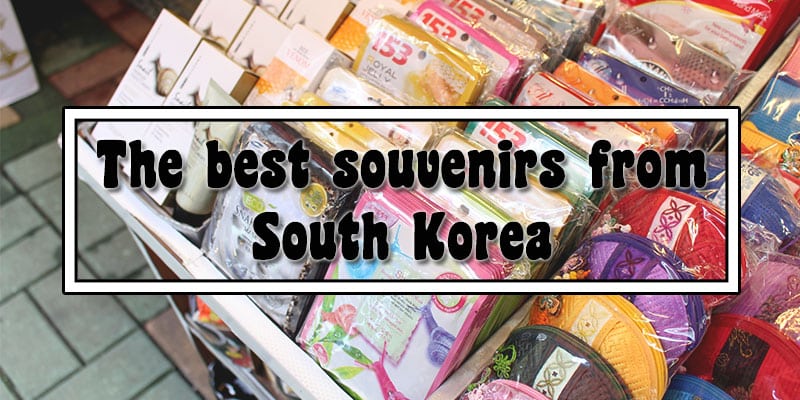 When we touched down in South Korea I had one goal in the back of my mind for souvenirs: I wanted to bring back beauty products for my friends and family. My best friend and I always email each other the funny/cute/weird beauty products from Korea we find online and I couldn't wait to find them in person.
I'm glad Yeison and I set a budget for ourselves when we were in Korea because I would have spent all my extra money on just beauty products. I think I stopped at almost every single one we passed and poor Yeison had to wait for me while I perused every one. It's so hard not to check them out!
Beauty products are definitely a must-buy when you're in Korea, for yourself and for others. Guys don't worry, it's not all girly stuff they sell! Most stores have a men section as we all know that Korean men like to look pretty too.
They have so many interesting products containing things most people don't dream to put on their face, the packaging is incredibly cute and the ingredients are so different from the ones we find in the United States.
After two and a half weeks in Korea, I managed to get a pretty good haul while at the same time preventing myself from buying the whole store. Every day I'd take a peek in one and somehow that one little peek turned into me leaving with a bag but hey, I made sure to find some good deals… most of the time 😀
Beauty Product Souvenirs from South Korea
Masks
My main obsession was with the face masks. Each store carried their own line and there were so many different types! I saw tomato, potato, lemongrass, chrysanthemum, rice, avocado, lime, pomegranate and nearly every fruit and vegetable you could think of.
I bought a couple snail ones but I think I'll pass that onto my friend, as someone who has a phobia of slugs I don't really want to be putting their sliminess on my face! Just looking at it gives me shivers!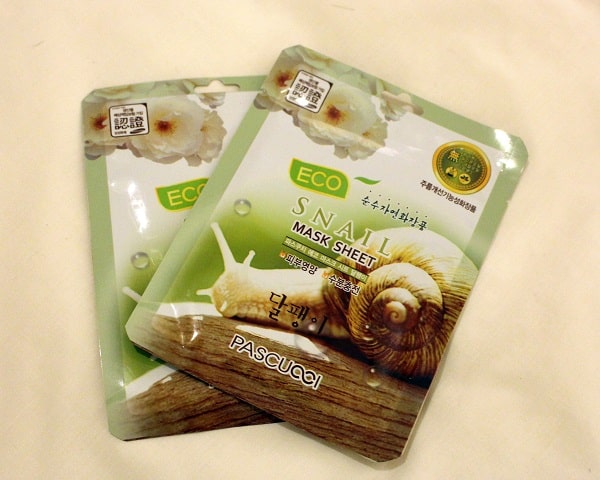 One of the stores we went to had a 10 masks for $2.50 sale and I couldn't resist buying a few packs. I got seaweed, collagen and aloe and then a few masks for less than a dollar each.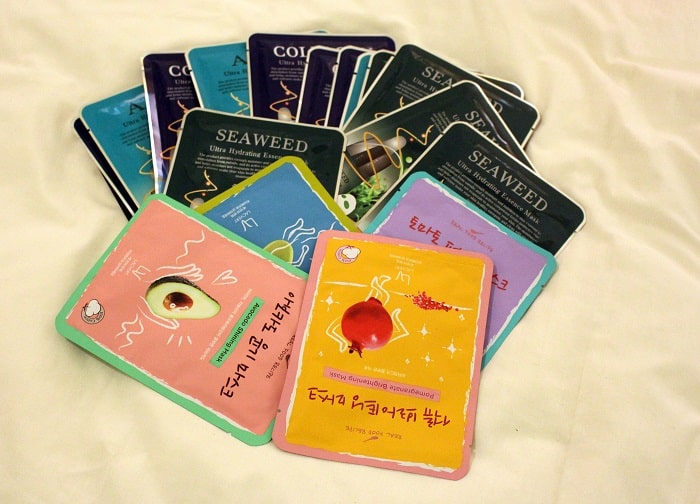 If you're looking for face masks, beauty stores carry a huge variety. You can also check some of the souvenir stalls which is where I found the snail and bee and snake venom ones.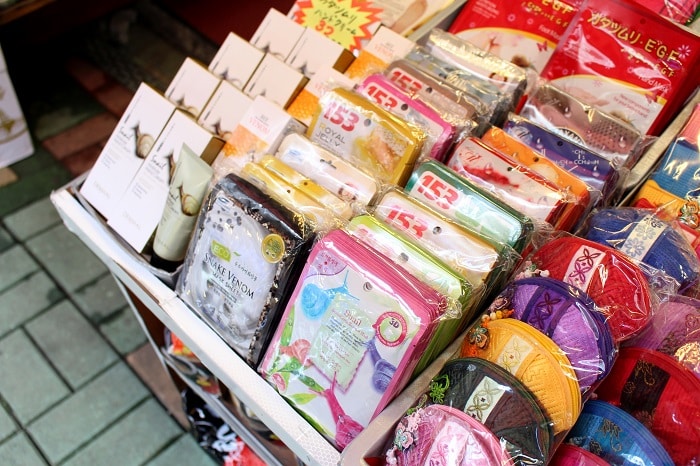 Hand Cream
My hands have been super dry ever since I got to Asia so I went on a hunt to find some good hand cream. I also noticed that nearly every beauty store carried their own line of hand cream but I found a good deal at Innisfree and bought a few from there.
Yummy flavors too!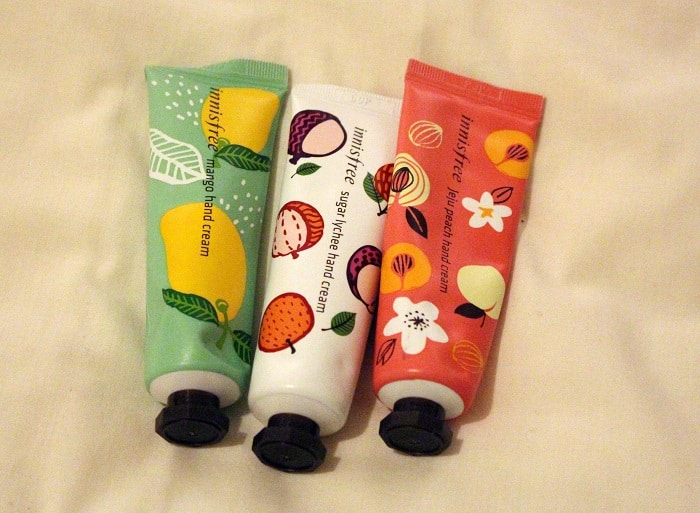 Nail Polish
I got 3 nail polishes for $1 each, so cheap and really cute colors. I would have bought more if sense and reason didn't kick in…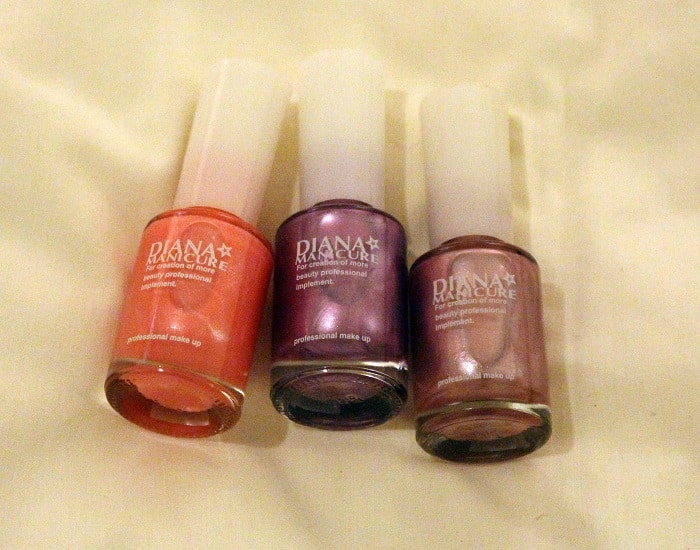 Nose Strips
The number of different nose strips I found might astound you and many of them had hilarious drawings on the packaging. There was one with a cartoon pig, a cartoon baby, and oh so many more weird ones. I got the "normal" ones: green tea, charcoal and regular. Most are $1 or $2 for one.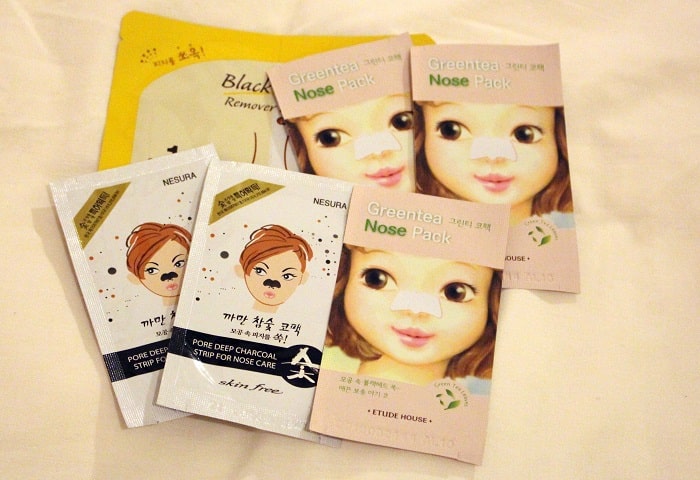 Not pictured in my beauty product haul are eye patches, cosmetics and face wipes. I even found a snail eye patch for Yeison haha!
Beauty Stores to visit
It seemed like there was a new beauty store in every city I went to, especially when we were in the Seomyeon underground shopping area but some of my favorite stores are Etude, Beautiplex (super cheap), Missha, InnisFree (one of few Korean brands that uses organic ingredients), The Face Shop, SkinFood and Nature Republic. They also give you free samples of stuff you look at!
Other Souvenirs
OK I know not everyone is a beauty product freak like me so if those aren't your thing, there are a few more souvenirs you can bring back. Here are some socks we bought. Socks are a really popular gift and we saw them everywhere in Busan for as cheap as $1 a pair.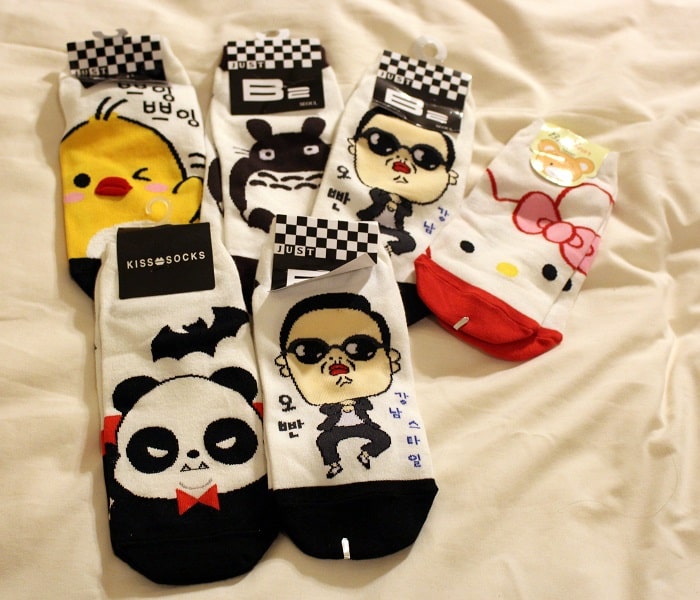 Some popular ones are socks, bookmarks, KPop paraphernalia, keychains, purses, wallets, and Korean cultural stuff. Guaranteed to be in some cutesy form or another!
We ventured into a bookstore one day and I loved all the stickers, pencil cases, notebooks, rulers, staplers and stationary products. I bought a simple purple passport case and some stickers.
For food you can bring back ramen, rice crackers, cakes, dried squid, crab crackers, the traditional Korean crackers, the cone shaped corn chips, Pepro and Chocopie.
More articles about South Korea