A few weeks ago, Yeison and I were watching TV when we saw something that caught our eye. "Wait, go back," Yeison said and I went back a couple, landing on DestinosTV, a channel for the tour company.
They were currently doing a feature on the San Blas Islands in Panama, somewhere I have never heard of.
"That place looks gorgeous," I commented. "Let's go!" Yeison said. "Sigh, I wish…"
"No, really let's go!"
And go we did.
We had planned on going to Panama sometime this year and it ended up being perfect timing. We did our research on the internet and ended up going with a tour company.
Waking up bright and early on the day of our departure, we took a two hour drive and 40 minute boat ride. Then finally gorgeous islands emerged, one of which would be our home for the next three days.
You can see how beautiful they are in our video or read on below!
San Blas Islands, Panama
About 365 islands exist in San Blas of all sizes, only 40 of which are lived on and they are truly like an island paradise. Every shore has soft, real white sand and the waters are insanely clear, with shades of blue from turquoise to dark.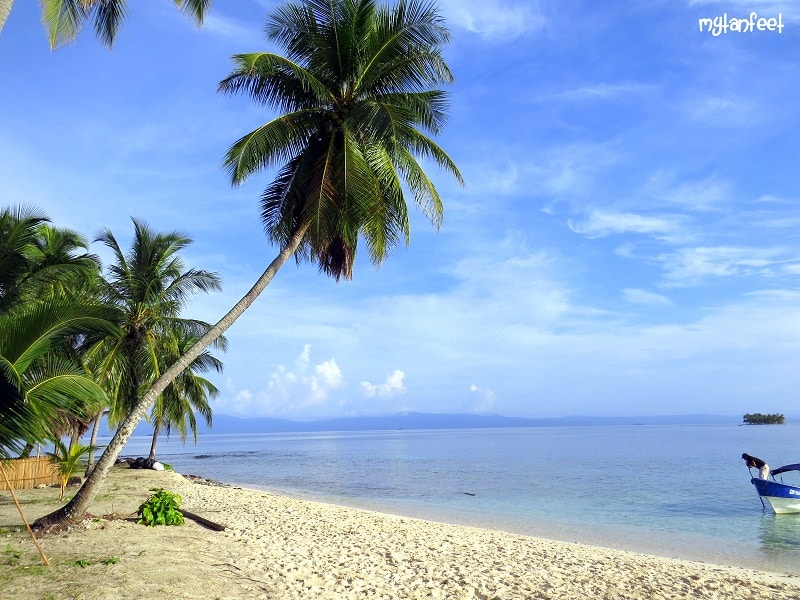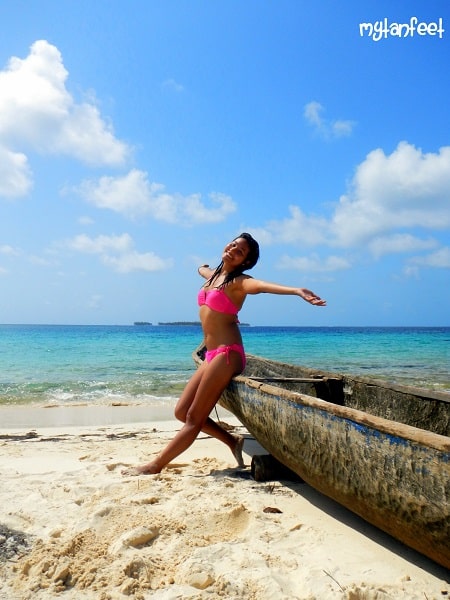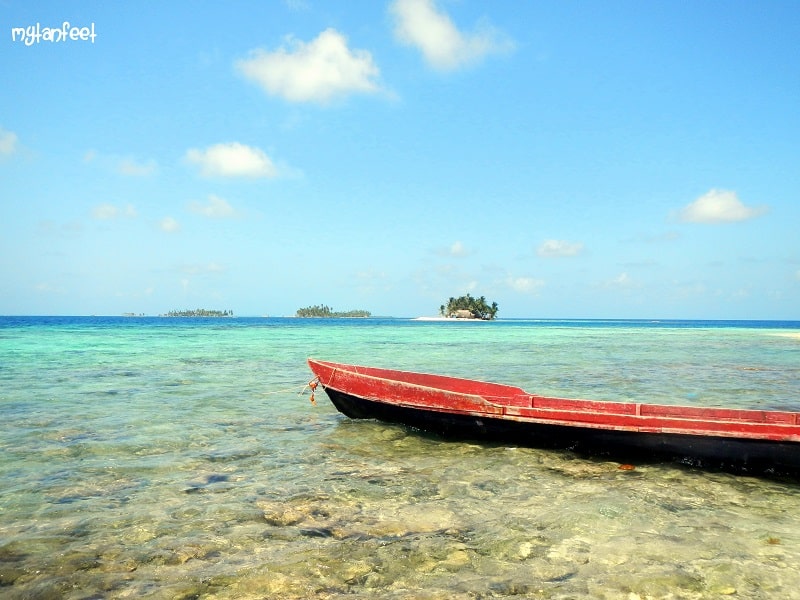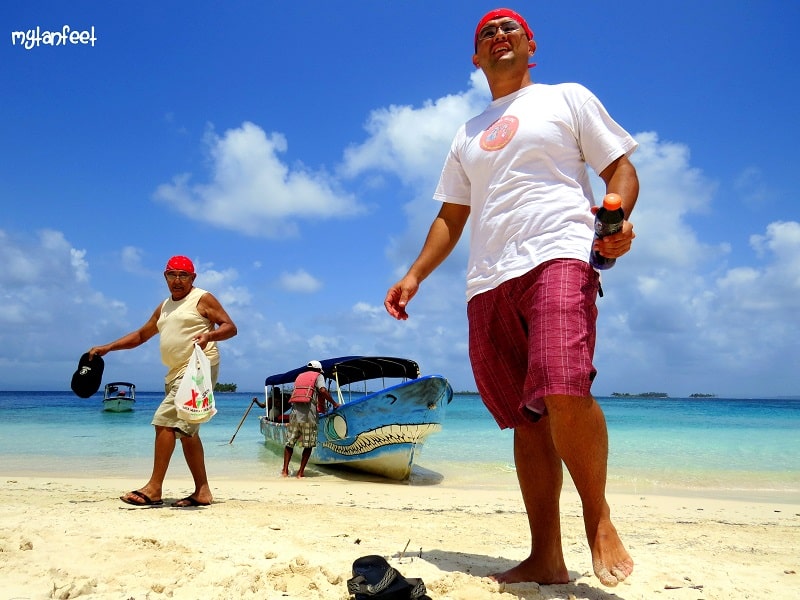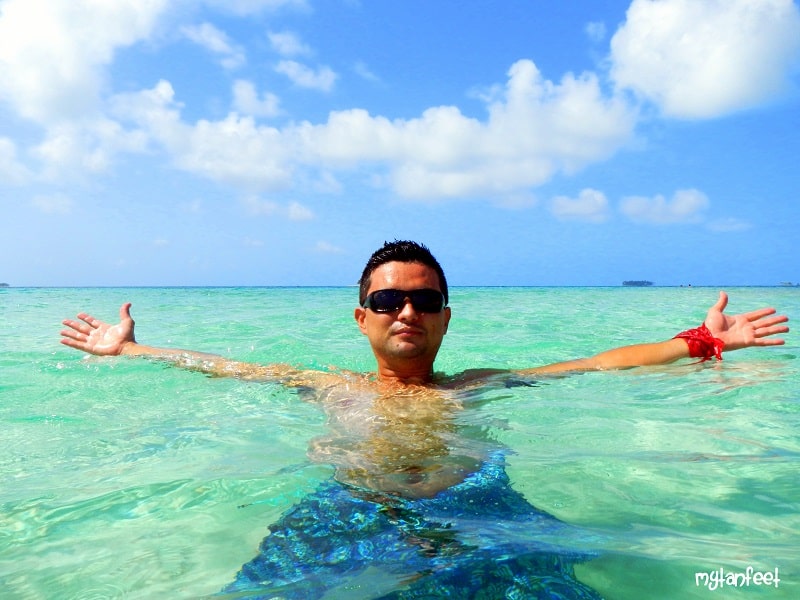 We stayed at Dog Island, Isla de perro which has been named as one of the top snorkeling places in the world and there is no doubt about that claim. With warm comfortable waters and so many animals to see, snorkeling is a must do activity at the San Blas islands.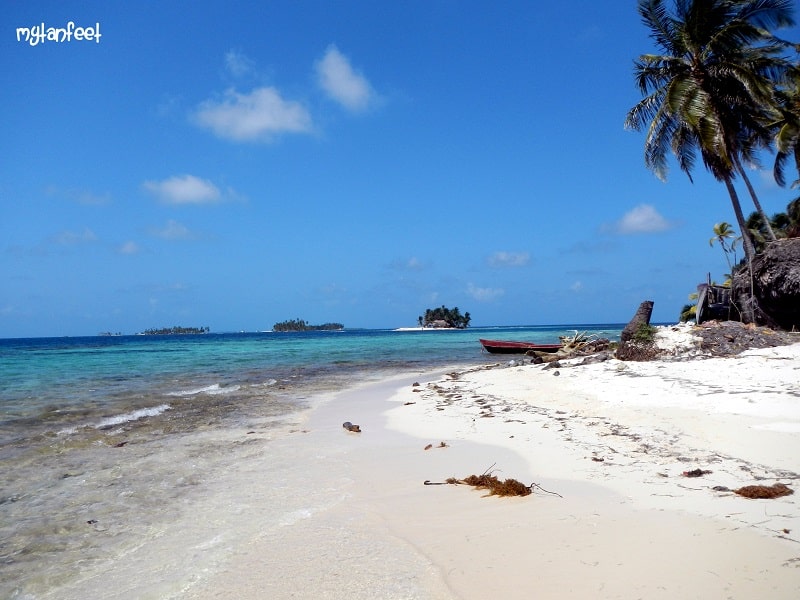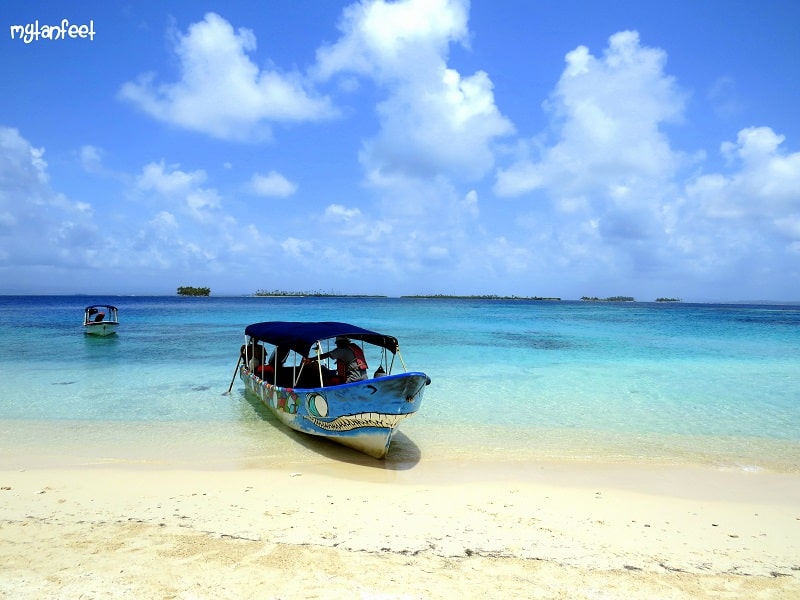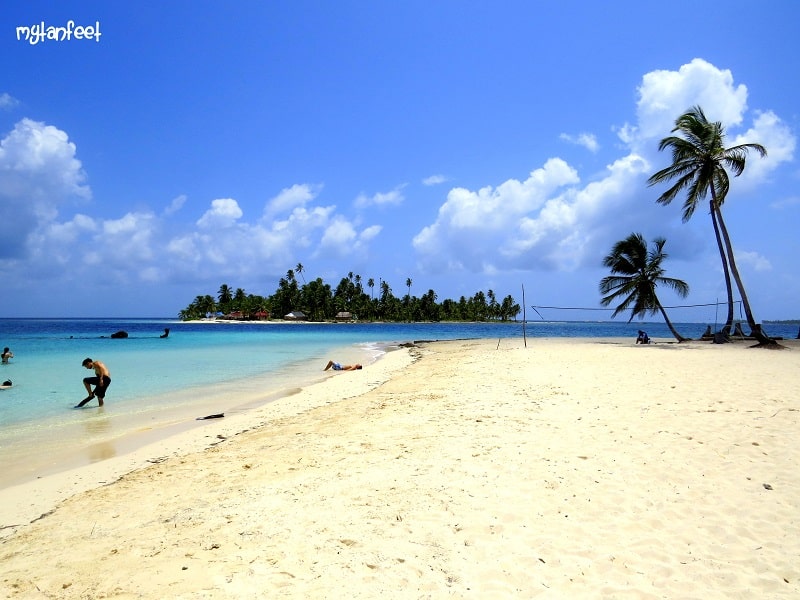 For meals, they bring you the catch of the day, either fish or lobster along with rice, salad and patacones. You can't get seafood more fresh than this. One of the staff helped our friend catch a lobster he saw snorkeling and cooked it for him for dinner.
Definitely one of my favorite meals I had in Panama and the best Panamanian food I'd ever eaten!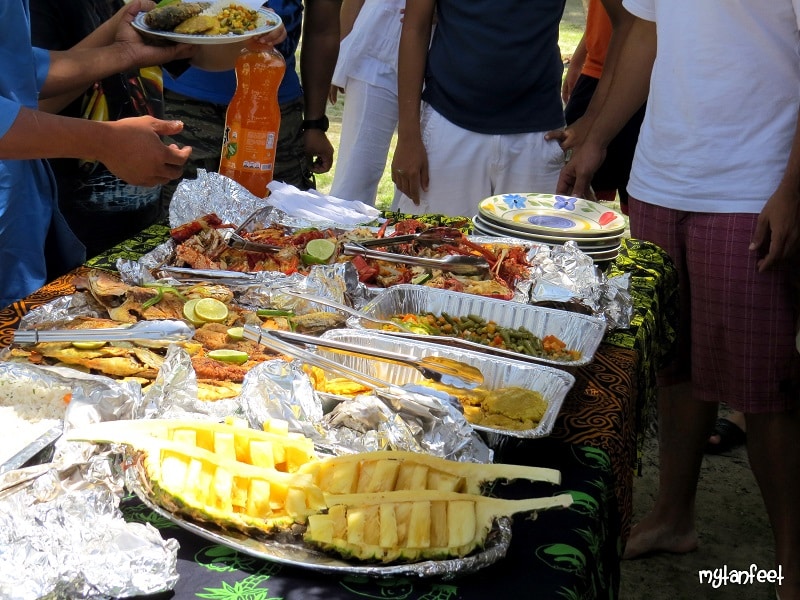 They took us to other islands such as Pelican Island, Isla Diablo and Callos Holandeses. On the way there, we literally stopped in the middle of the ocean where it is shallow enough to walk and there are big beautiful sea stars, sand dollars and sea urchins at the bottom.
This water is insanely clear! You can see all the stars clearly through the water and every detail on your toes.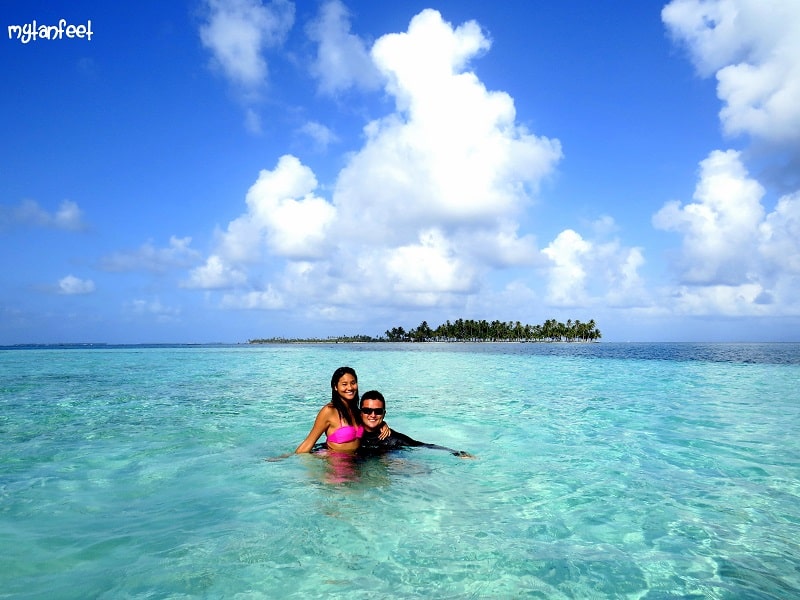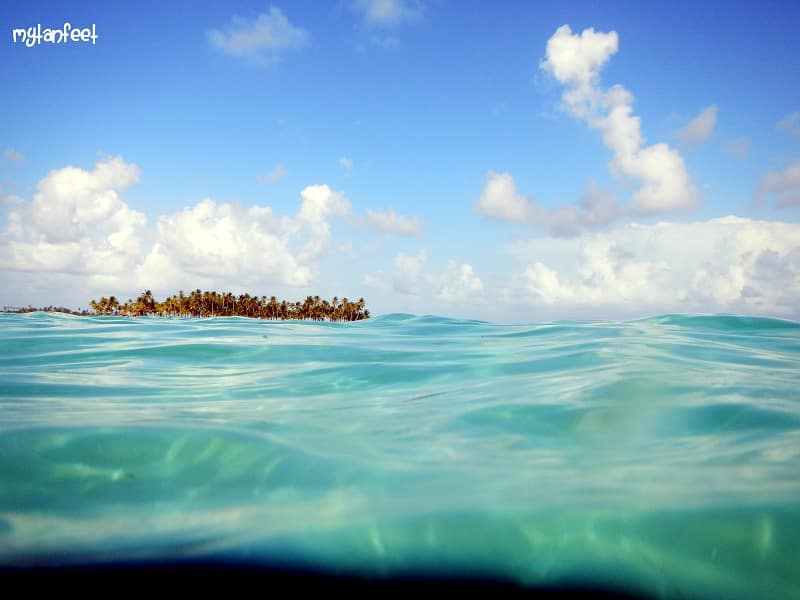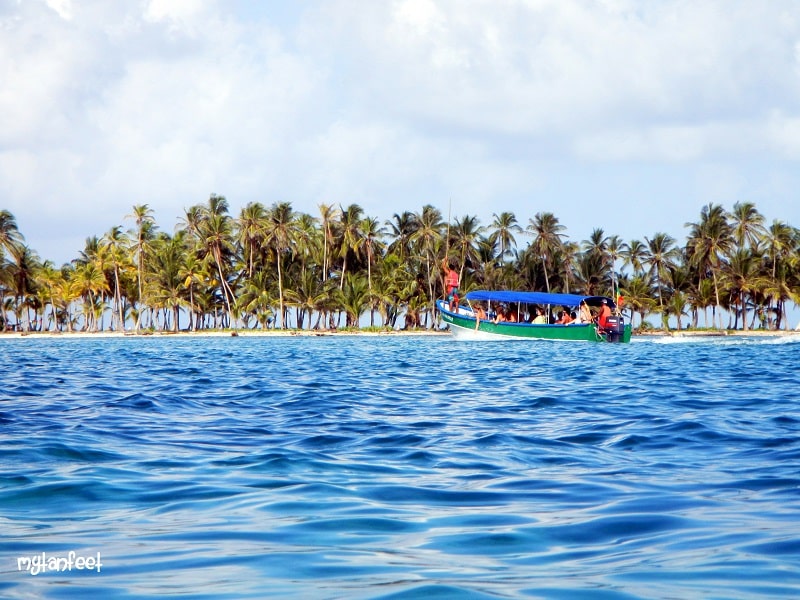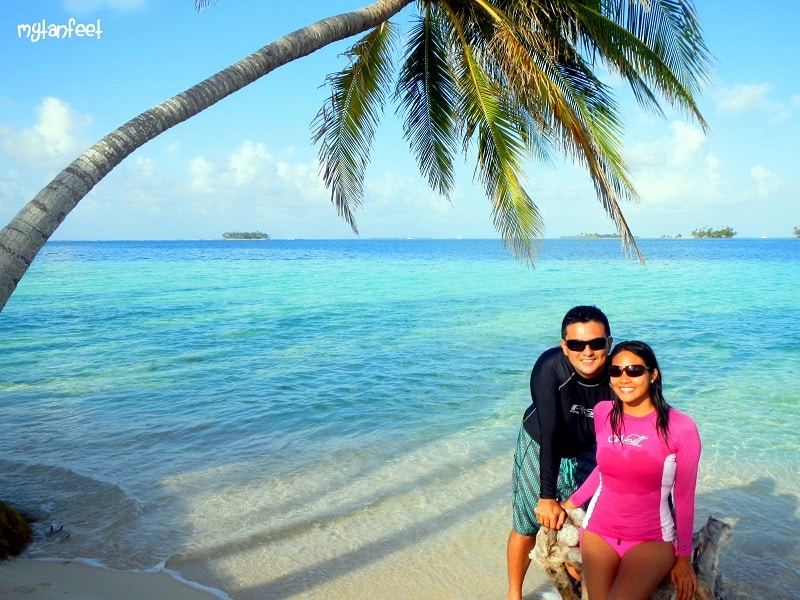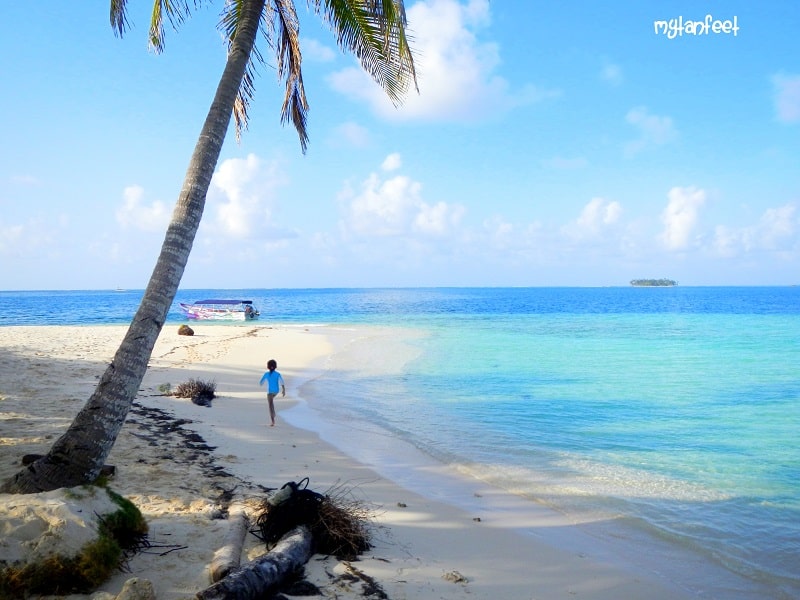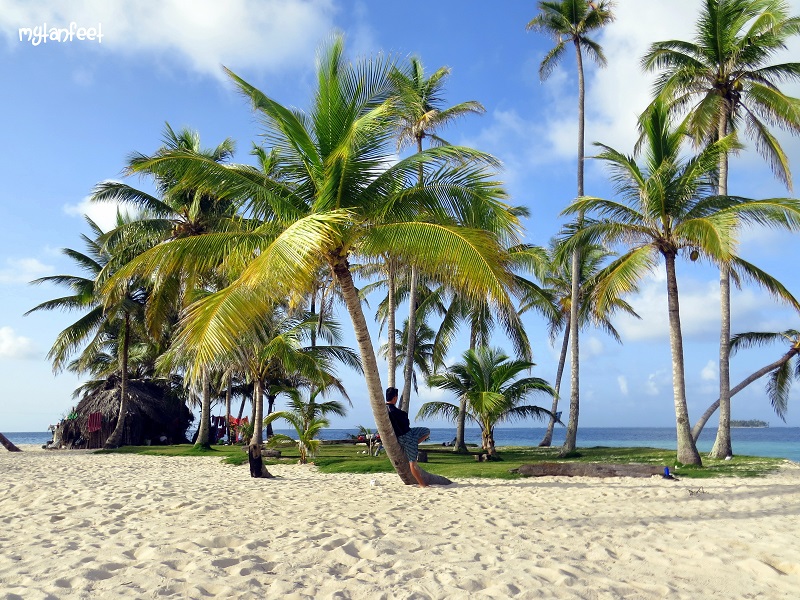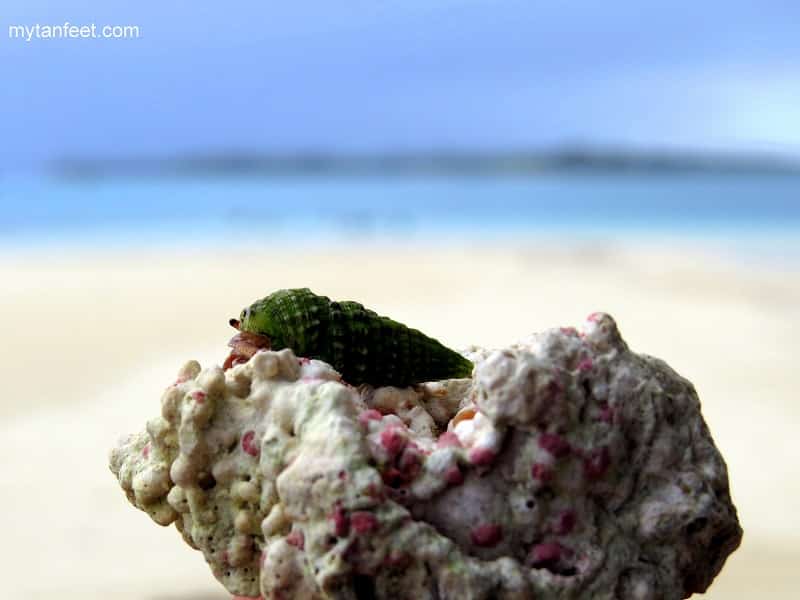 Snorkeling San Blas Islands
Snorkeling at Dog Island was an experience I will never forget. Being someone who gets excited even just by seeing pretty rocks underwater, this was like Disneyland for me. There is a sunken boat offshore that is home to tons of fish, coral, lobsters and much more.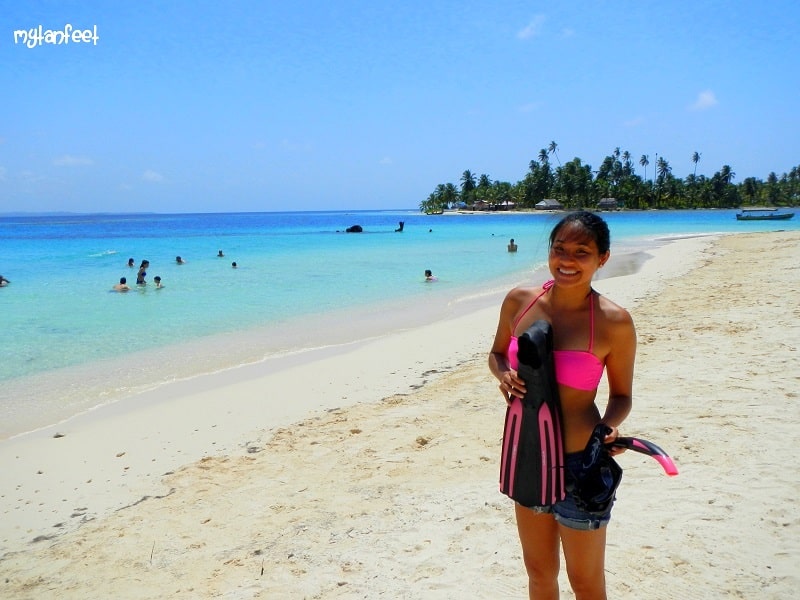 We swam in a school of thousands of baby fish, saw the red fire corals, and watched a line of cuttlefish moving in sync.
If you go put a bit further and deeper, you can find octopus, manta rays, lobsters and the dreaded lionfishes. One of my dreams is to dive at the Great Barrier Reef in Australia and I felt like I was one step closer to it after I snorkeled at Dog Island.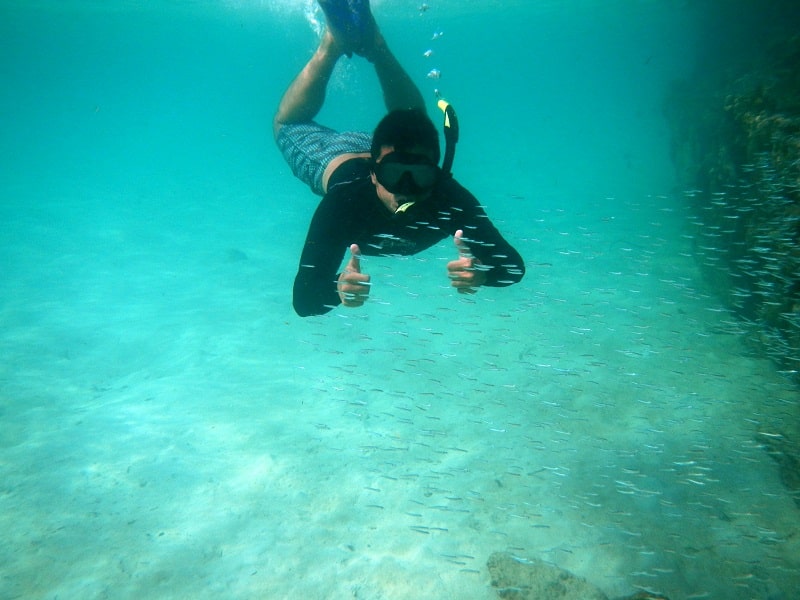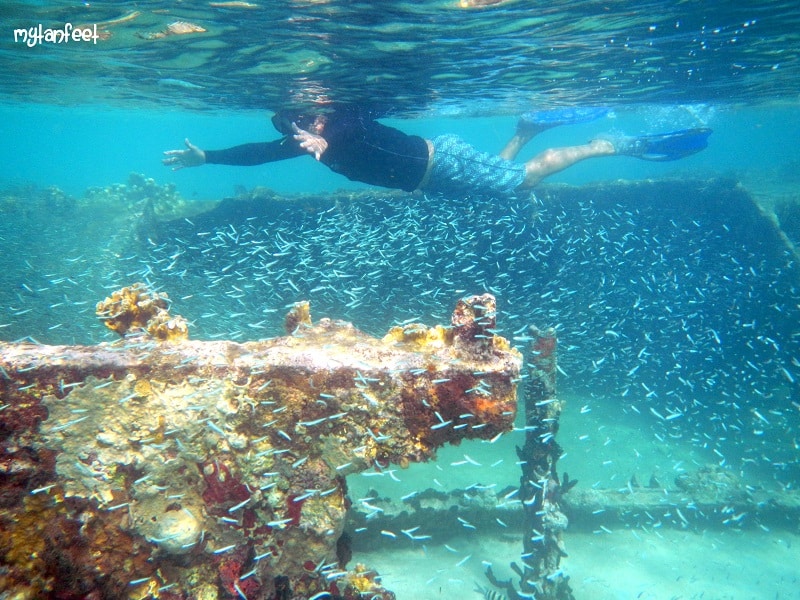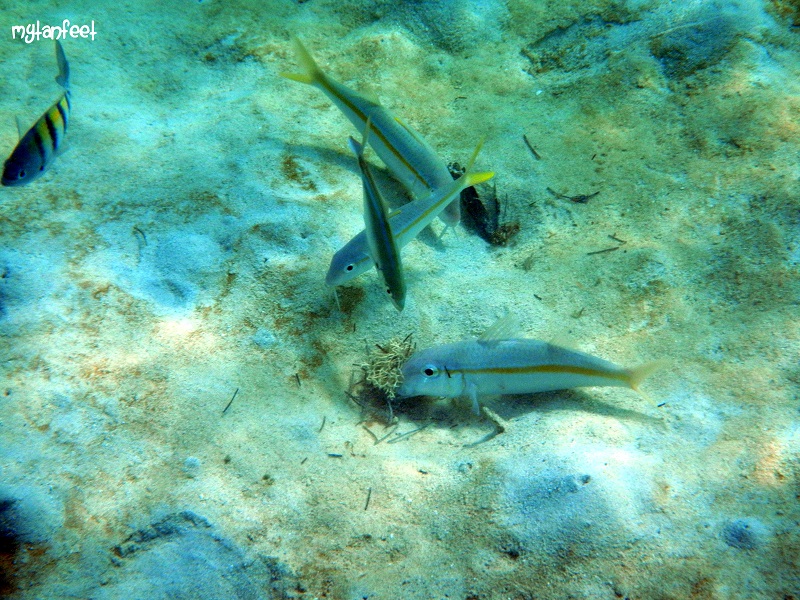 The People
Another thing to know about these islands is that they are lived on by the Kuna people and it is entirely separate from Panama. The Kuna people have lived and owned these islands for many years and only in the past decade or so started letting tourists come.
There is a chief, the Saila who makes the decision whether to let visitors on the island among other responsibilities. The women wear beautiful molas (the word for clothing in Dulegaya, their language), that they make themselves and wear on their arms, feet and legs.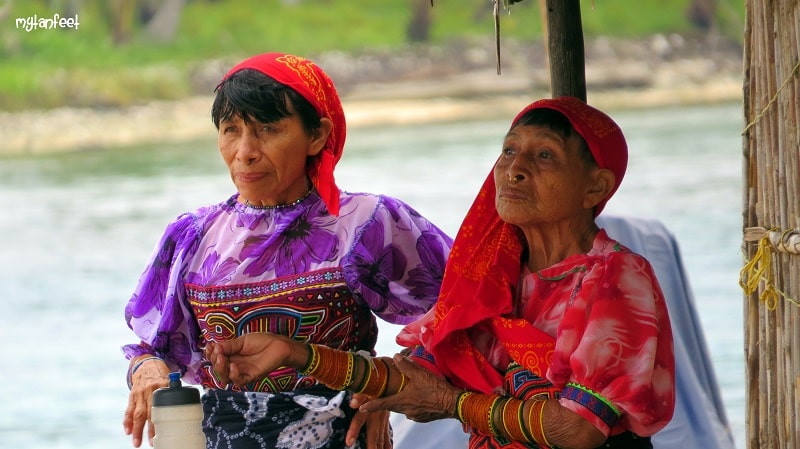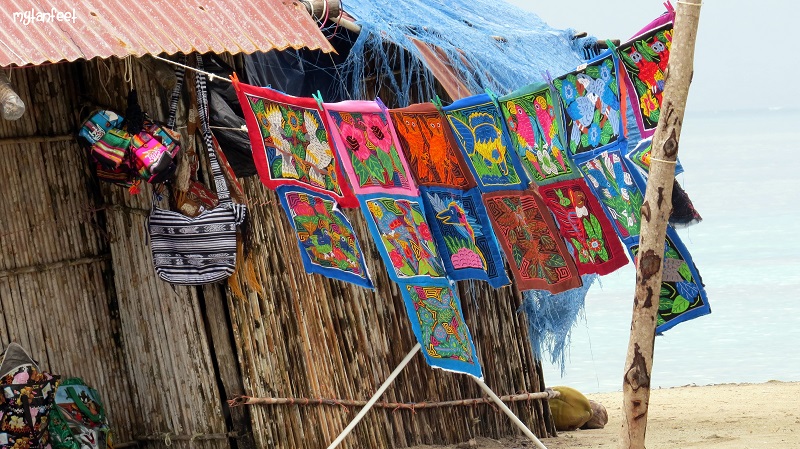 The San Blas islands are very small especially when you compare it to the islands in Bocas del Toro but that is the charm. Some islands have just one hut with a family living there, some islands have just one palm tree. Sadly, due to global warming the level of the water has been rising greatly every year and 26 islands have gone under.
At night, you can see so many stars that you would never see in the city. Yeison and I laid down on the beach and just stargazed one night, we saw over 5 shooting stars and just relaxed under the clear night sky.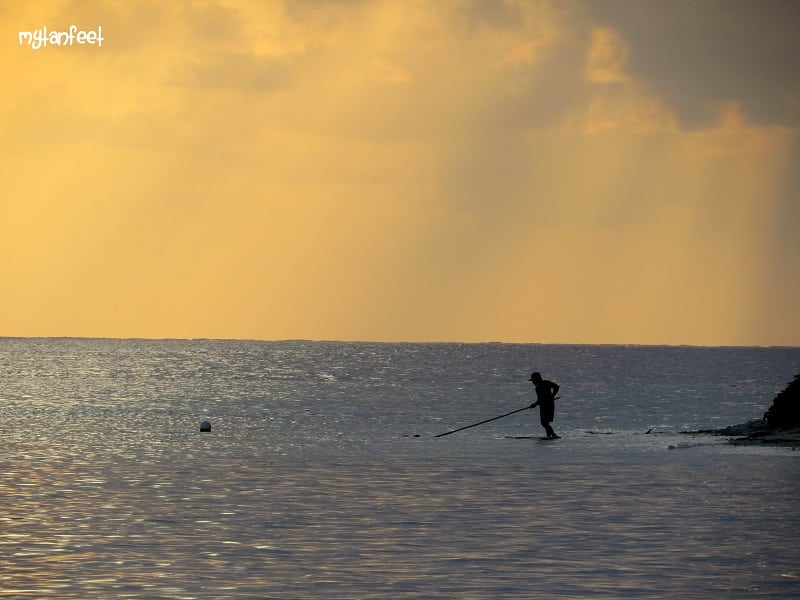 A great escape
If you go during rainy season like we did (July), you might run into some thunderstorms. Our tent got soaked through early in the morning and it was so windy I thought it would blow away! There were a few huts that we were able to hide under but despite the rain which cleared up by the afternoon, I still had a great time.
We got to experience, sun, rain, wind, cloudiness, thunder and lightning storms all on an island. These islands are truly what anyone would think of when they hear the word "paradise."
The local Kuna are really friendly, just make sure to ask before you take anything, (they charge $5 a coconut and $1 a picture) and be respectful. These islands are their home and they are graciously letting visitors come onto their land and experience the paradise they live in.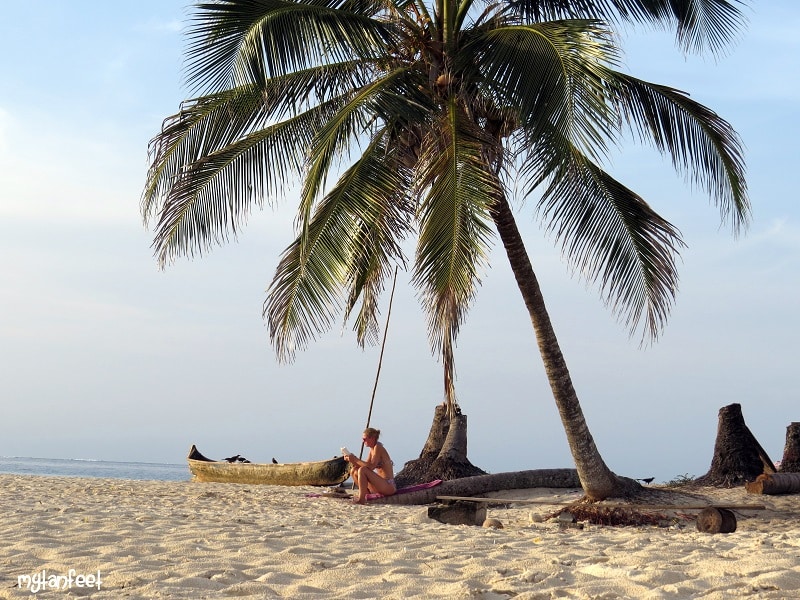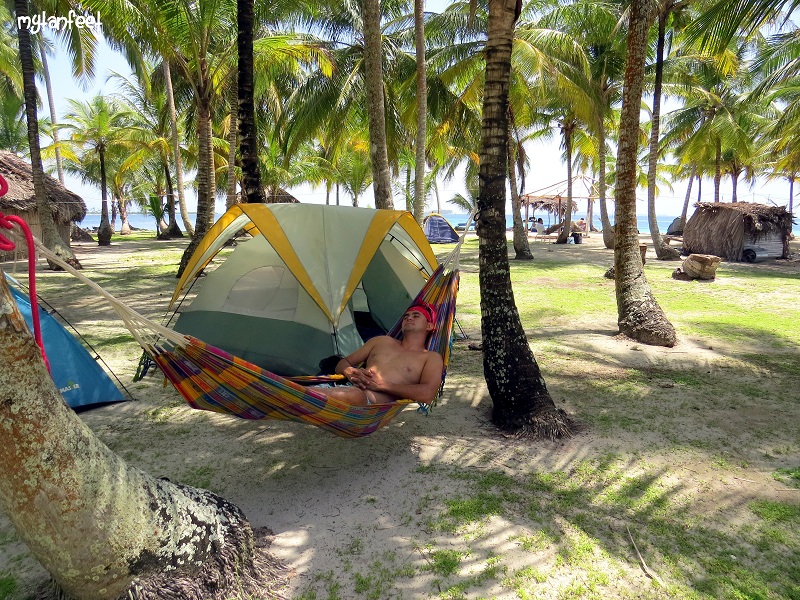 If you are looking to escape Panama city, go camping and forgo running water for a few days in exchange for an amazing experience, without a doubt go to the San Blas islands. Some people might say it is "boring" but when you're in paradise, the only thing you're there to do is to relax, lay on your hammock and listen to the waves.
I'm still dreaming about the next time I'll be back in San Blas and have fallen in love with the islands completely. I didn't mind having to carry water from a well to shower and brushing my teeth in the ocean, it's a place unlike anywhere I have ever seen or experienced and I can't wait to go back.
Find out how we planned our trip from Costa Rica to Panama.
Tips for Visiting San Blas Islands in Panama
You can go on your own or with a tour group. If you go on your own, you need to figure out transportation from the city to the docks and hire a boat to the islands.
You have to pay an extra $10 fee into the property (usually not included in tour price)
You can reserve a hut if you don't want to camp or a tent if you do. If you don't reserve, you need to bring your own equipment including snorkel gear
You can pay for your meals or bring your own food but there's no kitchen or anything to cook with. You can ask the locals to cook it for you (cost extra)
There are bathrooms on Dog Island so you don't have to go in the ocean
They ran one cable at nighttime if you want to charge your phone
If you go during rainy season, bring waterproof backpacks and covers to protect your electronics. There isn't really any shelter on the islands!
Video
Watch our video below of our trip!
You can read more of our Panama adventures here!