April is a magical month in Washington state. Spring arrives, new life begins and colors start peeking out from the cover of darkness. The sun stays up longer everyday and happiness levels go up, supplying us with more Vitamin D and opportunities to enjoy the outdoors.
In Washington, one of the most spectacular events occurs in the month of April: the Skagit Valley Tulip Festival. For the whole month, visitors can enjoy the millions of tulips and other flowers planted on huge fields.
This spectacular display of color attracts visitors from all over the world who come to see this wonder of nature occurring just once a year.
Location of the Skagit Valley Tulip Festival
A Little History First
The Roozen family, one of the most famous tulip grower families in Washington had relatives that grew them in Holland since the 1700's. The Roozen family has been growing flowers in WA for six generations and they know the care and attention it takes to tending to these precious plants.
Tulips fields came to Skagit Valley in the early 1900's and tulips are grown as crops, planted in hundreds of acres throughout the valley each year. All the fields are owned by Washington Bulb Co. and they also operate the festival.
The Skagit Valley Tulips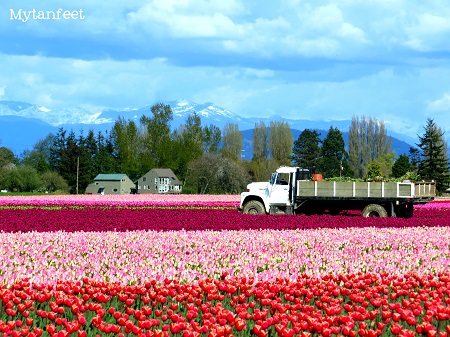 Tulip bulbs are planted by the millions in NFL football sized fields (almost 1,000 acres) along with daffodils and irises.
The fields are spread throughout a 15 mile triangle which is bordered by the Skagit River, Highway 20 and the Swinomish Channel up in the northern part of the state.
Bulbs are put out in the fall and bloom when the weather starts to get warmer in the spring, around March to May.
Tulips get switched out every 6 years since they need to be rotated so what you see last year will be different than this year.
The soil in Skagit Valley is similar to Holland so it became the perfect location to plant tulips. With such a healthy environment and using rotation crops to replenish the nutrients in the ground, tulips are able to flourish in Skagit Valley. Depending on the climate, they can bloom as early as beginning of March or as late as end of May.
As you walk throughout the fields, you can see all shades of pink, purple, orange, red and yellow. It's a burst of color that is a feast for the eyes!
The Skagit Valley Tulip Festival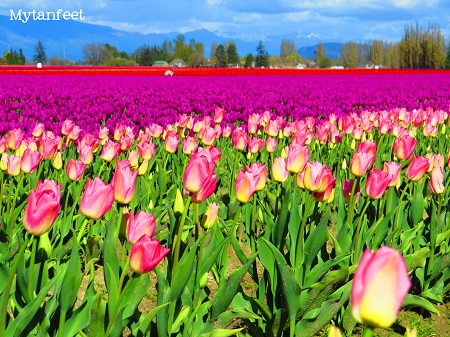 There are several fields you can wander through in the valley.
Along with the fields, there are two display gardens: Tulip Town and RoozenGaarde.
Both gardens, which are owned and operated separately put on great displays and arrangement of flowers for wonderful photo opportunities.
You can buy flowers at both places and there are also services such as restaurants, various food stands, shopping and souvenir stalls.
Roozengaarde has 150 varieties of tulips and flowers in their display gardens and they have a 15 acre tulip field. Tulip Town has an indoor flower show and outdoor garden and field. Throughout April there are many events that go on so it's the perfect place to enjoy some quality family bonding time.
Photo Post Time!
It's impossible to put the camera down at the tulip fields. They look like a painting! Incredibly vivid in color, delicate and stunning. It's hard to choose just a few photos to show since the flowers are all so beautiful.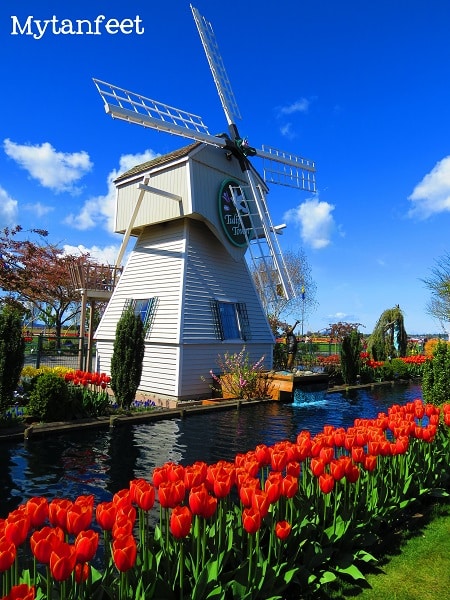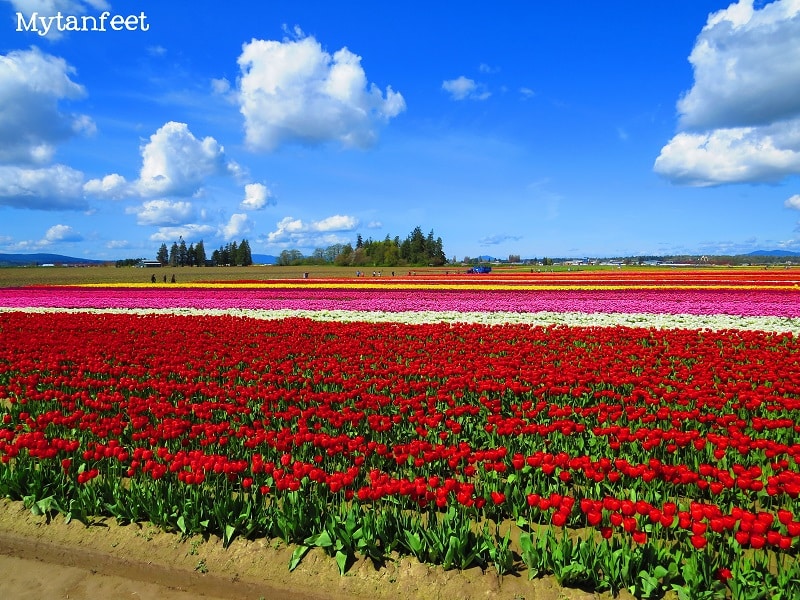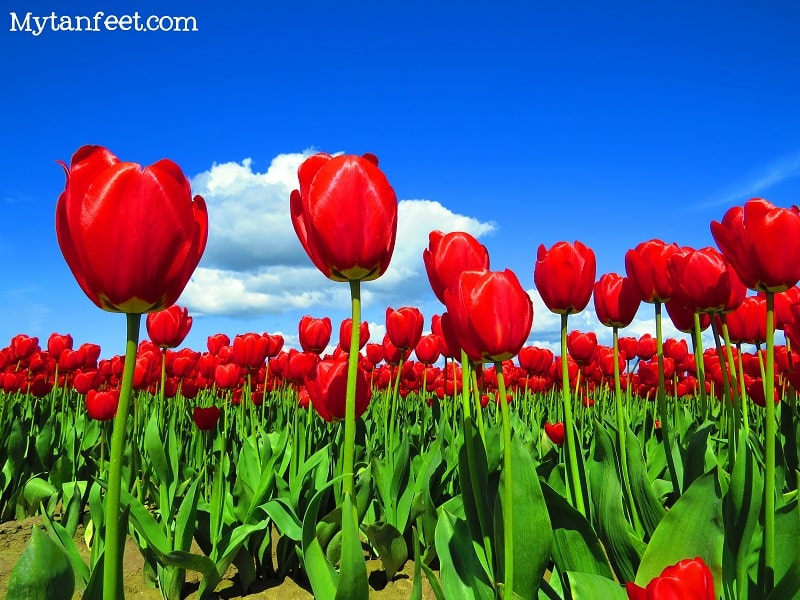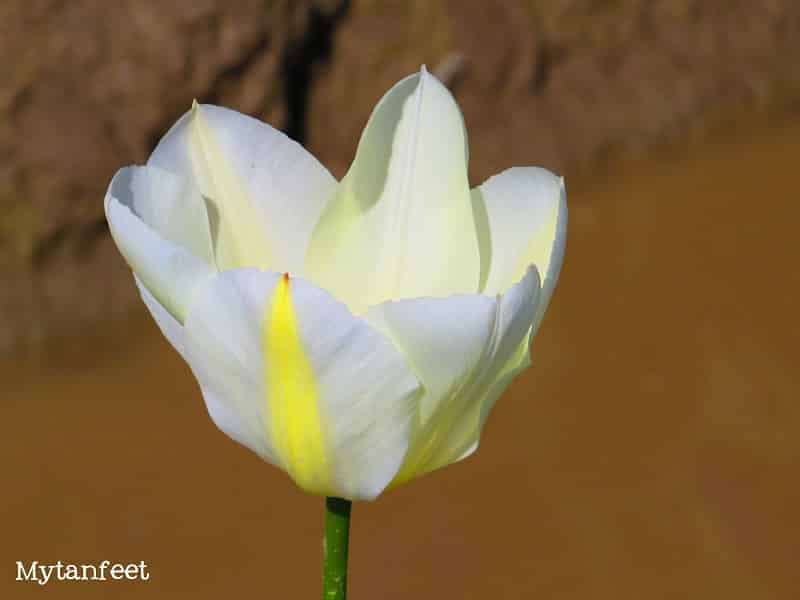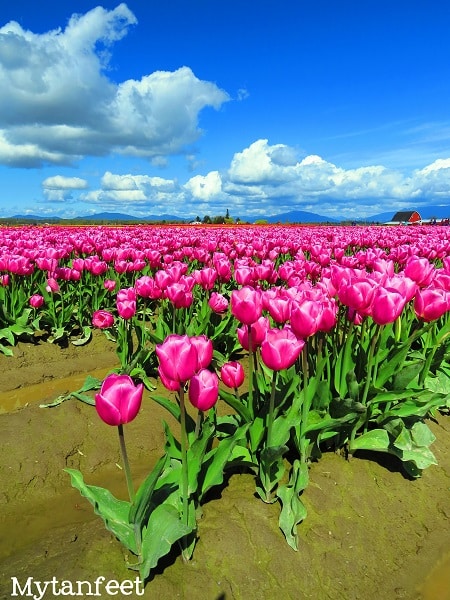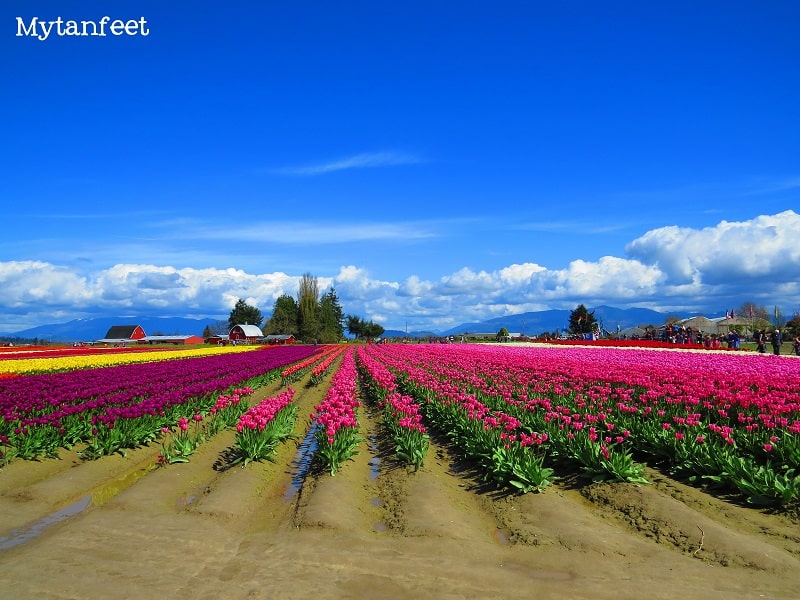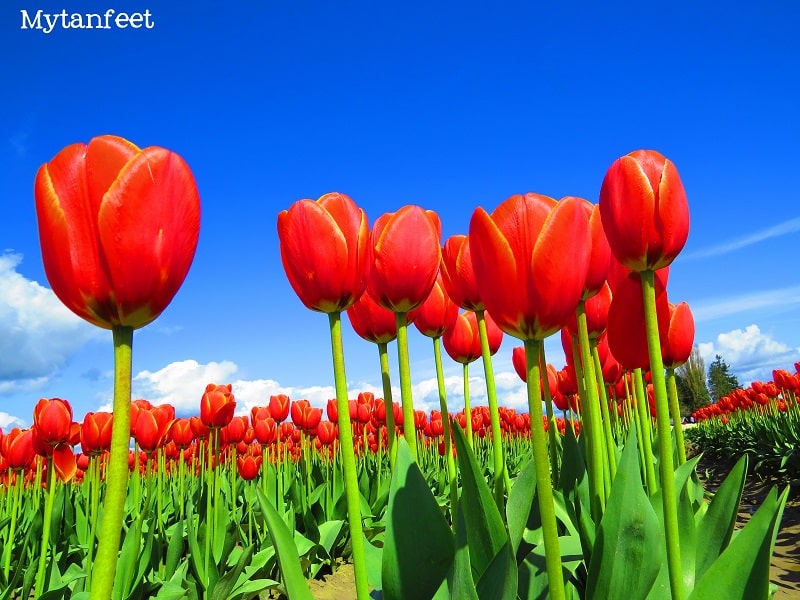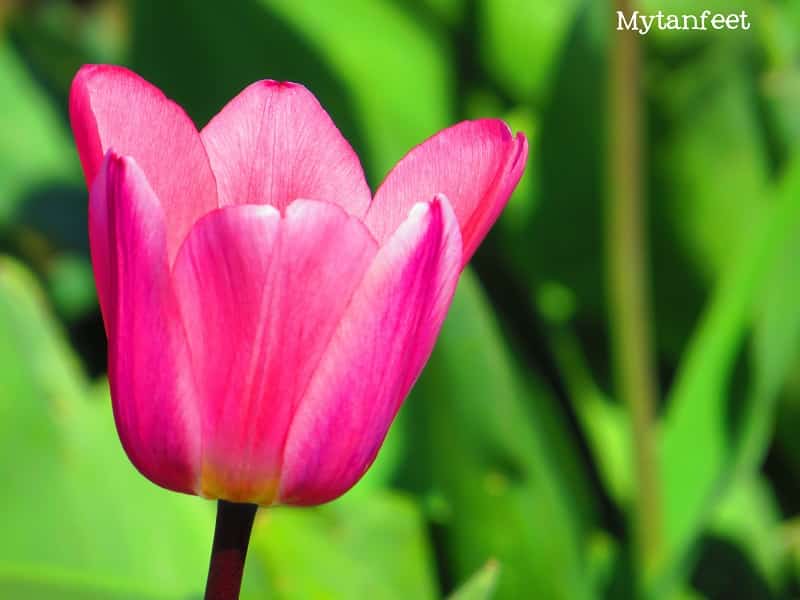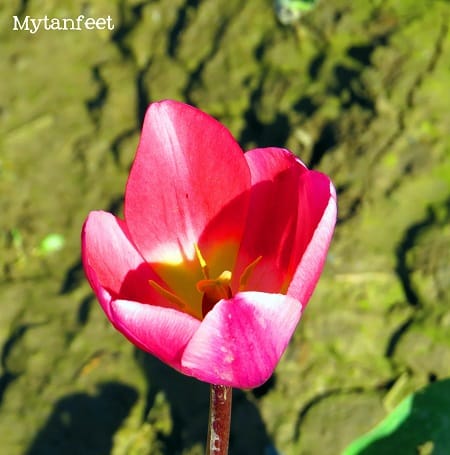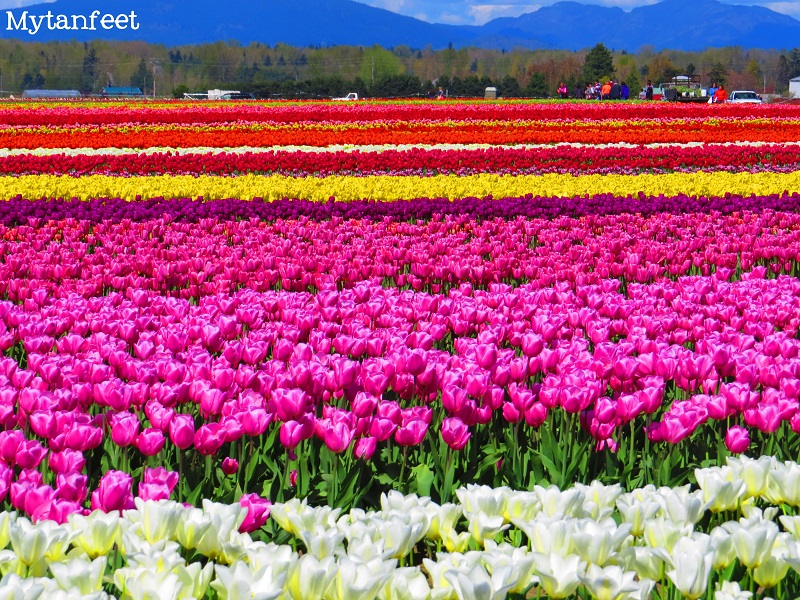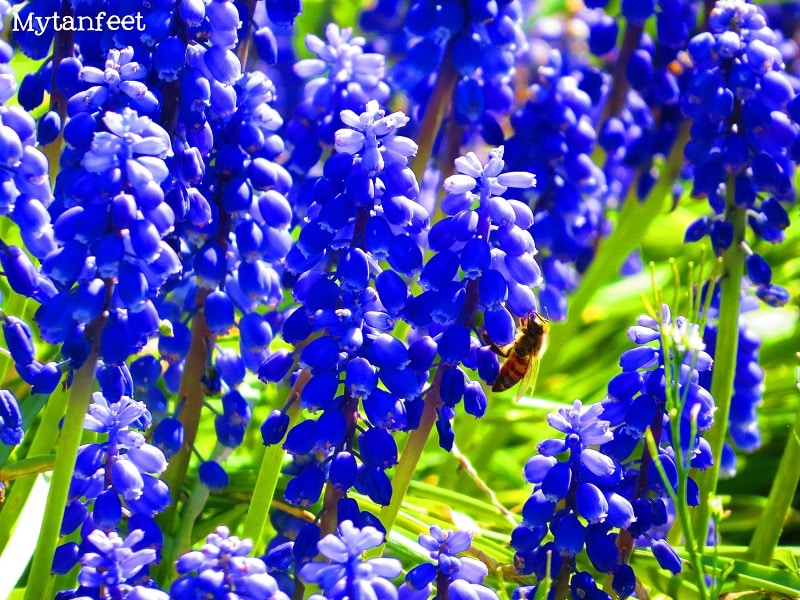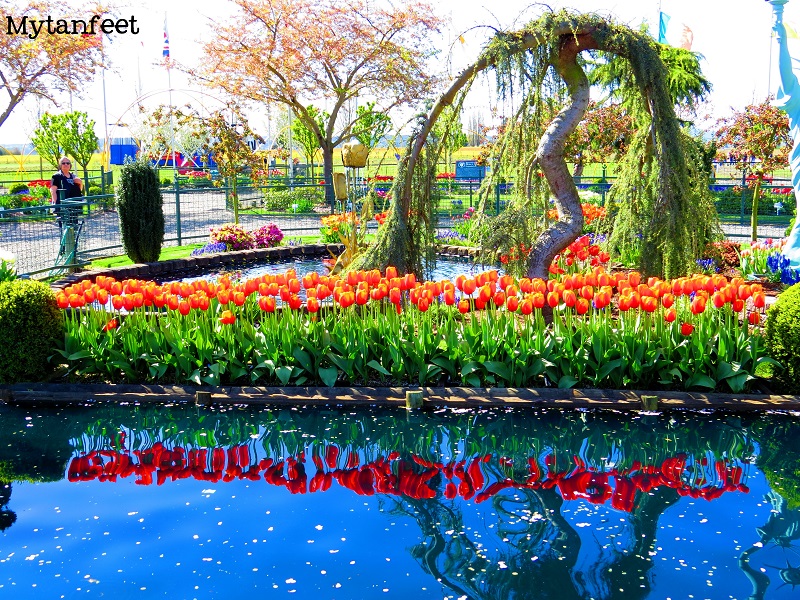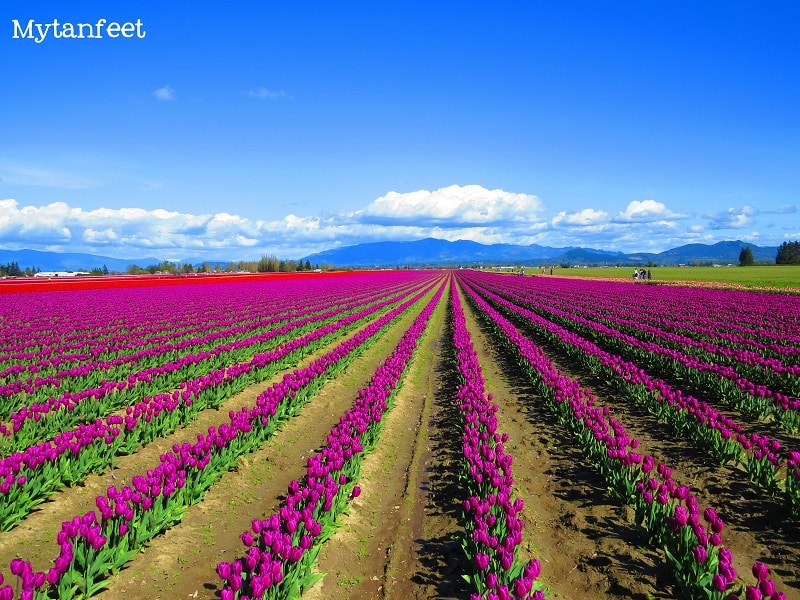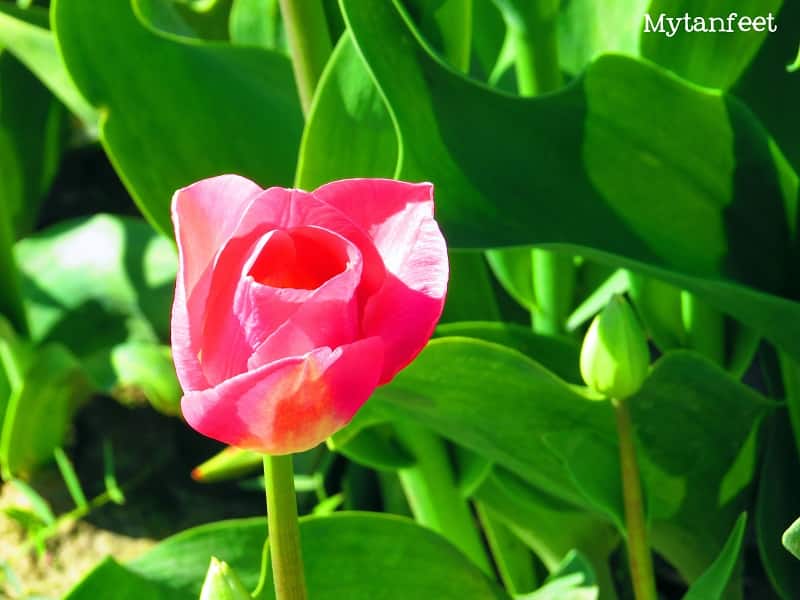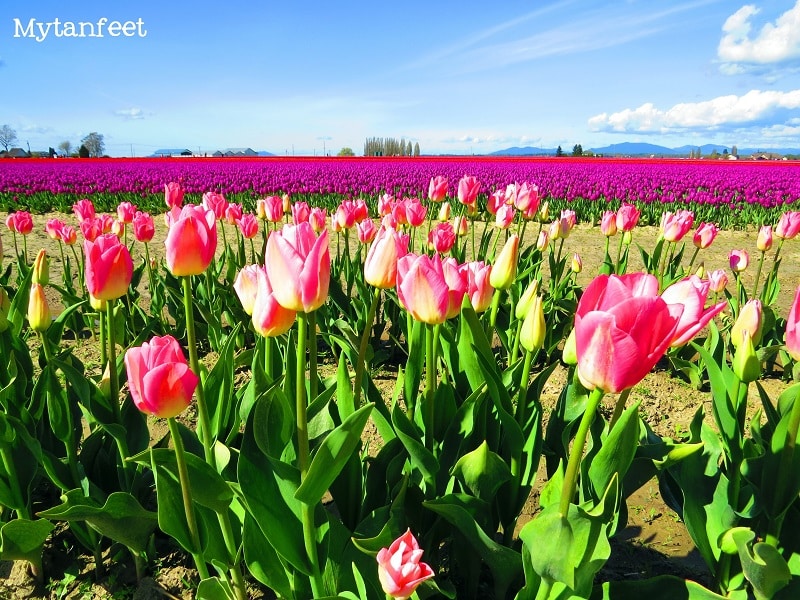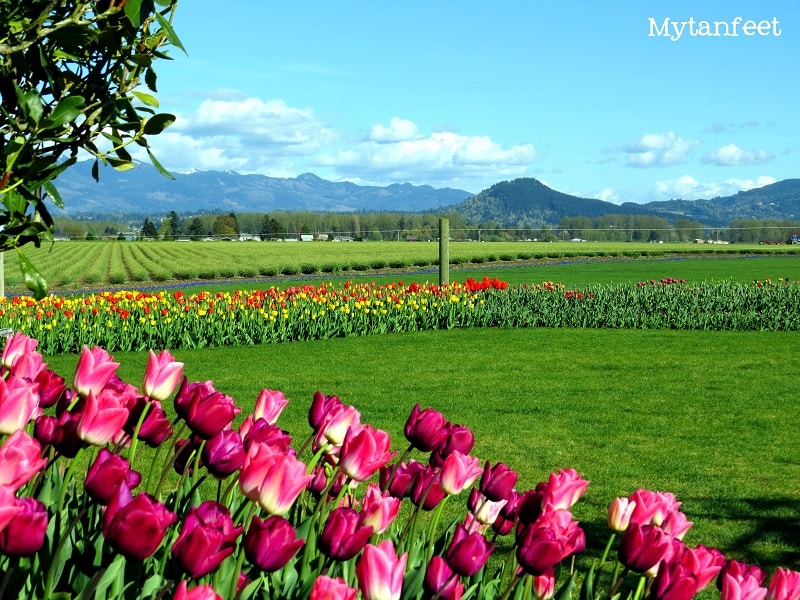 Tips for visiting Skagit Valley Tulip Festival
Festival is open from April 1 – 30
Best time to go is weekdays in the morning. Weekends are very busy so expect to be in traffic
There is no guaranteed time when the tulips bloom, it's all up to Mother Nature so check online reports to stay updated
Wear closed toe shoes, the fields can be muddy and slippery especially if there is recent rain
Must buy entrance tickets to the display gardens but fields are free except for parking
No pets allowed in Tulip Town or RoozenGaarde but allowed in the open fields
Check online to see their schedule of events
I highly suggest going on a weekday. I went April 9th (Wednesday) in the morning, there was no traffic at all and barely any crowds even though it was the middle of spring break. I know people who were in traffic for more than 3 hours on the weekend and that's just plain awful. Even if you have to take a day off work, it's completely worth it to see the festival and not have to deal with the terrible traffic.
Driving
Fields are miles apart so prepare your transportation accordingly
Free parking available at the display gardens – Tulip Town and RoozenGaarde
Private parking available at the fields, usually $5 per car
Directions:
Exit 230 on I-5 and go 3 miles on SR 20 until Best Rd. Turn left here and keep going a little over 1.5 miles to McLean RD. From there, follow the signs at the round-about to which field you want to go to
Exit 221 on I-5 and turn right on S Third St and keep going on W Division ST for ~2 miles and turn left at Avon Allen Rd.
Continue for another mile, turn right at McLean Road and from here you can go to the fields or the gardens