The Columbia River Gorge is one of the most well known landmarks in the Pacific Northwest, famous for the natural beauty, lush green forests and scenic views. The gorge's protected area called the Columbia Gorge National Scenic Area offers around 80 miles of Historic Columbia River highway where visitors can enjoy the great outdoors.
You can spend days hiking to all the waterfalls but if you only have one day to visit Columbia River Gorge, here's our tips on how to do it and which waterfalls are a must see!
The Columbia River Gorge is considered one of the most beautiful drives in the country and rightly so. Throughout the Scenic Area, there are several viewpoints where you can see Oregon on one side and Washington on the other!
The canyon is up to 4,000 feet deep and the Columbia River lies within, creating the boundary between the two states. As the second largest river in North America, this impressive treasure of nature is surrounded by forests and over 70 waterfalls can be found on the Oregon side alone.
Columbia River Gorge Map and Points of Interest
This map shows the Vista House and several different waterfalls we visited in one day. This is just a sample drive, you can visit different waterfalls and areas in addition to these ones.
Plan your day accordingly because Corbett to Dodson (Historic Columbia River Highway) is around 16 miles and there are a couple other scenic loops. Also, some of the hikes do take a significant amount of time.
From Portland to the Gorge is about a 30 minute drive without traffic.
Columbia River Gorge Things to Do
The most popular activity to do along the gorge is hiking and mountain biking. With trails of varying lengths and difficulties leading to spectacular views, rivers and waterfalls, even the laziest person will jump at the chance to experience what the Gorge has to offer.
Other activities include fishing, golfing, kayaking, white water rafting, ziplining, windsurfing, bird watching, kite surfing and sailing. There are also inns, restaurants, souvenir shops and spas along the highway.
For a one day trip, visiting the waterfalls is a must. Along the highway there are multiple stopping points where you can get out and hike a short trail to various creeks, rivers and waterfalls. The biggest one, the Multnomah Falls is a feast for the eyes.
Columbia River Gorge Viewpoints
For one of the best views of the Gorge, Vista House Crown Point has fantastic views all around. Vista House was built in 1917 as a rest stop for travelers but it's also a memorial and you can learn more about the highway and the Gorge in their exhibits.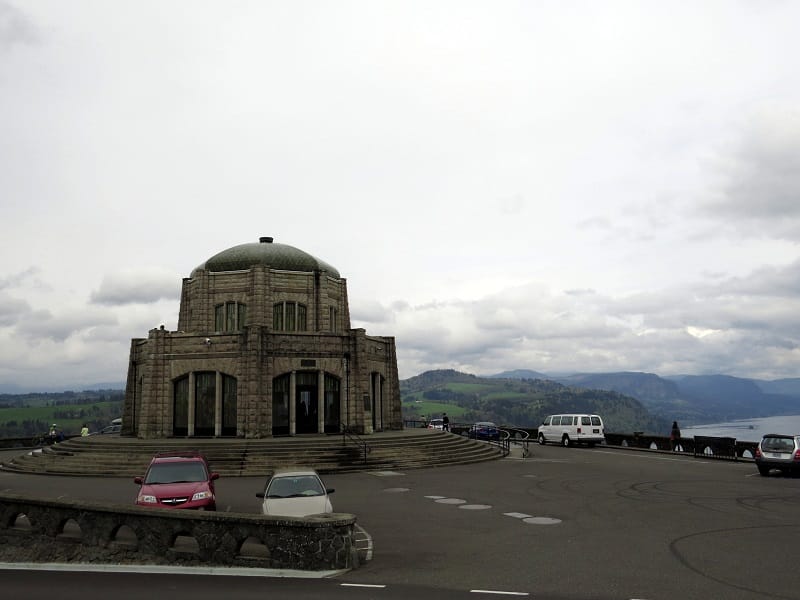 Walking around the building's balcony, you get a wonderful panoramic view of part of the Columbia River.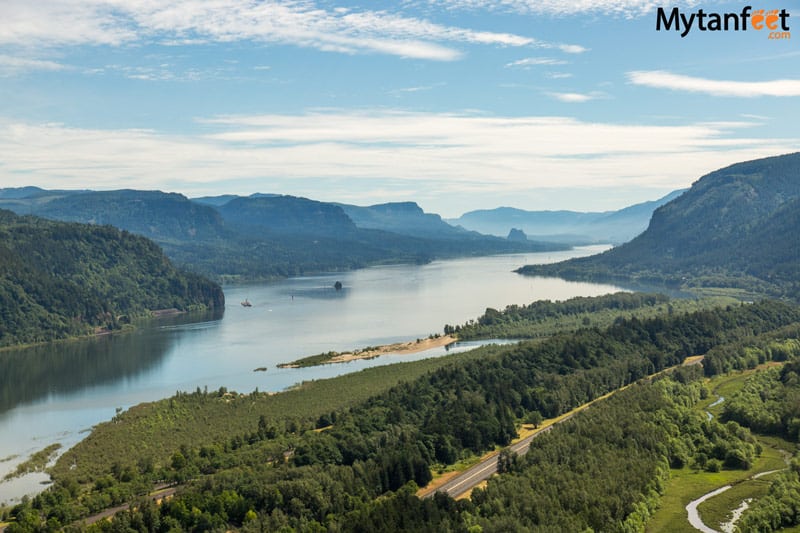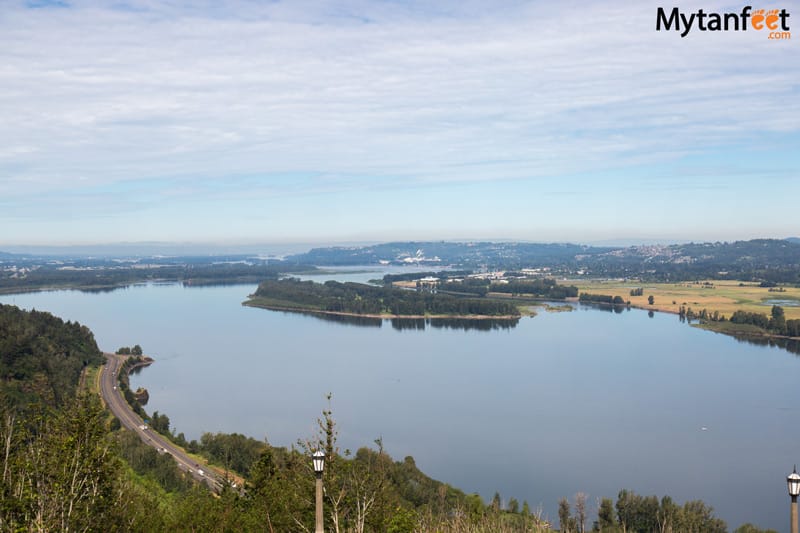 Columbia River Gorge Waterfalls
There are over 70 waterfalls on the Oregon side so unless you are staying for weeks, there is no way to visit them all but they are all a spectacular sight to see. If you're not sure where they are, you will see parking lots along the Historic Columbia River Highway with signs so you can easily stop and check out the area.
You can easily see 4-5 waterfalls in one day as some of them are a very short hike from the road!
These are the waterfalls we stopped at and they are all in order starting at Latourrel Falls. Since parking has limited spaces, you may have to skip one and go back to it.
Latourell Falls
Latourell Falls is the closest waterfall in the Gorge from Portland. This fall is interesting since it has a straight fall down instead of a tumble, like Multnomah Falls.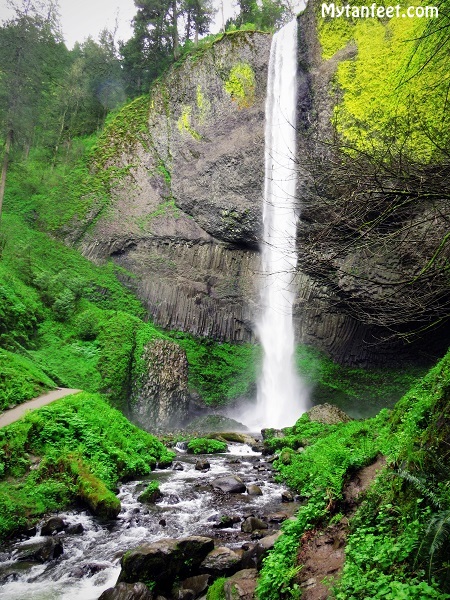 There's a short hike to the base of the waterfall and you can walk the rest of the loop to the top (~2 miles).
Bridal Veil Falls
This waterfall was one of the most unique ones I have ever seen, as there are two tiers like a bride's veil (hence the name).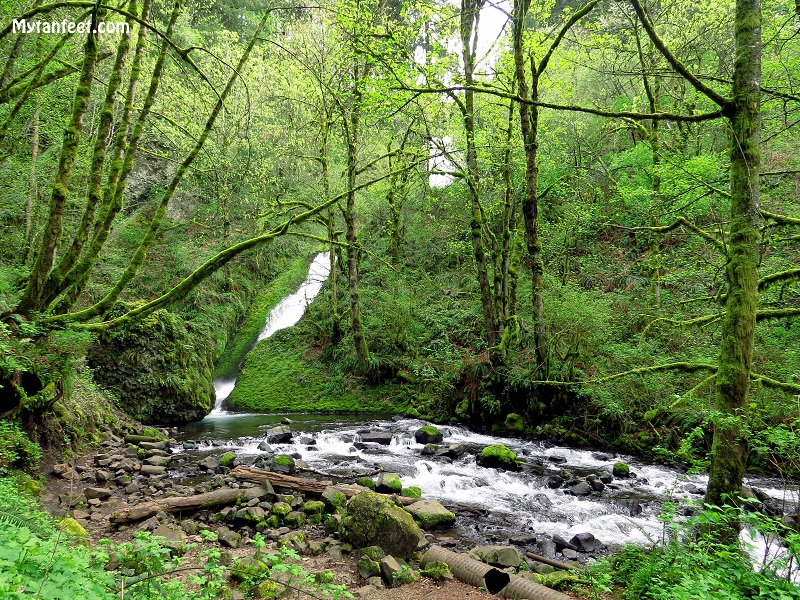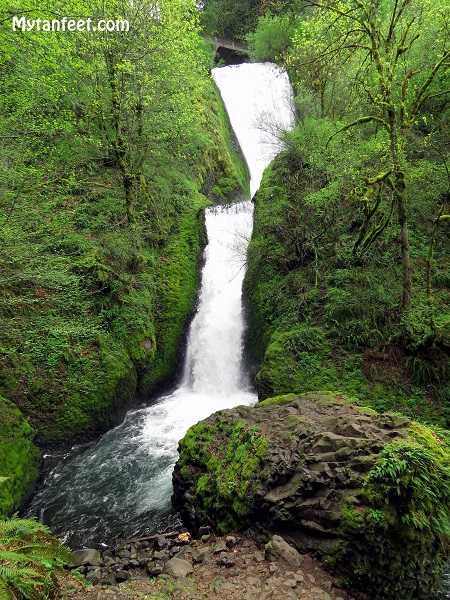 The entire height of the falls is around 110 feet and then the water drops into Bridal Veil Creek. There's a short and slightly steep hike down to the creek and a viewpoint for the waterfall (.3 mile).
Wahkeena Falls and Fairy Falls
Wahkeena Falls is absolutely spectacular. At the base, the falls looks like it starts from miles away but you can walk up near the viewpoint to a bridge.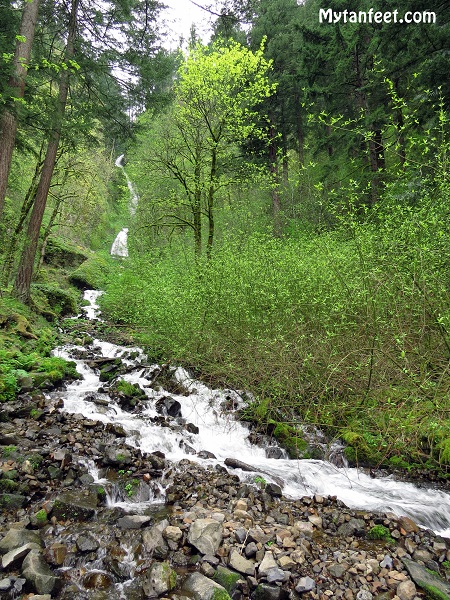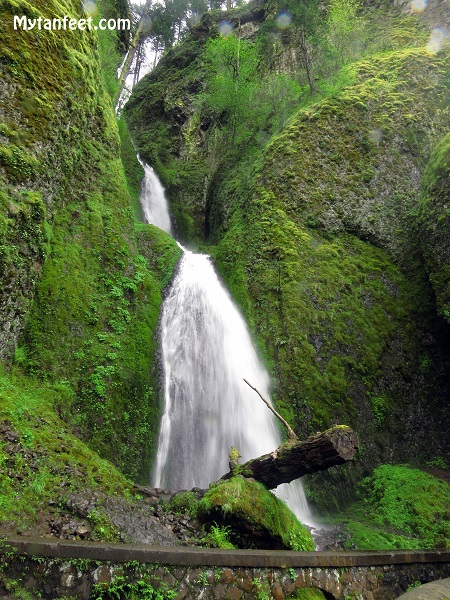 There's a short hike to the viewpoint of Wahkeena and if you keep going up, you will reach Fairy Falls, and even the Larch Summit if you plan ahead.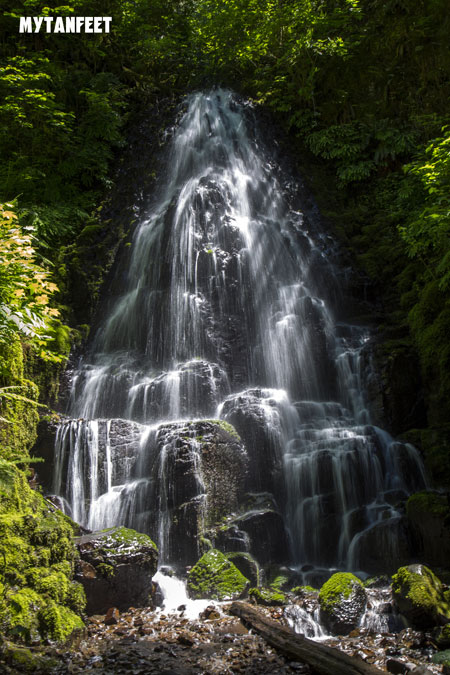 Multnomah Falls
This waterfall is the tallest one in Oregon and the second tallest year round waterfall in the United States. With an upper drop of 543 feet and a lower drop of 69, Multnomah is visited by over 2 million people a year. The best time to see this waterfall at the fullest is during winter and spring when the water level is higher.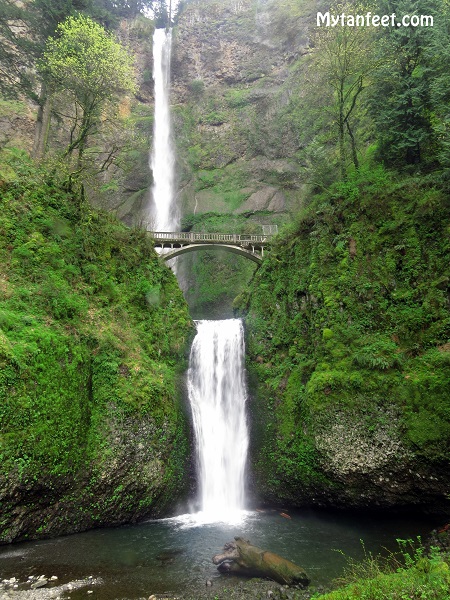 There is a trail to walk to the top but the bridge was closed when I went in April as it was broken from a falling rock. There is a restaurant, a coffee stand, souvenir stand and a hotel since this waterfall is the busiest of all of them.
I visited again in June and the bridge and trail were open. It has 11 switchbacks up to the top of Multnomah Falls and you can continue onto Wahkeena Falls.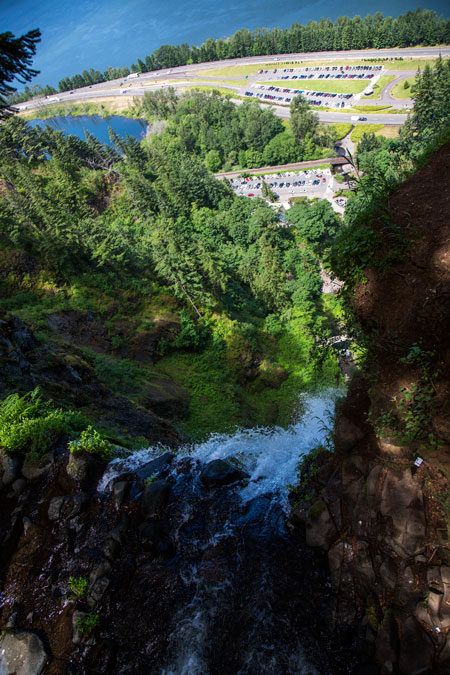 At the top, there is a small viewing area to see the top of the fall and you can also dip your toes in the river if you're brave! (it's cold).
The Playground of the Pacific Northwest
The Columbia River Gorge National Scenic Area is truly a stunning place to see the Pacific Northwest in all its glory. With majestic waterfalls, brilliant views and the greenest scenery, there's nothing more you need for a day in the great outdoors. The area is full of history and even if it's cloudy like when I went, it is still beautiful beyond words. These are just a few of the waterfalls that you can see at the Gorge.
Some of the hikes are a bit longer and more difficult but these ones were fairly easy. If you come upon a spot where nobody is around or don't see any cars, don't assume it's not worthwhile. There were only a few other people at each of these waterfalls and it was lovely to have them all to ourselves as opposed to Multnomah Falls where it was fairly crowded.
Tips for Visiting and What to Bring/Wear
Parking is very limited for many of these waterfalls. We had to skip Latourrel Falls and come back to it later. Multnomah Falls has a large parking lot. Bridal Veil Falls was practically empty.
The busiest times to visit the Gorge is during summer, June – August. When we visited in June, the parking lot at Multnomah was packed and we had to circle around a few times until we luckily got a space. When I visited on a weekday in April, it was empty! It was great because we got to take pictures of the waterfall with no people and my family had it all to ourselves for a little bit.
The bridge at Multnomah closes in winter and spring, opens in summer.
There is a small restaurant, souvenir shop and bathrooms at Multnomah Falls but no facilities at the other ones.
What to wear: When I visited in April, it was still cold (around 50's) so wear a warm sweater, rain jacket, boots/hiking shoes and a hat. It was a little slippery since it drizzled a bit so I recommend hiking shoes, not running shoes. In June, it was great weather (around 85) so we wore shorts and a short sleeve shirt. I wore my KEEN hiking sandals in June which worked great because it was hot and Yeison wore his KEEN hiking shoes
For photographers, a wide angle lens is best and during the summer, you will need a filter for photographing waterfalls.
You can pick up a map of the waterfalls at the Multnomah Falls souvenir shop and each entrance to the waterfall has a sign with a map.
Bring water, the only place with facilities is at Multnomah Falls.
Dogs are allowed.
It is about a 30 minute drive back to Portland and there is traffic during rush hour at 5 PM so plan accordingly, especially in the summer.
Explore more of the Pacific Northwest in these posts!
There are Amazon affiliate links in this post.