As someone who is currently residing in Costa Rica on a tourist visa, that means I need to leave the country every 90 days to renew my visa. This is an extremely popular way of living in the country without having residency.
One of the most popular destinations to spend time outside the country is San Juan del Sur, Nicaragua. It's a beach town just a 30 minute taxi drive from the Penas Blancas border so it's easy to get to, cheap and a fun area.
So after my first 3 months here, we took a trip to San Juan del Sur to renew my visa and have a mini vacation which was much needed after a very hectic first three months in Costa Rica!
If you're planning on visiting SJDS, read on this post to see what kinds of accommodations there are, the activities you can do and how to get there from Costa Rica.
San Juan del Sur Mini Vacation
San Juan del Sur is a small beach town close to the border of Nicaragua and Costa Rica popular with backpackers and surfers from all over the world.
From Coco, you have multiple ways to get there. You can drive your car to the border and leave it there for a fee or you can take your car over the border.
There are also buses you can take such as the Pulmitan from Coco to Liberia and Deldu the border for 500 colones ($1) and 1000 colones ($2) each way. Or you can take the TicaBus which takes you all the way but this is more expensive at $26 one way from San Jose.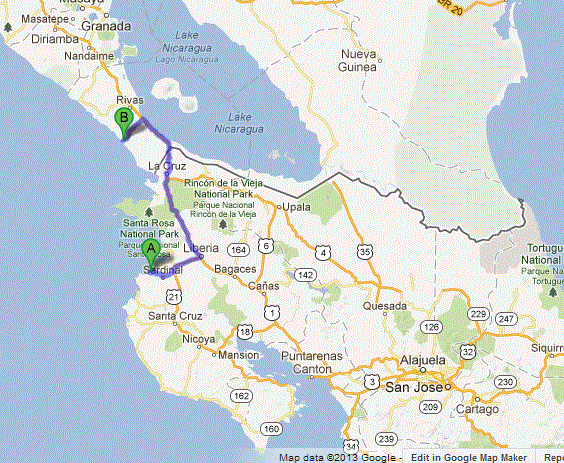 I've been to Nicaragua before (this is where Yeison and I met) but never to San Juan del Sur. I was really excited because I wanted to go surfing and just get out of Coco for awhile.
We took the local buses and crossed the border without much of a line. From there, San Juan del Sur was about a thirty minute car ride.
I think Nicaragua deserves more attention as a country to visit. It's absolutely gorgeous. There is a huge lake with an island in the middle, Isla Ometepe, located in the southwest of the country and the landscape is breathtaking.
A Colorful and Diverse Town
Once we got to San Juan del Sur, first thing we had to do was pick a hostel which was not hard as there are hostels everywhere. The cheapest room we saw was $6 a night, not including breakfast. With breakfast went up to $8 or $12 and a private room was $20.
We chose Casa Oro because it had a nice private room, breakfast included and good deals on tours. They were also right in the middle of town and only a minute walk to the beach.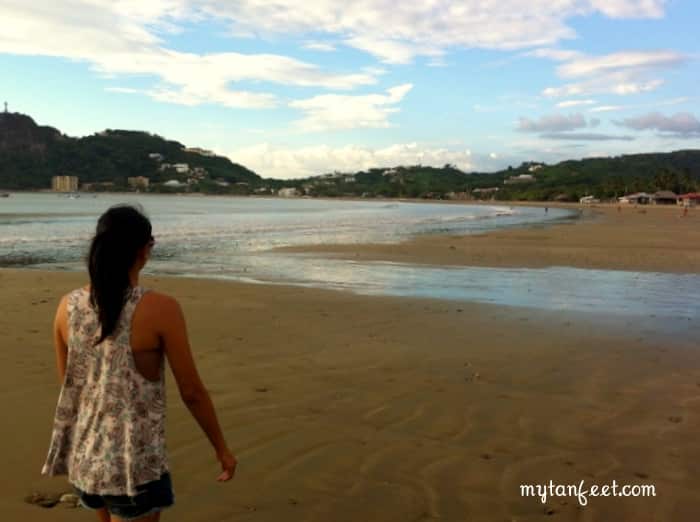 San Juan del Sur is such a cute town with lots of diversity. You walk outside and everything's so close: the beach, restaurants, bars, cafes, and you can find all sorts of different food here. French, Italian, sushi all for super cheap. You can find beer cheaper than water here! (18 cordobas vs 25 cordobas at 24 cordobas to a dollar)
Cheap Eats
Another example of how cheap Nicaragua is, we ate at an Italian restaurant for dinner. I ordered spaghetti with clams, Yeison ordered gallo pinto and fried chicken. The spaghetti with clams was delicious, rich and full of flavor with fresh clams. Gallo pinto in Nicaragua is served cold which I actually don't like as much (I'm biased but I love Costa Rica's gallo pinto better!)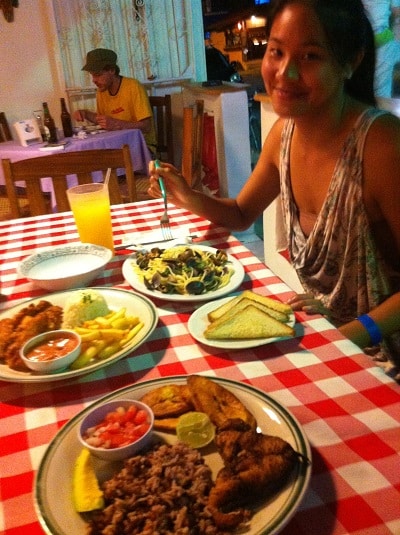 Surfing
So the next two days we were going to go surfing! I hadn't surfed since I was in Hawaii ten years ago and I was ready to get back on the board again. The first day we went to Playa Maderas, beautiful and had nice waves.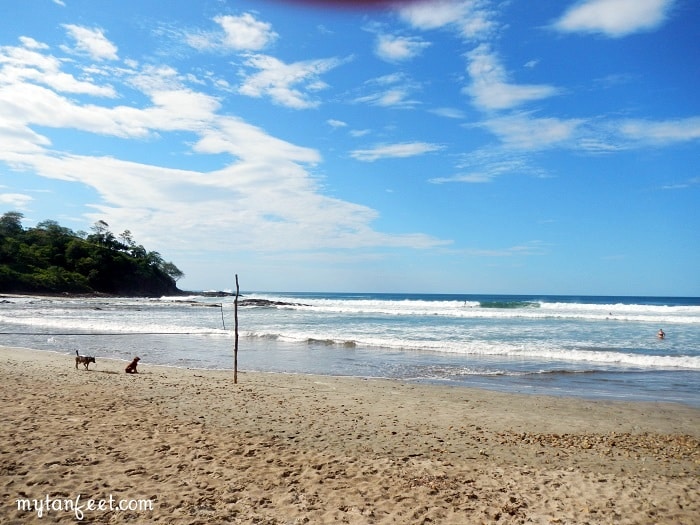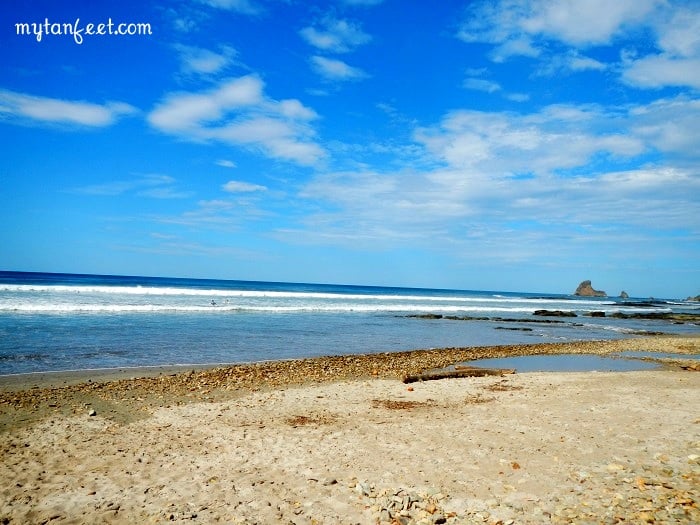 I soon realized that getting back on a surfboard is nothing quite like riding a bike… you don't automatically know how to do it again. The first day wasn't exactly like surfing, it was more like paddling, falling, and walking against waves, which my knees were not so happy about.
After many failed attempts and wipeouts, I was a little discouraged but determined to stand up on the board.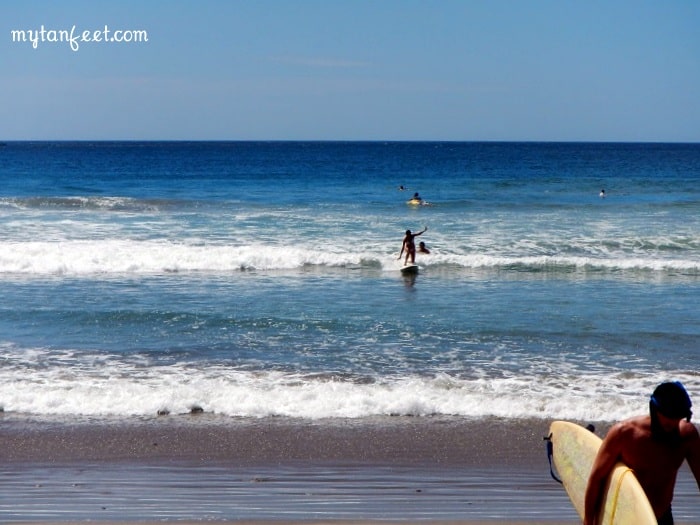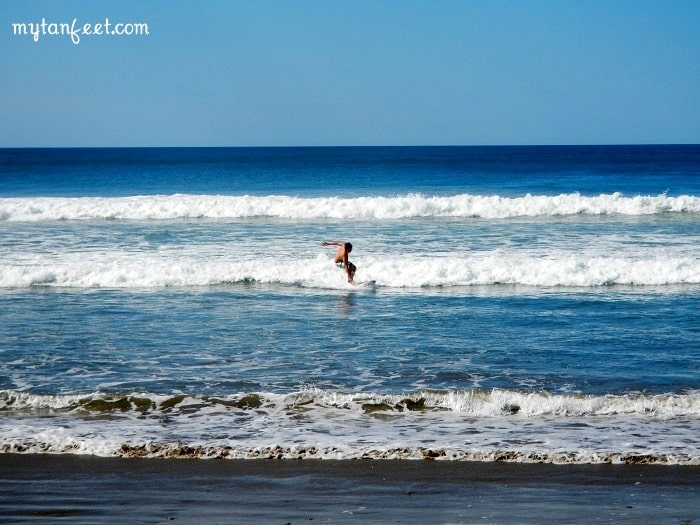 The next day we went to Playa Remanso. I didn't realize that the waves at Maderas were actually quite a bit bigger so I was actually able to stand up here! Yeison did even better, he was able to stand up and ride the wave out back to shore.
We also ended up purchasing a couple of rash guards from a surf shop in town. After a bit of bargaining, we got two shirts for $45. Way cheaper than it would be in Costa Rica!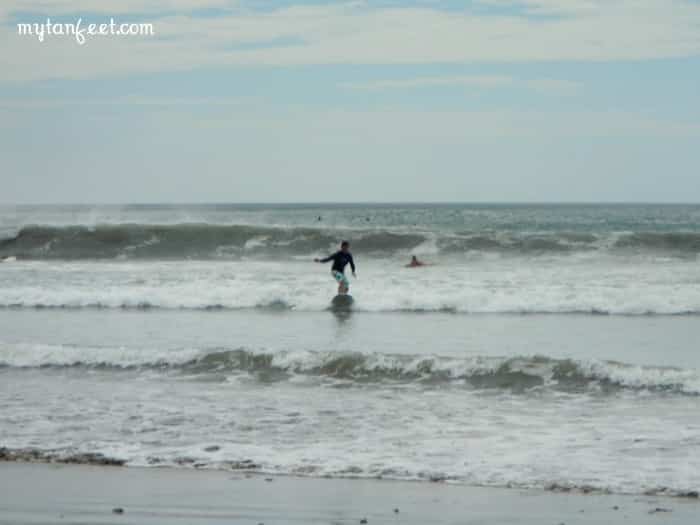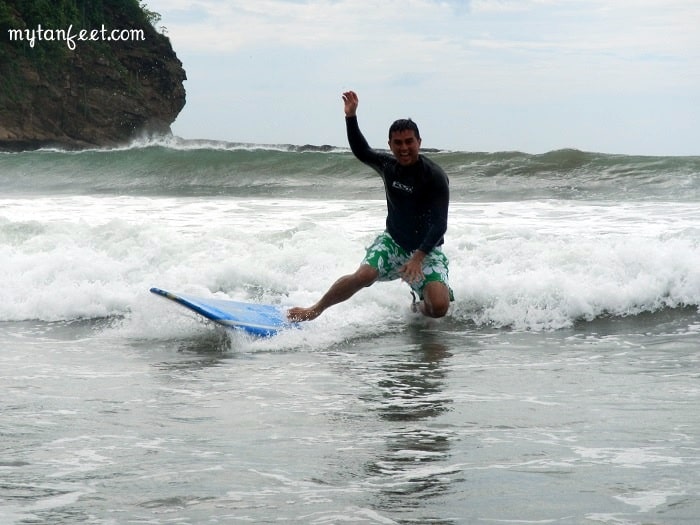 A Delicious Surprise
Exhausted after two days of surfing, we were on the hunt for a restaurant más rico in town. Locals pointed us to V.I.P., Very Italian Pizza. Considering the horrible experience we had with one pizza place in Coco, I was a bit skeptical of how really Italian the pizza is in Central America. But boy were we in for a treat!
This is hands down, the best pizza I have ever had. I am no pizza expert and I've never had true Italian pizza but if this pizza was anything like the real thing, then I don't want to try anything else. The crust was thin and crunchy, with a taste of the smoke from his wood- fired oven.
The man who owns the restaurant, an Italian, hand makes every single pizza himself: the dough, the sauce, and uses fresh ingredients. He only makes a certain number of pizzas, about 40 before he sells out and closes for the night which he usually does.
Who knew that you would find such scrumptious pizza in Nicaragua? *
Update* Last time I went to San Juan del Sur, Sept 2013 I found out that VIP is no longer! It is instead La Vecchia Signora Pizzeria. I don't know if it is the same man but I do know that he was working for two different pizzerias before.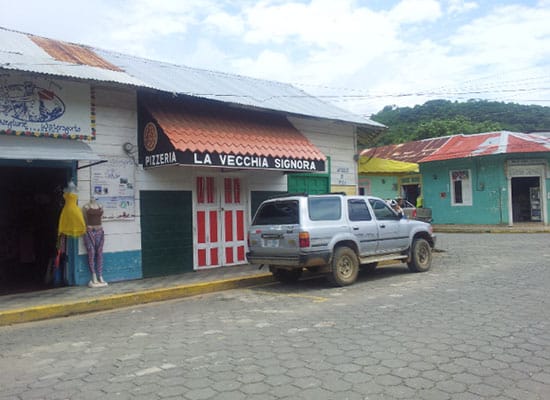 A Fun Mini Vacation
Overall, we had an amazing time. San Juan del Sur is a small tourist town but it has a lot to offer. Whether you want to surf, hike to the Christ of the Mercy statue, or eat some yummy cheap food, you'll never be bored or hungry.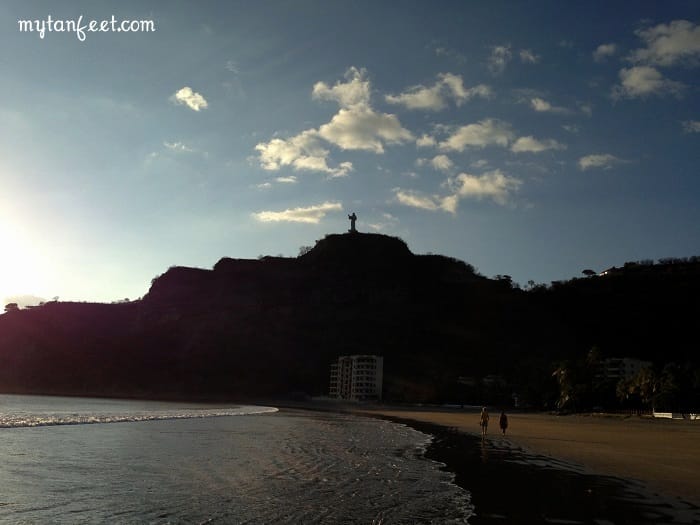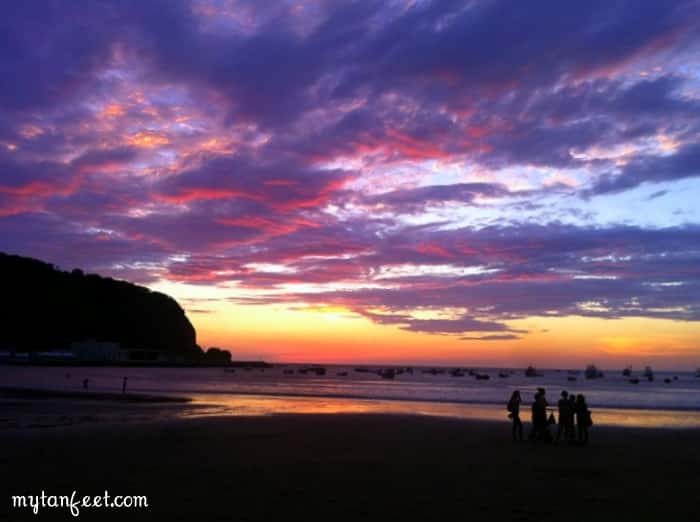 You can find people from everywhere and everyone is so friendly. San Juan del Sur is not everyone's cup of tea but there's no denying it is a popular backpacker town in Nicaragua. If you're planning on visiting SJDS for a few days, here is a sample 3 day San Juan del Sur itinerary.
More posts about Nicaragua