When we lived in Guanacaste, I always spent my visa runs up in San Juan del Sur, a small beach town in Nicaragua. Though popular with backpackers and surfers, the town can be rough and a bit unsettling at first impression and it's not uncommon to hear those who've visited before express their dislike for the little town.
However, if you visit SJDS with an open mind, explore the area and meet other travelers, this unconventional hamlet on the Pacific coast of Nicaragua may surprise you.
San Juan del Sur is best absorbed in short periods, you honestly don't need to spend a lot of time to get a good feel of the place. If you're thinking about visiting, here's our own 3 day itinerary in San Juan del Sur. See what we did, where we stayed and tips to make the most out of your own trip.
3 Day Itinerary in San Juan del Sur, Nicaragua
Location
Day 1: Arrive in SJDS
Get In
If you're coming from Costa Rica, you can take a bus or book a shuttle to the Peñas Blancas border, cross by foot and grab a 20 minute taxi to San Juan del Sur. Read our guide to crossing the border here.
If you're flying into Managua, you can book a shuttle or take the express bus from Mercado Huembes.
Or if you're feeling super adventurous, you can grab a chicken bus in Nicaragua from wherever you are and make your way to San Juan del Sur.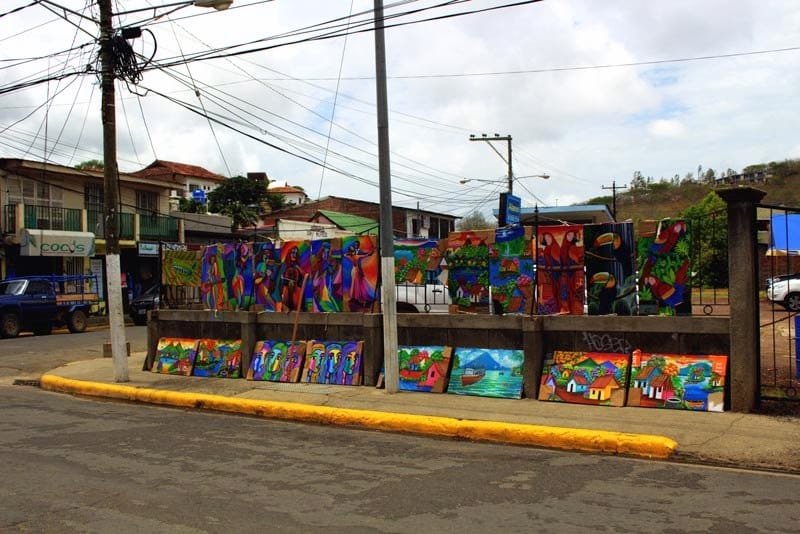 Stay
There are no shortage of hostels and hotels in San Juan del Sur. Even though this area has become fairly touristic, prices are still somewhat reasonable, but I have noticed a sharp increase the past 5 years. Note that many standard hotels and hostels don't come with AC, there is an extra charge for it.
If you're coming in low season, you don't necessarily need to make a reservation if you want to stay in a hostel. Walk ins are very common, we did this a couple times in November and January with no problem.
These are our top picks for places to stay in SJDS:
Casa Oro: Our favorite hostel. It's in the center of town, has an upstairs bar, hammock/lounge area and free Wi-Fi. Dorms start at $9 a night, private rooms start at $32 including breakfast. They are a walk-in hostel.
Rositas Hotel: If you don't want to stay at a hostel, Rositas is a great option. They have a nice terrace you can sit on to look out on the street since they are located in the center of town. Double rooms start at $26.
Hotel Victoriano: The quaint Victorian style and modern rooms are ideal for someone who wants something nicer than your typical hostel. This hotel has air conditioning, free Wi-Fi and a minibar and has a beach view. Rooms start at $150 a night.
Hacienda & Ecolodge Morgan's Rock: SJDS is becoming prime real estate for eco-lodges and this one is a top pick, especially for families. They have rustic themed bungalows with a private terrace and bathroom. Kids will love the on-site playground and pool and the mountain view. This is a luxury ecolodge with rooms starting at $400 a night with all-inclusive meal options.
Do
We spent our first day in San Juan del Sur walking around town, doing a bit of souvenir shopping and checking out the beach. Although it's not that big, it's worth exploring to get a feel for the town and the vibe. You can see more pictures of the town here.
The beach isn't the nicest but sunsets are beautiful.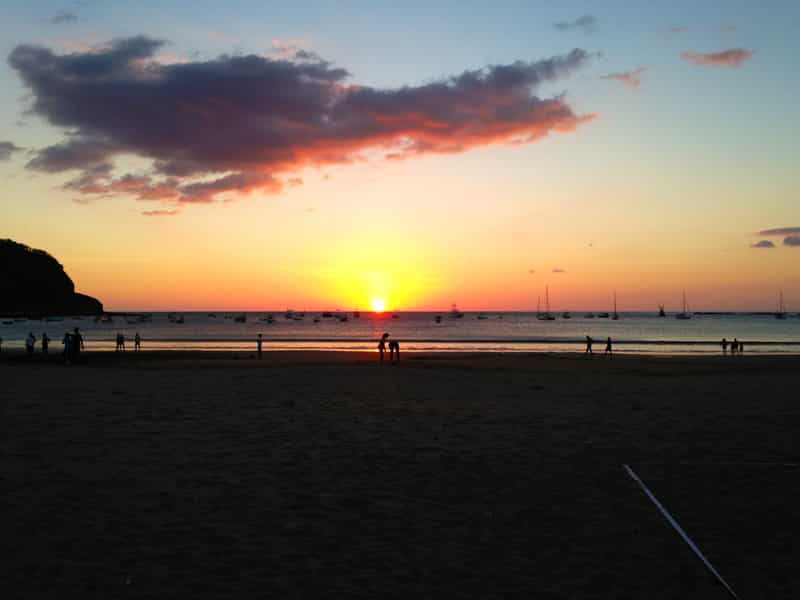 For dinner, we ate at the Taco Stop in town. It's delicious and cheap, for $2 you can get a whole burrito!
If you want to do something in the evening besides stay in town, you can join a night time turtle tour if it's in season (July to February) to see the Olive Ridley Sea Turtles at La Flor Wildlife Reserve.
Or if you're here on the weekend, you can go bar hopping. If there's one thing San Juan is known for, it's their party atmosphere on the weekends!
Day 2: Surfing at Playa Maderas
On our second day, we went surfing. You can't surf at Playa San Juan del Sur, but there are several fabulous surfing beaches not too far away. We hopped on a truck to Playa Madreas where we rented a board for $12.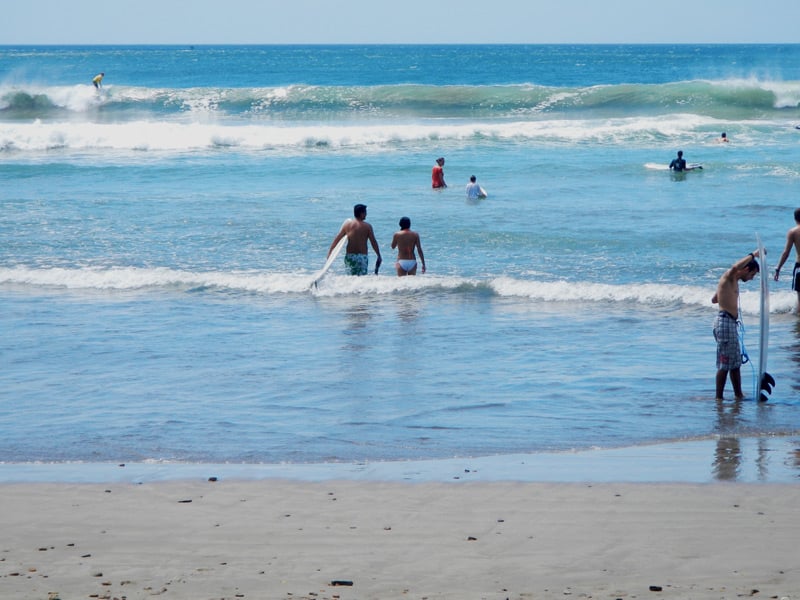 For a surfing beach, Playa Maderas is beautiful with soft white sand, bright blue waters.
For dinner, we went to VIP Pizza (which sadly no longer exists). There is another pizza shop near the park that is amazing.
Day 3: Surfing at Playa Remanso/Hiking
Our 3rd full day was spent surfing at another beach, Playa Remanso. However, for your 3 day itinerary in San Juan del Sur you can do something else since there are a bunch of activities. You can go horseback riding, ziplining, catamaran sailing or hiking up to the Christ of Mercy, the huge statue on the hill overlooking the town. Yeison did this hike before, he said its tough but worth it.
Playa Remanso has bigger waves so if you're a pretty good surfer, you may want to skip Maderas and go to Remanso instead. The beach isn't as pretty, but if you're here for surfing all that matters are the waves!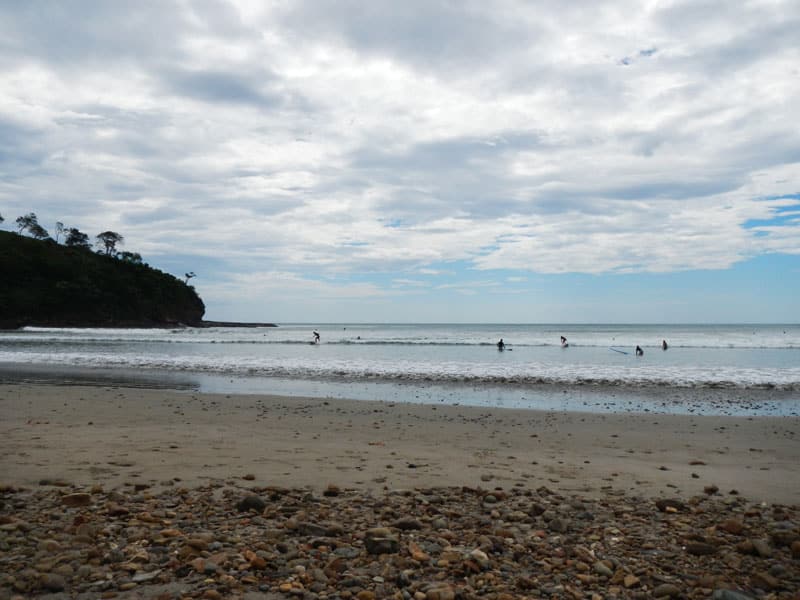 Must Do Activities in San Juan del Sur

Indulge in Nicaragua's beer: Toña. Beer costs less than water!
For partiers, the Sunday Funday pool pub crawl is legendary. It starts at Pachamama hostel and costs about $30 for transportation and t shirt. Prepare for a night to remember (or not remember)
Don't hang out in town the whole time, you'll be super bored. Explore!
Join a volleyball game on the beach. Or watch, because the locals sure know how to play!
Eat. Due to the foreign expats who chose SJDS as their new home, you can find lots of excellent international food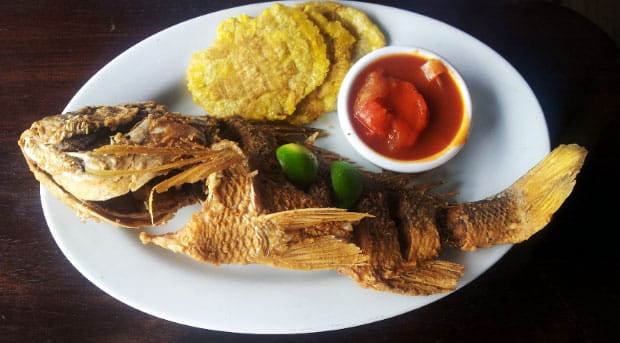 Tips for Visiting San Juan del Sur
Be very careful when walking at night. There are actually signs everywhere saying you will get robbed.
It doesn't have the most family friendly atmosphere since it is a party town and you will see drunk people staggering in the streets in the middle of the day. Find a quiet place outside of town like the ecolodge
If you're on a strict budget, avoid the bars and restaurants on the beach as they're more expensive. But Nicaragua is already a pretty cheap country and you can eat well for less. Our favorite cheap place is Taco Stop.
There are banks and ATMs in case you need to withdraw or exchange money.
San Juan del Sur may not appeal to everyone, but underneath the surface of this party beach town, there is a lot to enjoy beyond the bars. This 3 day itinerary in San Juan del Sur will give you a taste of what a touristic beach town in Nicaragua is like and that even non-partiers and families can have a great time.
If you're traveling around Nicaragua, then another destination you have to put on your list is Ometepe Island, which is actually not too far from San Juan del Sur. Go from the beach to volcano and forest!
Read more itineraries and travel expenses here!
3 day Krabi, Thailand itinerary