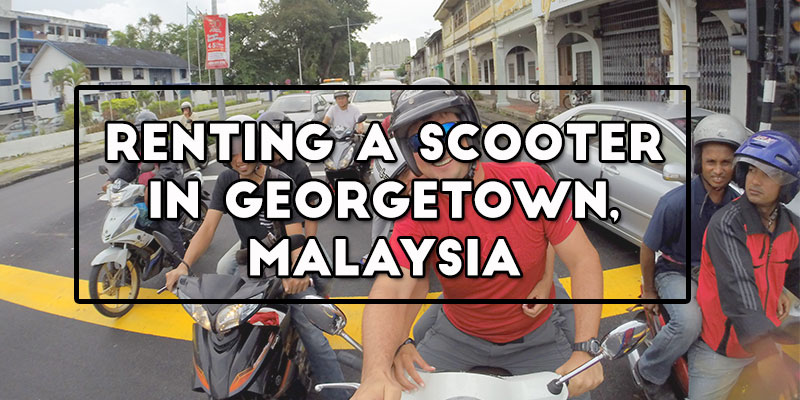 When Yeison and I were talking to our hotel's front desk about options for getting around Georgetown and things to do, one of their suggestions was to rent a scooter.
We have never rented a scooter before but from the moment the hotel manager said that, we both looked at each other and said "Yes!" It just seemed like the perfect place to try our very first scooter ride: it's relatively cheap, we could ride around the island and it's not that hard to get around Georgetown.
On Lebuh Chulia (Chulia Street) in Georgetown, there are scooter and motorcycle rental places all up and down the road. Riding a scooter is pretty common in Malaysia and once we tried it once, we were hooked!
Renting a scooter in Georgetown, Penang
How we got a Vespa
On our way to Red Garden, we decided to check out Chulia Street to see what options we had since we had a bit of time to kill, we weren't expecting to pick one up that night and just wanted to look around. Yeison has had plenty of experience riding motorcycles before so he had an idea of what would work for us (more like which one would fit both of us chunky monkeys).
He ended up finding one place that had a newer 125 cc Yamaha, agreeing to come pick it up tomorrow morning for 24 hours for 50 RM. As we started walking to dinner, I looked across the street and saw something beautifully white and shiny catch my eye.
"Look a Vespa!" I pointed out to Yeison. Without another word, he grabbed my hand and crossed the busy street so we could take a closer look at this brilliantly white bike gleaming seductively at us.
I've never been into motorcycles or anything but compared to some of the dingy older ones we saw earlier (including the one we were supposed to rent) the Vespa was incredibly tempting. It was new, 150 cc and it just looked so cool.
After talking to the saleslady for awhile, she did her job very well because we ended up taking the Vespa home that night, paying 90 RM ($30) for 72 hours. We just couldn't resist taking it for a ride, if we wanted to rent a Vespa in Costa Rica it would cost 3 times this amount so we thought hell why not?! Let's go for it!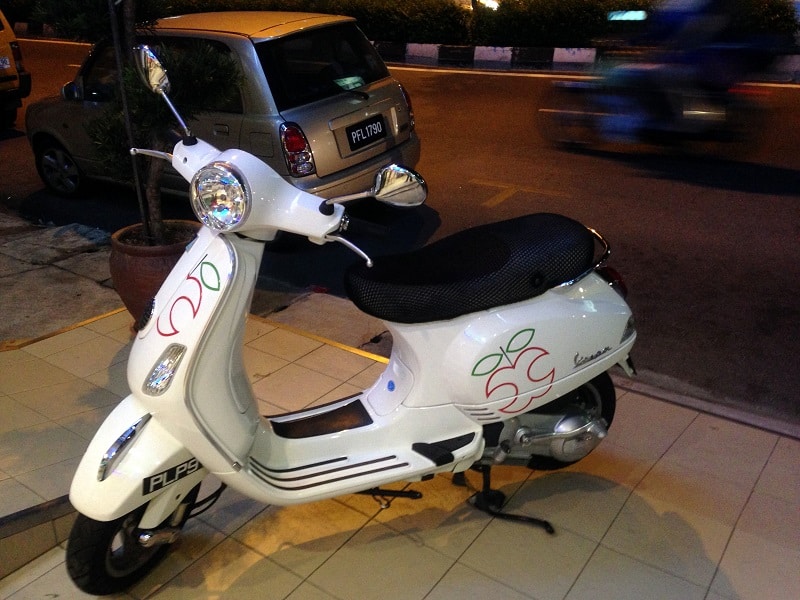 According to the saleslady, they were the only place on the island that had a Vespa so of course that made us want it more. Well it was ours for 3 full days and we definitely made good use of it!
As soon as we hopped on, we sped off beyond thrilled to have our own ride! The feeling of the freedom to go whenever you want and where you want was exhilarating and we couldn't wait to take it around and see Georgetown through our Vespa.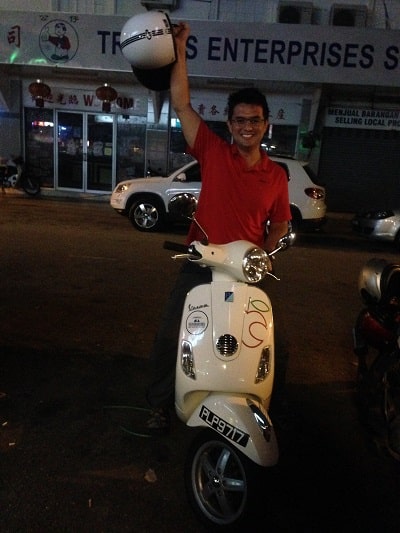 Sure walking and taking the bus is efficient and a cheap way to get around Georgetown but it was SO much more fun on a Vespa. We could plan our day around when we wanted to go, not the bus schedule. We mapped out routes that the buses didn't go to and it was so darn fun!
Vespa-ing around Georgetown
We took our Vespa all around Georgetown and to Batu Ferringhi beach. We were actually planning on going around the island but our last 3 days in Malaysia were filled with rainstorms and crazy winds.
Although Yeison is a very experienced motorcycle rider, it's still a bit scary riding in a country you don't know especially when you have to drive on the opposite side of the road!
We played it safe and stuck to riding around Georgetown but still got caught in a couple thunderstorms. Thank goodness for whoever invented ponchos!
So next time we go back to Penang, we'll do our Vespa ride around the whole island. We still made excellent use of it and I highly recommend visitors to rent a scooter to see Georgetown.
We took our GoPro on a couple rides with us so here are some photos and a video of us cruising around.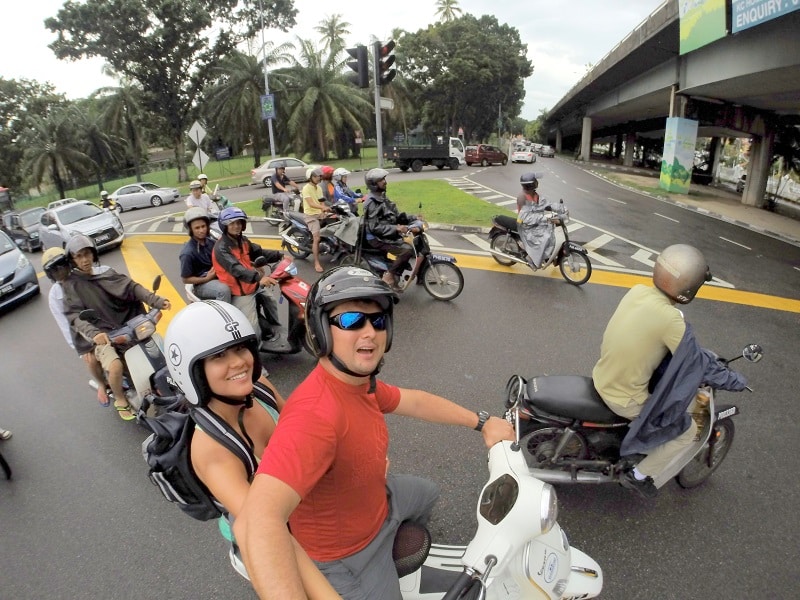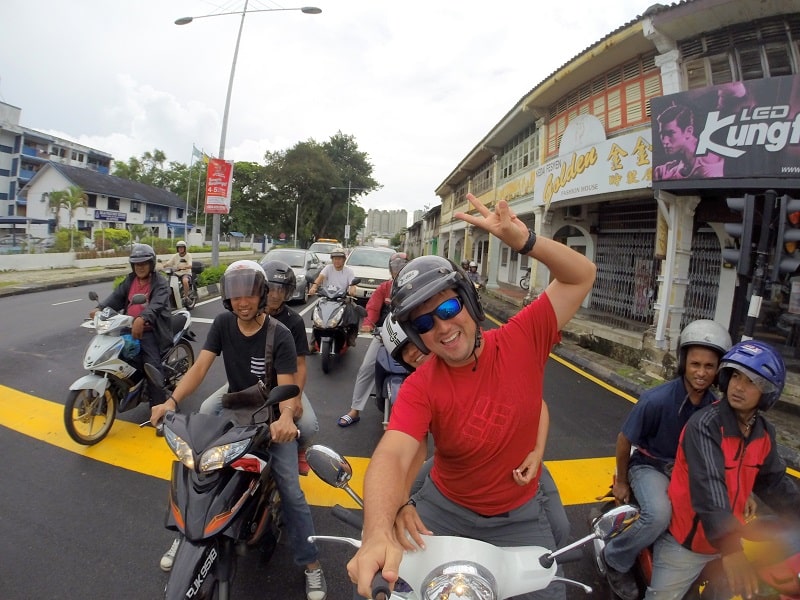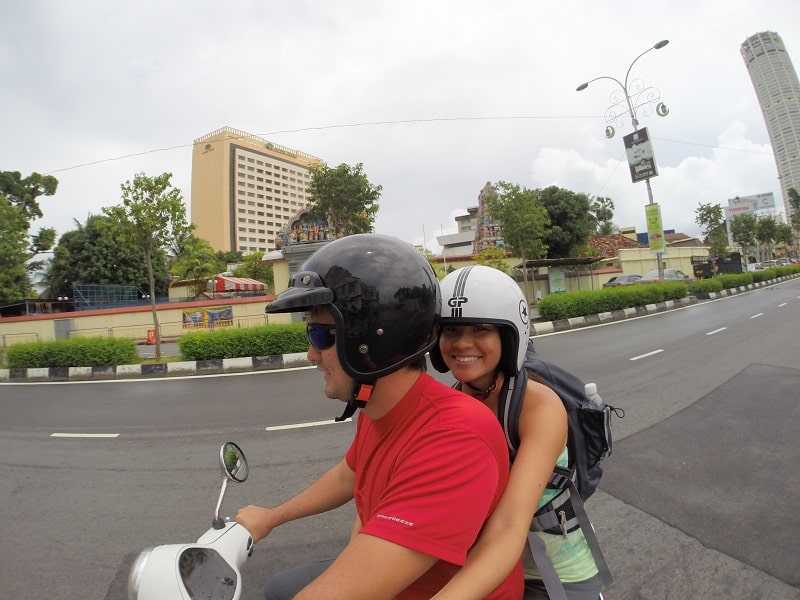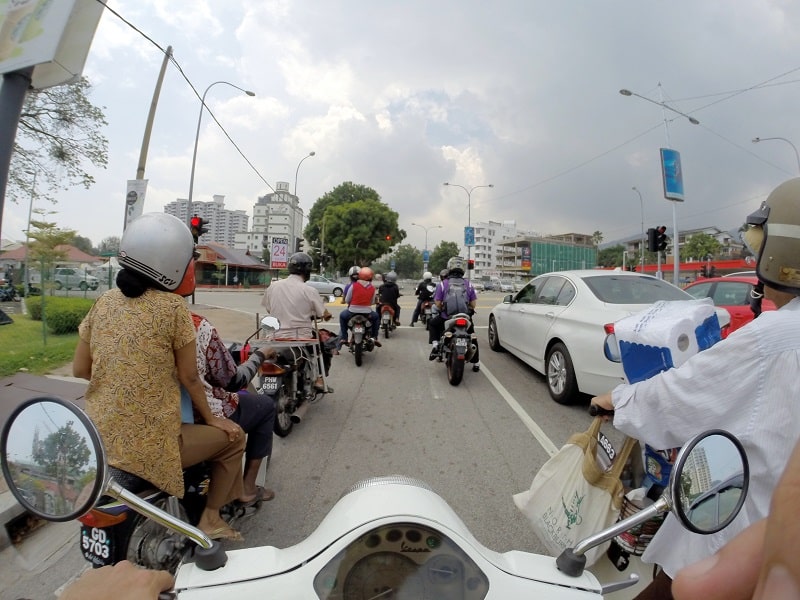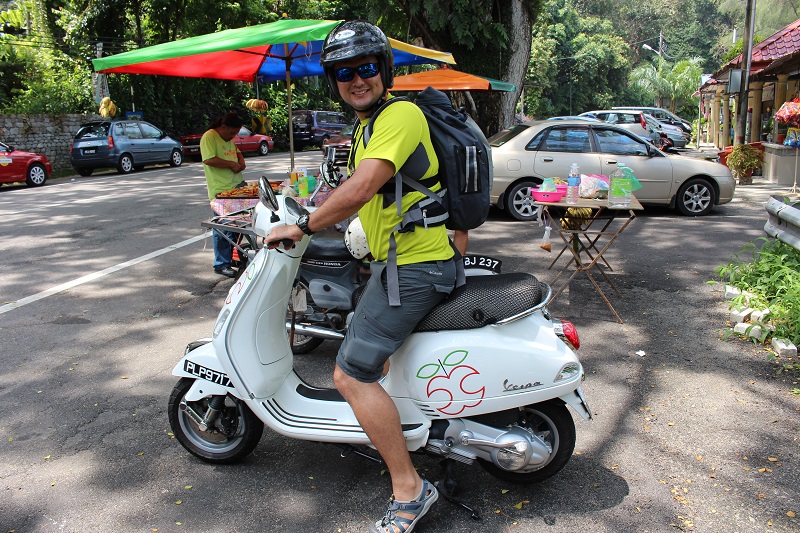 Tips for renting a scooter
There are quite a few places so look around first
Bring your motorcycle license
Check out all the models they have
Check the condition and ask about the history of the scooter
Bargain!
Our GoPro video of us Vespa-ing around Georgetown
Tips for scootering around Georgetown
Malaysia drives on the opposite side of the road as the US so it took us a bit to get used to. It was a little scary at times when we would accidentally forget and have to swerve out of the way!
There are a lot of one way streets in Georgetown so make sure to check the map to find out where you're going
Traffic in the city gets pretty backed up during rush hour so be very aware at all times for both scooters and cars
Try not to ride in a thunderstorm. We did and it was kind of intense since we didn't know where we were going, it was dark, there were a ton of cars and we had to drive on the opposite side of the road
You can't park your scooter in some areas – there are designated parking spots for scooters. If all else fails, just see where everyone else parks
Always wear your helmet!
We rented the Vespa at a place called La Belle which we recommend.
More posts about Malaysia
Taking the train from Kuala Lumpur to Penang