As for the cost of travel in Malaysia, we did fairly well in Malaysia expenses wise. The only thing that cost us a bit extra was changing our itinerary but I can see why people choose Malaysia to travel, it's cheap, very easy to get around, people are super nice and there are so many beautiful places in the country.
We originally planned to stay in Georgetown for only two days but stayed there for 5. That meant we had to cancel our train tickets, pay for 3 more hotel nights and buy plane tickets from Georgetown to Kuala Lumpur. But it was totally worth it!
If you're planning on visiting Malaysia and on a budget or have an itinerary like ours, this report will give you a good idea of how much is the cost of travel in Malaysia. So let's see how much we spent!
(1 USD equals roughly 3 RM)
Click the section to skip to it.
Airfare
We flew from Busan, South Korea to Kuala Lumpur on AirAsia for $309.66 one way, two people. Flight was fairly long at about 6 hours and AirAsia seats aren't exactly the biggest but hey, it's a budget airline.
We traveled with just carry on luggage but we bought a few snacks on the plane.

Kuala Lumpur

Accommodation
I booked a super cheap hotel in Chinatown for our time in Kuala Lumpur, Hotel Petaling. It's in a great location, near Chinatown and a couple minutes away from the Pasar Seni train station, one stop away from KL Sentral (the main transportation hub in KL).
For two nights, this was a good option. It was incredibly cheap, had strong free Wi-Fi, was in a good location and had nice staff. However, I wouldn't have stayed here for longer since the rooms are in need of an upgrade. I recommend this hotel if you're on a budget, passing through Kuala Lumpur or want to stay near Chinatown.
For two nights, we paid $37.65 taxes included.

Transportation
Since we landed in Kuala Lumpur late at night, we had to take the shuttle bus and taxi. From the airport, we took a shuttle bus for 30 RM (~$10 for 2 people) to KL Sentral and then took a taxi to our hotel for 15 RM (~$5).
Transportation is cheap in Malaysia and they have a very good system. It's just a couple RM to take the Rapid KL which can take you all over.

Food
Food is so cheap in Malaysia and in Chinatown, you can find all sorts of yummy Chinese food around. For our two days in Kuala Lumpur, we spent about $20 a day for two people. I couldn't believe it sometimes, I could order a plate of chicken rice and a drink for just 6 RM. That's roughly $2!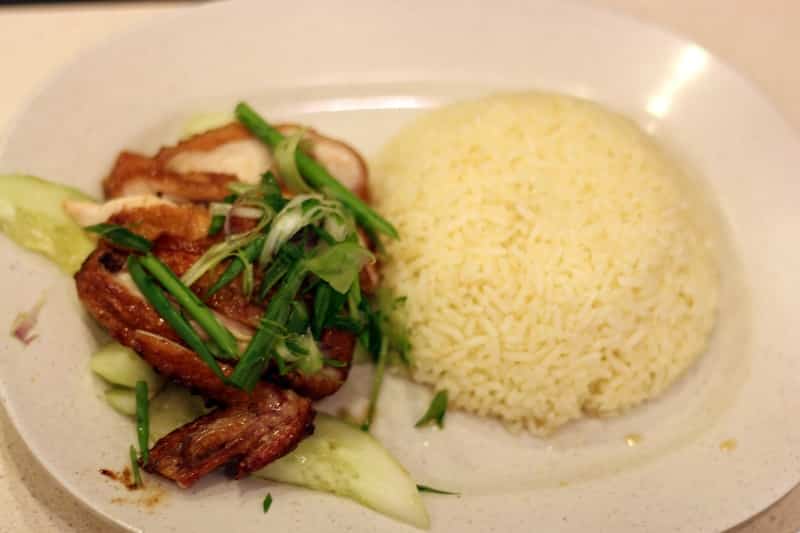 Activities
We went to the Petronas Towers one day. Though it's a huge tourist attraction, it's just one of those places you gotta see! To get to the Petronus Towers, we took the Rapid KL to KL Sentral from Pasar Seni and then took the Rapid KL Kelana Jaya Line to KLCC.
We didn't feel a need to go to the top of the Towers so we spent time in the park and walked around the mall.
The other day we went to the Batu Caves. To get to the Batu Caves, we went to KL Sentral then took the KTM Komuter Train to the caves for 4 RM (a little over $1) there and back for two people. We definitely recommend visiting the caves if you get a chance.
The rest of the time we spent exploring Chinatown and checking out all the food stalls and souvenir shops. It is shocking to see it during the day when it's empty and when nighttime rolls around, it's a completely different world!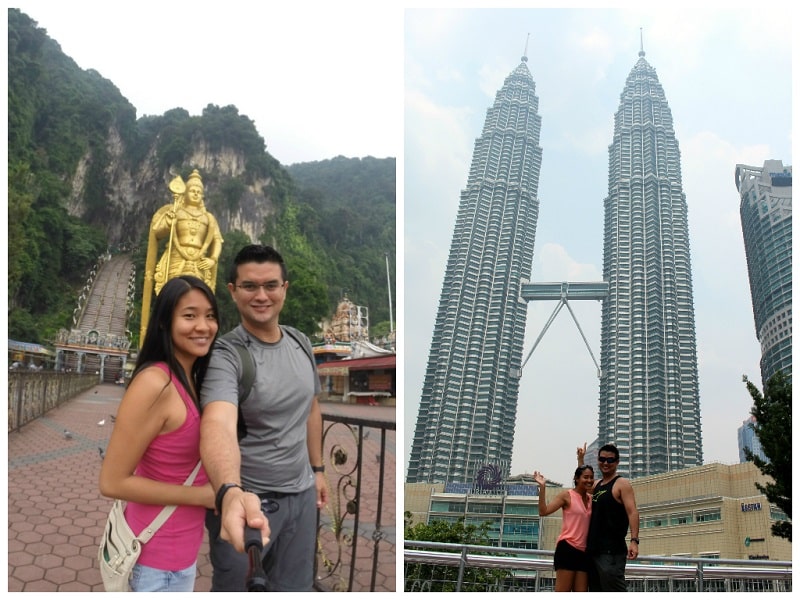 Georgetown
Getting to Georgetown
To get from Kuala Lumpur to Georgetown (in Penang), we took the train. We booked the night train saving us a night of hotel from KL Sentral to Butterworth, paying 80 RM (~$24) for two superior class upper bunk sleeper seats.
You can book train tickets online at 12GO Asia using the widget below:
From Butterworth, we took a ferry to Georgetown which cost 1.20 RM per passenger and it is free on the way back. From the ferry station in Georgetown, we took a public bus to our hotel.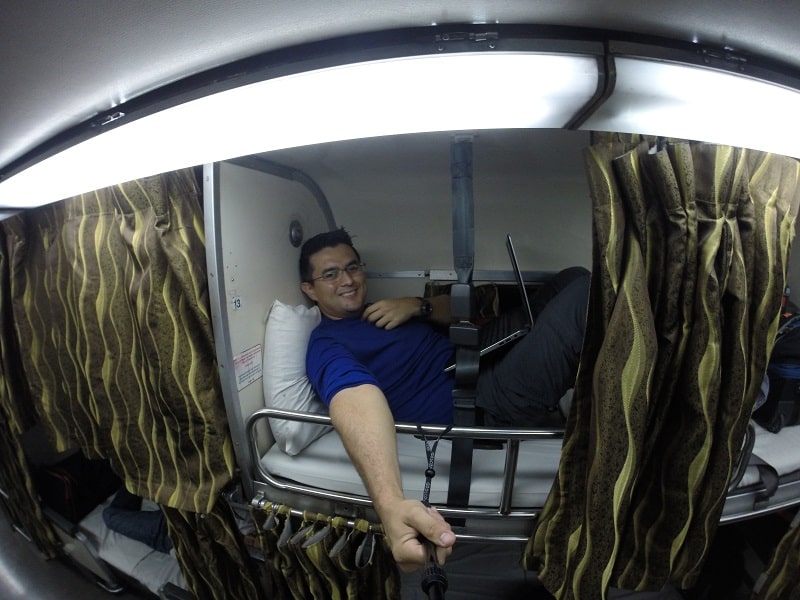 Accommodation
We initially booked just two nights in Georgetown at a hotel called Hotel 118. We ended up extending our stay and booked 3 more nights.
For four nights, we paid $109.74.
Transportation
For the first two days we walked and took the bus around Georgetown which was cheap. But then we ended up renting a Vespa which was the second best idea we had in Malaysia. We paid 90 RM (~$30) for 72 hours and spent an additional 6 RM for gas.
The public bus is very good in Georgetown but having a scooter gave us way more freedom and let us feel a little like locals. But Malaysia does drive on the opposite side of the USA so that took us a bit of getting used to for us. It was our first time driving on the other side of the road and it was a fun experience.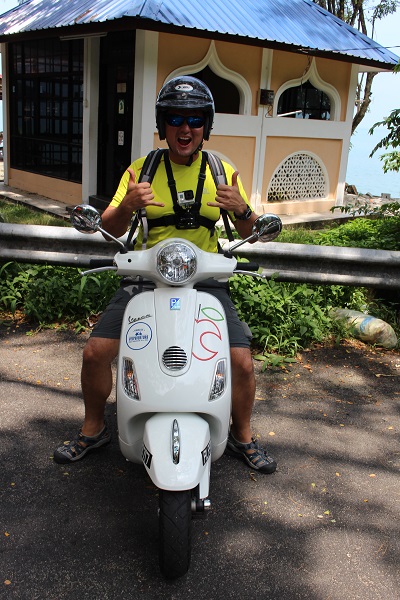 Since we weren't taking the train back to Kuala Lumpur anymore, I booked two tickets on AirAsia from Georgetown to Kuala Lumpur for $53.27. Unfortunately I wasn't allowed to bring my carry on for the flight back and had to pay an additional 75 RM (~$25). Ouch.
Food
The glorious food of Malaysia captured my heart and stomach the first bite. Not only is food cheap but it is tasty! I loved trying out Indian, Chinese and Malaysian food. We hovered around $20 a day for food and we could have gotten away with much less, but we wanted to try everything.
I treated myself to dishes I wouldn't normally order back at home. In Little India I had garlic naan, tandoori chicken, chicken masala and mango lassi for 12 RM. That is around $4!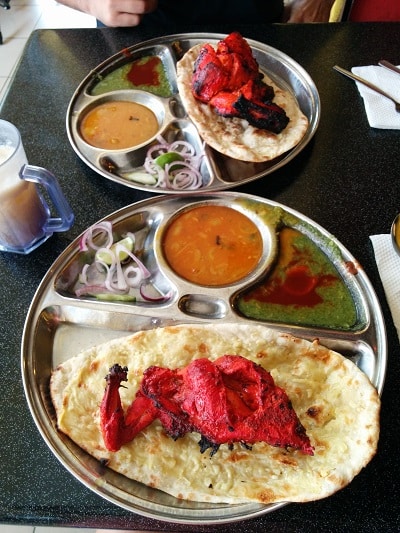 Activities
Unfortunately for the last 3 days we were in Malaysia, the weather was awful. The restaurant we were having dinner at one night actually got flooded! Still, we had a fabulous time exploring on our Vespa.
We visited Penang Hill, Batu Ferringi beach, ate a lot, visited Kek Lok Si temple and scoped out some cool street art.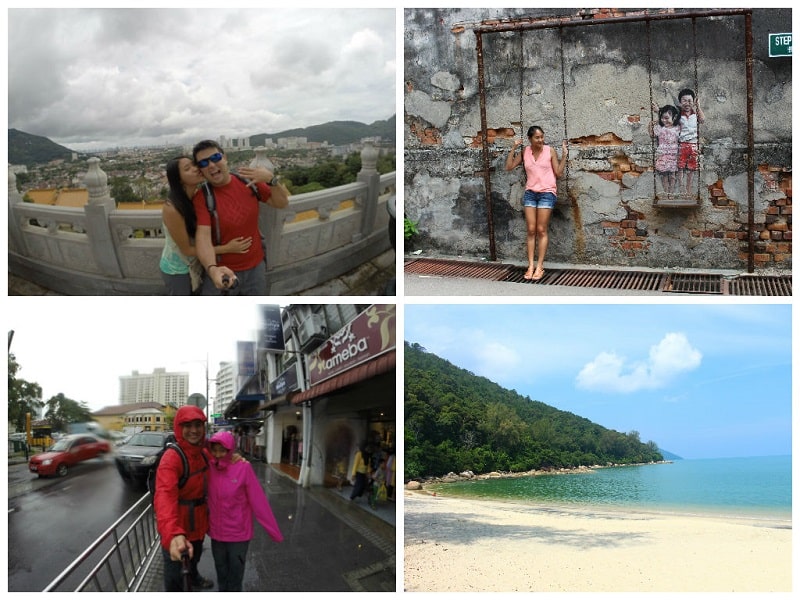 Souvenirs
We spent $30 on clothing for souvenirs. Malaysia has some gorgeous clothing for women and I splurged on a lot of scarves and skirts.
Total Cost of Travel in Malaysia for 2 people

Our total cost of travel in Malaysia came out to be $700 for 2 people. This also included airfare from South Korea and the airfare from Georgetown to Kuala Lumpur. Not bad at all! I was very pleased with how we did.
Without airfare and baggage fee, it came out to be $313 which is $44 a day for two people.
What we loved about Malaysia
The people. We loved how friendly and helpful the people were! We would be walking down the street, lost, and someone would come up to us and ask if we needed help. When we wanted at the train station in Kuala Lumpur, a family sitting next to us started randomly asking us about our trip and they were SO nice, giving us tips and advice.
Ease of transportation. Excellent subway system and plenty of transportation options from the airport. I was super happy to know that they had transportation from the airport even late at night and it was super easy to find. The only bummer was that we didn't have any RM so we had to run across the street to a hotel and ask them to change if for us. Which they did very nicely even though I don't think they normally do and it was already 10 at night!
Nearly everyone speaks English. I really hate to sound like that typical tourist but it was extremely nice that nearly every person spoke some degree of English so it made asking for directions a whole lot easier.
What we didn't like
Some of the street food stalls looked pretty dirty. We saw guys wipe the sweat off their forehead and continue cooking with their bare hands. Yick!
The streets in Georgetown were a bit confusing since they were mostly one way streets. If we accidentally took a wrong turn, it took us an extra 20 minutes to get back, especially during rush hour.
Malaysia Travel Expenses Wrap up
Would we go to Malaysia again? Yes! There's so much we didn't see and do and our total cost of travel in Malaysia was well under our budget. No wonder Malaysia is such a popular country to travel, not only is it beautiful with so much rich culture and kind people, but it's extremely affordable.
If you're on the fence about visiting Malaysia, hop off and book the ticket! There is so much to discover and as you can see, the cost of travel in Malaysia is excellent for budget travelers.
During that one week we got a small taste of what Malaysia has to offer and left us wanting more. Now I know to stay longer next time and I encourage you to do the same!
Read our other travel expenses by country here.
South Korea 17 day expenses wrap up
1 week Philippines expenses wrap up
One month Taiwan expenses wrap up
This post has affiliate links