Packing for Iceland is extremely important and it can make or break a trip, especially if you're road tripping in a camper van like we did. Once you're outside Reykjavik, it gets harder and more expensive to find gear so you want to pack properly and to do so, you need to pack appropriately for the weather.
We visited the last week of September and I knew we would run into rain, sun, clouds, wind and maybe snow so I made sure to pack properly for that kind of weather and for a camper van trip.
Even though Iceland packing lists are similar no matter what time of year you go (you can run into rain in summer), here is our specific packing list for Iceland in the fall. I also included what Yeison brought so you can have a men's packing list for Iceland in fall.
Waterproof Shoes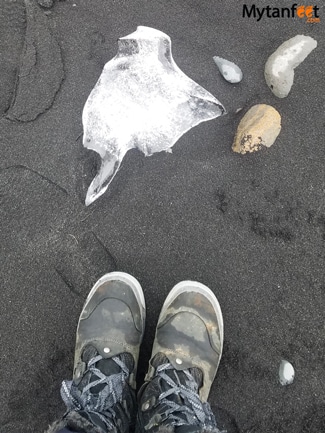 We each brought two pairs of shoes: waterproof hiking boots and a casual pair of walking shoes. You will want a pair of 100% waterproof hiking boots, trust me.
We trekked through mud, stood behind waterfalls, splashed in puddles and got caught in a few rainstorms.
You will get wet in Iceland and you need to have a good pair of waterproof shoes!
These are the shoes that we brought. Yeison also took a pair of Nike sneakers with him but he didn't wear them much since those get wet easily.

Merrell Silversun Lace Waterproof Boots: I love these boots. I wore them pretty much every day and they were perfect for the beaches, volcanoes, waterfalls and glaciers of Iceland. They're 100% waterproof, super comfortable and has great traction. They are mid-calf boots which gave me more protection and warmth.
I looked at almost 20 pairs of waterproof hiking boots and got these on sale at REI. These are definitely the best hiking boots for Iceland for someone who is doing leisurely hiking like us, nothing crazy long or hard.
Keen Targhee II Men: These are Yeison's hiking boots. They're waterproof, durable and comfortable. He loves these shoes and has had them for a couple of years.
Sorel Tivoli III: I also wanted a pair of shorter, more fashionable waterproof shoes so I got a pair of Sorel Tivoli III. Since I have small feet, I got the youth size 4 which are a lot cheaper than women's. If you wear a women size 6 US like me, you can get a youth size 4 like I did and save some money!
Warm Clothes Including Waterproof Jacket and Pants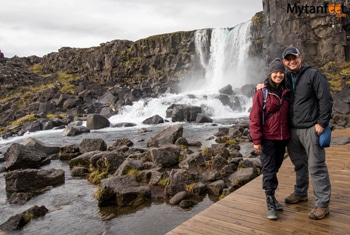 Although temperatures stayed around mid 50's (13 Celsius) during the day for most of our trip, the nights got cold.
It is also super windy in Iceland and the wind is what will kill you if you're not dressed warmly enough, even if it's 60 F degrees out. Layering is key but so is having a warm waterproof jacket and waterproof pants.
People always recommend a waterproof jacket but waterproof pants are also super important. My rule was no jeans since they take forever to dry and are not comfortable.
There is nothing worse than getting wet when it's cold out and it's not like we had anywhere to hang it up to dry in a camper van so we made sure to bring waterproof outerwear. And I'm so glad we did because we had rain 5 out of the 7 days we were there!
These are the clothes we brought for our fall Iceland trip in a camper van.
North Face Venture Rain Jacket: This is Yeison's rain jacket. It's only a shell so he wore it over his other jacket from UNIQLO that's not 100% waterproof.
North Face ThermoBall Vest: A vest was great for the times when it wasn't super cold. I just put it over my fleece shirt and sweater and was good to go. This one is down so you get a lot of extra warmth but not too much at the same time.
North Face Quince Jacket: A down jacket is highly recommended to keep you cozy and snug. I love this one, it's water repellent and was perfect for when it wasn't raining out.
Arc'teryx Parapet Pant: I adore these pants and they were perfect for Iceland. It was really easy to wipe off the mud and dirt, they are waterproof and so comfortable. Yeison wore his Columbia hiking pants but his aren't 100% waterproof so they did get a bit wet during the rain storms but my Arc'teryx pants stayed super dry!
Spyder fleece rain jacket: I've had this jacket for years and it's been in perfect shape ever since I got it. However, I recommend getting a long jacket that covers your butt (I wish I had one and was envious of everyone who did). Even though my jackets were really comfy and waterproof, I wish mine covered my butt for more protection.
ExOfficio Icelandia Button Beanie: The black beanie with the poof and button I'm wearing in the photos. Yeison forgot his beanie and bought one in Iceland for $5. It wasn't the best quality though so I definitely recommend bringing a warm beanie (fleece lined would be the best).
EBMORE Womens touch screen gloves: Perfect for those cold rainy days and I had to use my phone to take pictures.
Fleece leggings: I slept in these and wore them for warmer days. Bring a couple because you'll be wearing them a lot! I would also wear them under my hiking pants for the super cold days. I get cold really easily so some days I'd be wearing two layers on bottom and 3 on top! Yeison brought sweat pants for sleeping.
Merino wool socks: A must, especially for sleeping in a camper van. Gotta keep your toes warm!
Fleece shirts and thermals: Good for layering and fleece shirts are nice for when you want something a bit more fashionable. Yeison brought lots of long sleeve thermals and even wore just a shirt a couple of the days it was really warm out.
Sweater: For the colder days when I needed more than only a thermal.
Cashmere blanket scarf: A scarf is super necessary, I'm pretty sure I prevented a cold by making sure my neck was warm our entire trip. Also doubles as a blanket and I would use it to wrap my head for the super windy days.
Bathing suit: Because you will want to experience some of Iceland's famous hot springs!
On really cold days, I would wear a thermal, sweater and rain jacket/down jacket depending on if it's raining. On warm days, I would wear just the sweater/thermal and vest. I almost always wore my scarf and hat. Layering is key because once you start hiking and getting warmed up, you'll want to take off a layer. When we hiked up the stairs of Skogafoss waterfall, I was super sweaty and took off my scarf and jacket.
Electronics and Chargers

These are the four most important electronic items we brought. They definitely made our trip a lot easier!
EasyAcc 26000 mAhBattery pack: We've had our fair share of battery packs and this is the best one we've had so far. It charges my Samsung Galaxy s7 edge and Yeison's iPhone 7+ at least 7 times and has a built in flash-light. We were always able to charge our phones and never worried about running out of battery.
Foval 300W power inverter: With this inverter, we were able to charge our battery pack which was charging our phones all at the same time. It never overheated or blew and it worked great.
LOOP world adapter plus: We use a different voltage so we needed this. Super handy as it also has USB ports.
USB camera battery chargers: Super useful for charging camera batteries on the go. We didn't always have access to an outlet at the campsites (too many people) so we would plug this into the inverter and it would charge our camera batteries while driving.
Cameras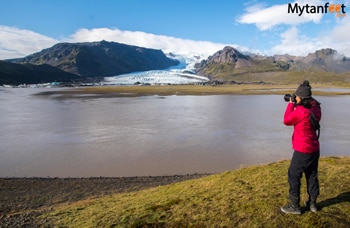 These are the cameras we brought for our trip.
One thing I wish we brought but weren't able to was a tripod. Even though we own a compact tripod, we were also traveling to Ireland for two weeks for a work conference and we only brought carry ons for a month in Europe.
We simply didn't have the space but if you want to take nice pictures, particularly of the waterfalls or the Northern Lights, a tripod is an absolute must.
Sony A6500: This is Yeison's camera, a mirrorless camera. It's perfect for traveling photographers because it's much lighter and easier to carry. Great for video too, it shoots 4k but make sure to bring extra batteries.
Canon 5d Mark III: This is my camera, it's full frame and quite heavy to carry but I'm used to and we weren't hiking a lot.
Wide angle lens: A must for capturing all the incredible landscapes!
35 mm prime: For more creative landscape photos.
Waterproof Backpack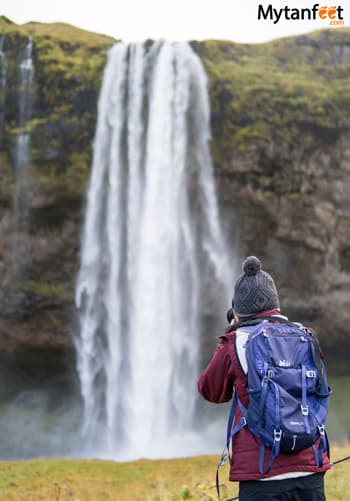 These are the backpacks we brought for our trip. What backpack you bring will depend on your activities and if you're a photographer. Either way, make sure to get a rain cover since that time of year will rain and rain hard!
WANDRD PRVKE backpack (read our review): This is Yeison's backpack and is designed specifically for photographers. It is plenty big for his Sony camera, two lenses (wide and prime), batteries, battery charger and filters. He got the photographer bundle which came with a rain cover.
REI 25 backpack: This is a hiking backpack but it's big enough and comfortable for me as a day pack. It fits my Canon camera, towel, water bottles, extra wide angle lens, food and more. Since we weren't hiking much, it was perfect for walking to a waterfall or around the national park.
Rain cover: If your backpack doesn't come with a rain cover like ours, buy one. Believe me. You need one and always have it in your backpack because it will rain during your time in Iceland. Even if you're not a hardcore photographer, you want to protect your electronics and belongings.
Misc Essential Items

These are miscellaneous items I brought and used a lot. I was very happy I brought these things because it helped out a lot on our trip.
Dry shampoo: Perfect for second day hair when I wasn't able to wash my hair.
Iceland National Geographic Adventure Map: This map saved our butt when we were driving around looking for campsites and waterfalls when we didn't have service. It's waterproof, super durable and has all the campsites, national parks and points of interest on there. I highly recommend buying this one instead of getting a map when you're there because it's way more expensive.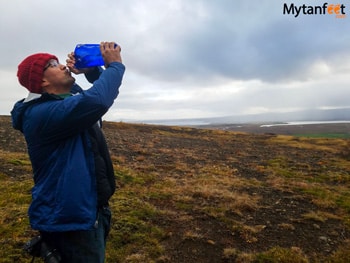 Foldable water bag: Since our normal water bottles (40 ounce Hydro Flak water bottles) took up way too much space in our luggage, we brought 4 foldable water bags and they were a lifesaver. (Thanks Dad!)
Not only did we save money on water, but we also didn't waste plastic. You will have no problem finding drinkable water in Iceland, they have the most delicious, freshest and crisp water in the world!
We talked to some Icelanders in Vik and they told us how before tourism got big, there were no water bottles at supermarkets because none of the locals needed to buy water – their water at home was already pure! But now that there are so many tourists, they had to stock water bottles which is a huge waste of plastic.
So if there is anything I recommend to bring not just to save money but to help the environment, it is a foldable water bag. They are extremely compact and you can easily bring a bunch.
Burt's Bees Face Wipes: Great for cleaning our faces when we didn't have access to showers or needed to freshen up. Any brand of face wipes are fine, as long as you like them.
Microfiber towel (Large): I bought these towels for us since campsites charge for towels and I like having my own towel, not one that has been used hundreds of times by other people. These are super compact so they barely took up any room and dried fast which was super nice for a camper van. The 32 X 60 size was big enough for Yeison and I (it was really big for me and I'm about 162 centimeters or 5'4 and he is almost 190 centimeters or 6'2.)
We also brought a couple of small micro fiber towels which were super handy for cleaning up spills in the camper van or wiping off mud.
Head lamps: It is so much easier looking for something in the back of the camper van at night with a head lamp instead of using your phone as a flashlight so you have two hands free. We used these head lamps a ton! You also don't have to waste battery on your phone using the flashlight.
So there you have it, our recommendations for what to pack for Iceland in the fall.
Read more posts about Iceland below.
1 week Iceland travel expenses
There are affiliate links in this post.