Have you been dreaming about visiting Iceland? Feeling a twinge of jealousy when you see awesome photos of people camping around the island, waking up to stunning waterfalls and hanging out with Icelandic ponies? Wishing that you could finally see glaciers, volcanoes, waterfalls and rivers all in one day?

That was me just a couple months ago. I'd been dreaming about seeing Iceland for years and I was finally able to tick it off the bucket list when I found super cheap tickets from Manchester. Was it everything I had hoped for? Yes, I can safely say it was.
So if you are like me, I encourage you to visit Iceland and fulfill that dream asap. We spent one week in Iceland by camper van and it was one of the most exciting adventures we have ever done which you can read on below. I hope our story inspires you to take the plunge and buy that ticket to have an epic adventure of your own!
One Week in Iceland: Day 1
For our first day, we took it easy since we had a super early flight. We flew in from Manchester at 6 AM and landed around 8. We picked up our camper van from Kuku Campers (read our review), drove to Reykjavik, bought groceries at Bonus and headed to our Airbnb on the Golden Circle.
The Airbnb was a last minute booking since I initially planned to go visit a few places on our first day but we got absolutely zero sleep the night before. The Airbnb we stayed at turned out to be my favorite we've stayed at so far. It's a super cute cottage on a family farm with its own hiking trails and Icelandic ponies.
It was the perfect first day to catch up on sleep and get ready for the following week. Plus the hike was amazing, we got a stunning view of the surrounding fields and valleys!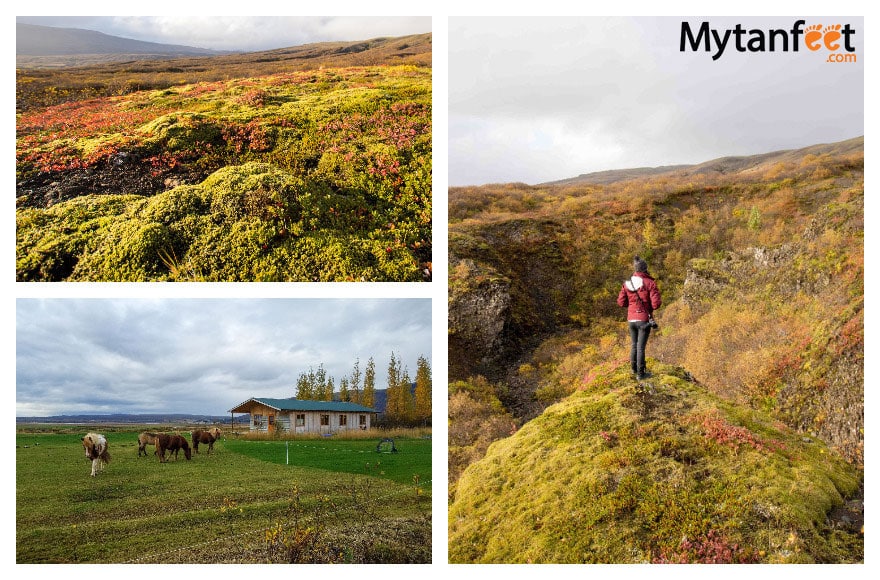 This is the listing, it's near the small town of Laugarvatn about 20 minutes past Thingvellir National Park. Don't forget to get $40 in Airbnb credit first!
Day 2: Golden Circle

We got an early jump on day 2 as we were driving around the whole Golden Circle. We first went to Thingvellir National Park to walk the trails and went to the church and Öxarárfoss waterfall. This national park is amazing, I would have never guessed that it was the site of the first parliament in Iceland!
It's also a World Heritage site and sits in a valley right in between the Mid-Atlantic Ridge and the line between the Eurasian and North American tectonic plates. This national park has it all: rivers, waterfalls, lake, tectonic plates, valleys and volcanic activity. Views are gorgeous and I'm glad we stopped here, even though I was stunned at the sheer number of tourists. It's worth it!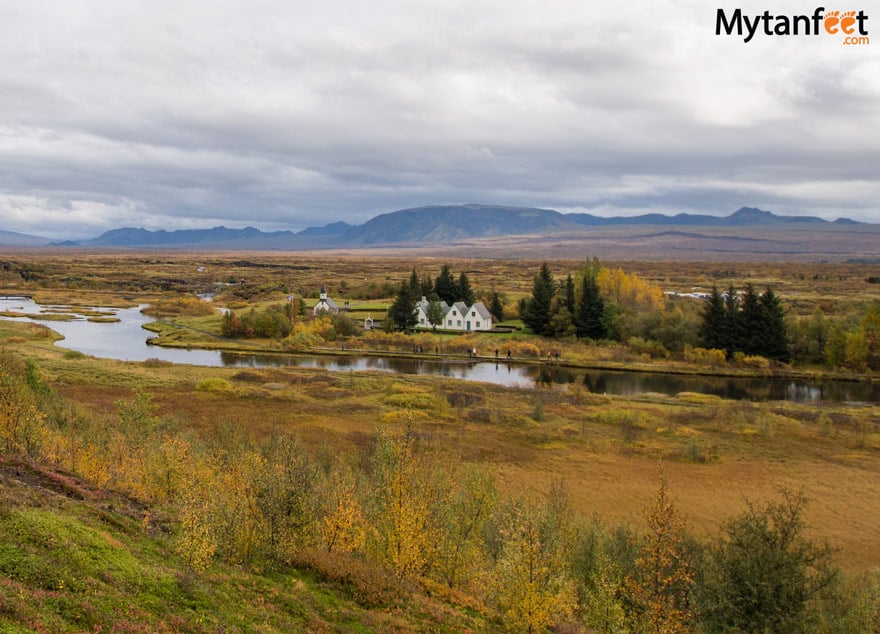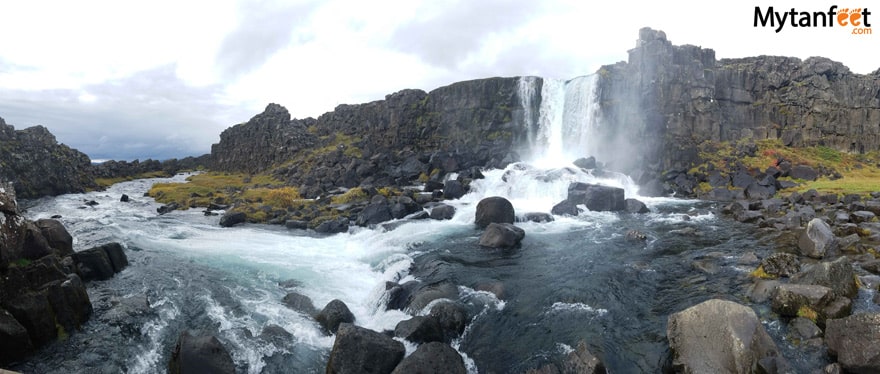 After the national park, we went to Bruarfoss Waterfall, a stunning blue waterfall and river. We had to hop a fence and walk in a lot of mud for 15 minutes to reach the waterfall but this milky blue river blew me away.

And yes, that is how blue the water is!
Our next stop was Geysir and Strokkur in Haukadalur valley and Gullfoss Waterfall. They are only about 10 kilometers apart which was really nice. Gullfoss is a stunning waterfall in the Ölfusá river, you don't truly realize how big this waterfall is until you walk over to the side and see the entire thing.
The sun came out when we were there and we saw a myriad of beautiful rainbows over the waterfall.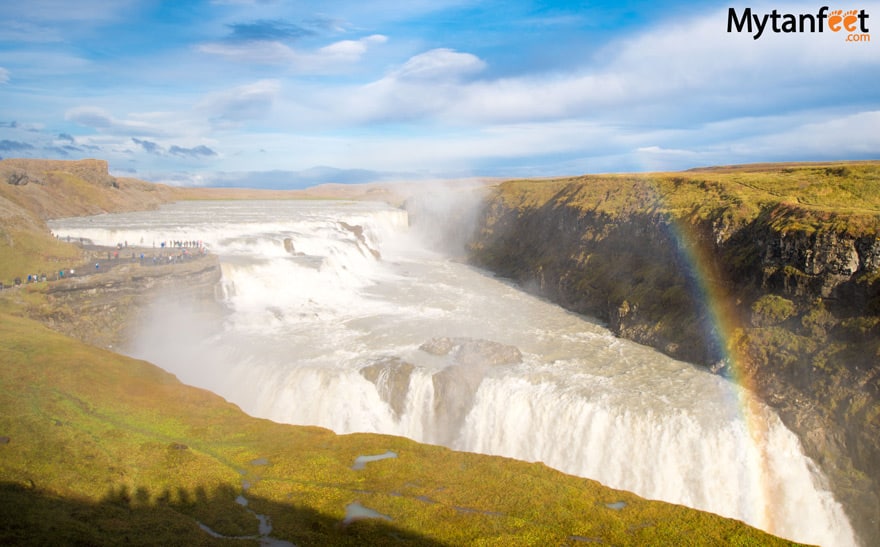 Strokkur is a very active geysir, erupting every 5-10 minutes and Geysir is the quiet one. It's bigger but rarely erupts. Here's a short clip of Strokkur, it's incredible to watch and a little scary at first because it's really loud! It erupts fairly often, around every 5-10 minutes.
This was our last stop on the Golden Circle, unfortunately we ran out of time to see Kerid Crater which was something else I really wanted to see. At the time, I thought we could go back to it on our way back to Reykjivak our last day but unfortunately, that didn't work out either. Oh well, just means we have to go back!
The Golden Circle is a great day trip from Reykjavik and first day for our road trip. Just know that it is super crowded in some spots such as Thingvellir National Park and Gulfoss waterfall, to be honest I was a bit shocked. I recommend looking online and asking the locals for some lesser known spots so you don't feel like you're just following a hoard a tourists the whole day.
Braurfoss waterfall had a good amount of people but wasn't nearly as crowded, I'd say there were only about 20 people when we went, mostly photographers. That was my favorite stop on the Golden Circle, besides our Airbnb.
We stayed at a camp site in Hella that night.
Day 3: Seljalandafoss, Skogafoss, Vik

Our first stop on day 3 was to Urriðafoss, the most voluminous waterfall in Iceland's longest river, Þjórsá. Unfortunately, it was not a great morning weather wise. It was rainy, cold and dark so we got out, snapped a photo and looked at the waterfall for 2 minutes. On the other hand, we were the only ones there which was nice.
It started clearing up as we made our way to Seljalandafoss waterfall. This waterfall is SO big, you can see it literally 10 kilometers away as you're driving on the Ring Road.

You can walk behind this waterfall and there is also another small waterfall around the corner that is really cool. It's inside a cave so you need to get your feet wet a little bit.
Our next stop was Skogafoss waterfall, another huge waterfall that has a trail to the top. I highly recommend walking up, it's a bit steep but there are handrails and the view is awesome!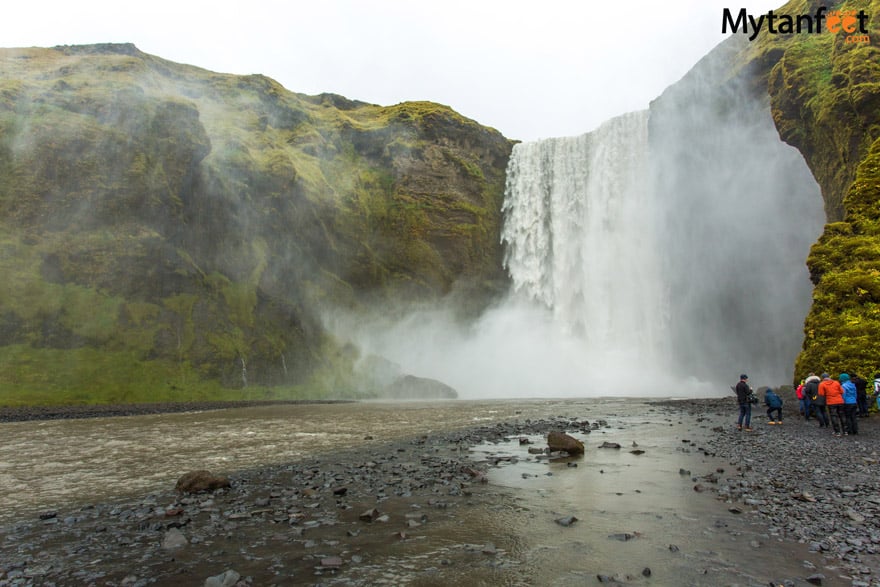 Our next stop was the wrecked airplane. We actually meant to skip this one but inadvertently ended up going anyways. There is no sign for the plane crash but you will see a large parking lot. We didn't know what it was but saw a lot of cars and decided to stop, only to find out that it was actually the plane.
The walk from the parking lot to the plane is a lot further than it looks, it's about 4 kilometers each way. Is it worth it? I'm not sure. It's essentially a broken plane in the middle of the beach and there were SO many people, mainly Chinese people jumping up and down on it. Personally, I would have been perfectly happy if we skipped it.
After the plane, we headed to our last stop of the day: Dyrhólaey peninsula. The view at the top is incredible. You see the black sand beach, the black lava columns and a large arch. Wow.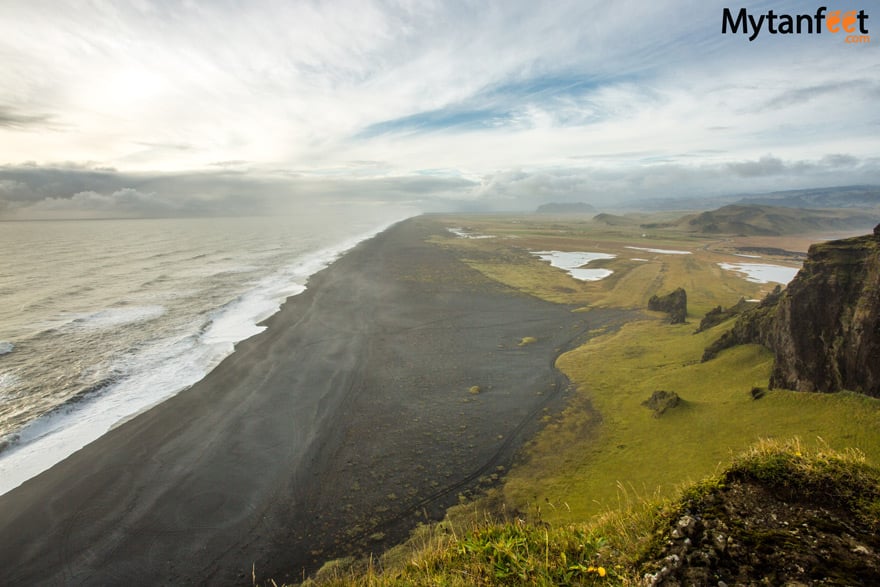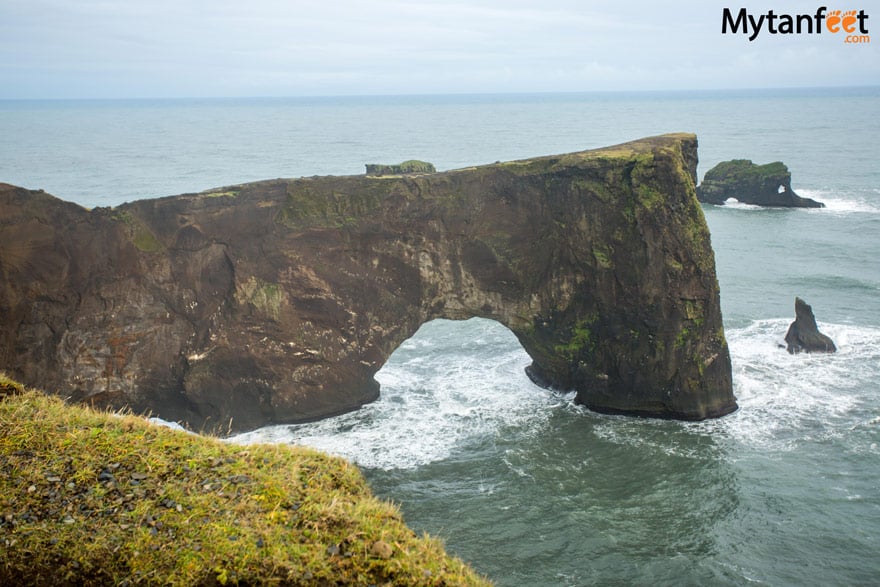 During the summer, you can see puffins nesting and there are several signs with pictures of the different birds you can see. Unfortunately we missed puffin season but hopefully we can see them next time!
After Dyrholaey, we drove to Vik and settled down at the campsite for the night.
Day 4: Fjadrargljufur Canyon, Skaftatell National Park, Svindafell

Day 4 was the worst day weather wise. We woke up to rain and ended the night in rain. It was also extremely windy!
We wanted to see more that day but we wimped out with the rain and wind. Even though fall just started, any sign of summer was completely gone and Iceland was showing us just exactly how crazy its weather can be!
We briefly visited Fjadrargljufur canyon which was very cool but sadly we didn't really see much as it was super foggy and rainy. We drove slowly towards Skaftatell National Park and decided against walking to Svartifoss. We visited the Skaftafellsjökull glacier instead.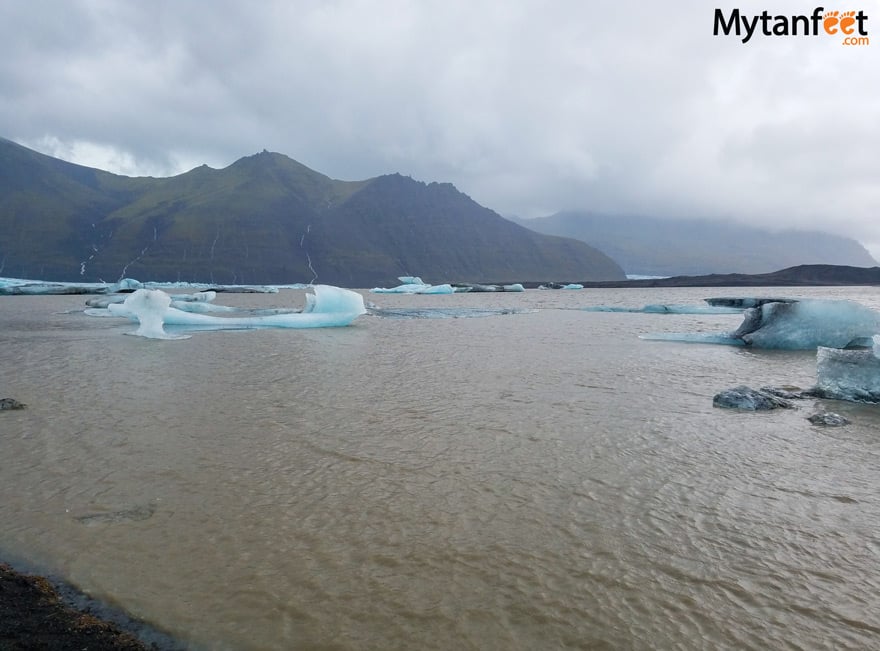 The rest of the day we spent at our camp site in Svinafell.
Day 5: Jökulsárlón Glacier Lagoon

Our first stop on day 5 was to Fjallsjokull glacier which we saw pretty much nothing as it had been raining from the moment we woke up. It cleared up for 1 minute so we got a glimpse of some glacier pieces but that was it. So we moved onto the famous Jökulsárlón glacier lagoon and Diamond Beach.
We were able to see glacier pieces on Diamond beach but Jökulsárlón looked like a giant grey cloud with peaks of white poking through. We left feeling a little bit disappointed since we couldn't see any of the glaciers which we were looking forward to the most. We stayed for about an hour but it started raining again so we moved on. I wanted to get to Hofn tonight and I knew we'd have some time on the drive back.
This is when our plans changed. No more than 15 minutes driving east from Jökulsárlón, a police officer blocked the road as they closed the way to Hofn. A bridge had flooded not just one hour ago! We turned around, feeling a bit relieved we didn't leave earlier because that would have meant we would have had to drive all the way around Iceland in two days to get back to Reykjavik!
And as it turned out, that road closing was the best thing to happen for our trip. On our way back to Jökulsárlón, the sky started clearing up and it was sunny. Like we could see the whole lagoon and the beautiful glaciers!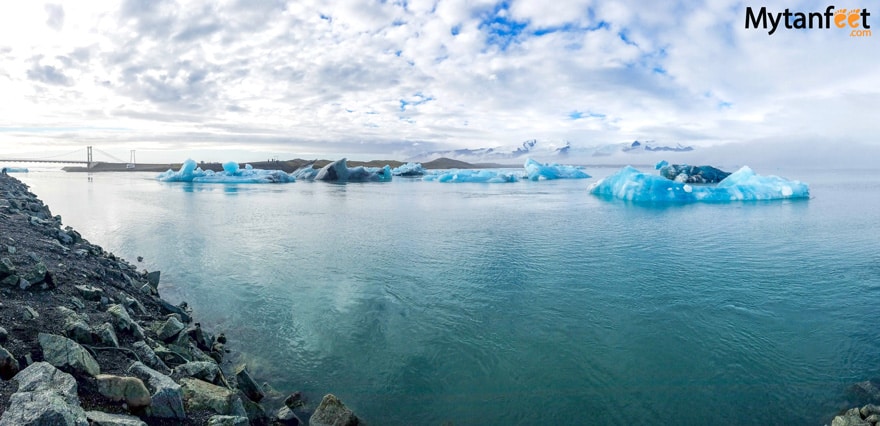 We decided to start heading back to Reykjavik with no plans that day. We'd stop whenever we wanted to and sleep wherever. It seemed we were actually chasing the bad weather and all the good weather was behind us so for the next two days, we had extremely sunny days.
As we drove back west, I saw a large glacier on our right hand side and a small parking area, not far from Jökulsárlón. We decided to check it out since we hadn't seen it before and boy, were we in for a treat!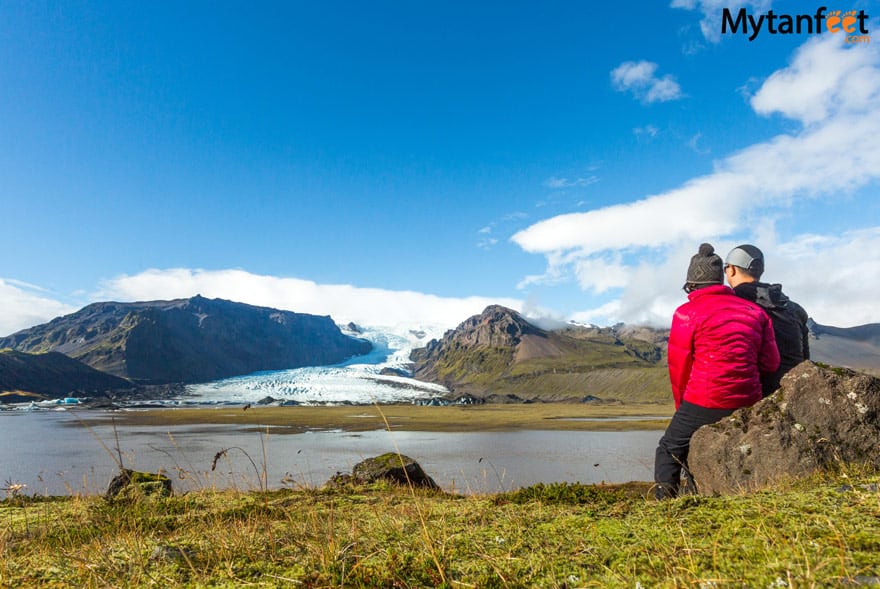 I looked on the map and saw the name of this place is the Kviarmyrarkambur Rest Area. I couldn't find much information about it and it wasn't mentioned on any of the websites or blogs I used so this is definitely a very under the radar glacier and there were only a couple other cars there. You can walk all the way up and around the lake for incredible views of the lakes and glacier.
As you can see, the weather was absolutely perfect!
We spent the rest of the day stopping at random waterfalls, watching the sunset on Reynisfjara Black Sand Beach and playing on the asphalt columns.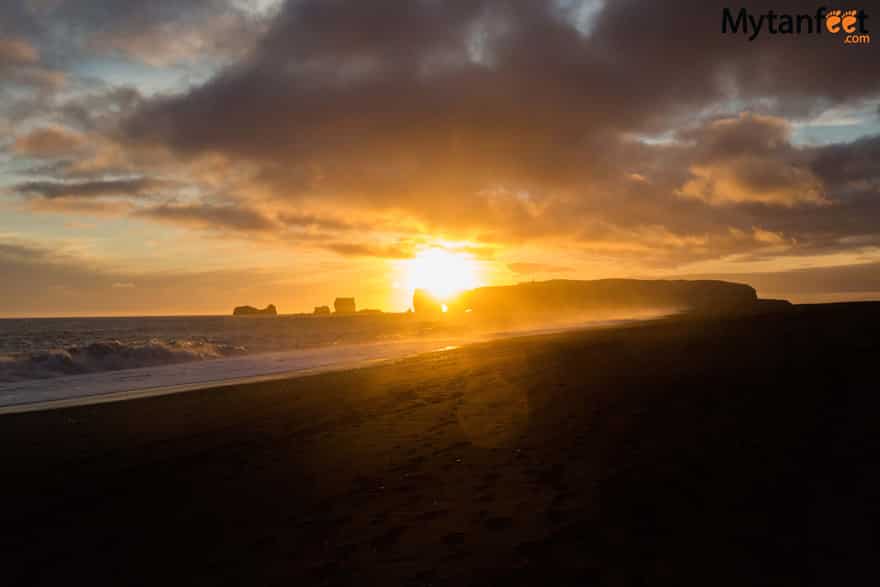 Since the weather had cleared up a lot and it wasn't raining, we decided to try to see the Northern Lights. I downloaded the Aurora app (one of the best apps for Iceland) to check conditions. We drove to the plane crash parking lot, made dinner in the back of the camper van and waited for night to fall.
As we were sitting in the car eating, I noticed a streak across the sky. I squinted, not sure what it was but grabbed my camera nonetheless. I snapped a photo with as slow of a shutter speed as I could without a tripod and looked at my view finder. That's it! The Northern Lights!
Yeison jumped up like he sat down on a bed of hot rocks and grabbed his camera too. Where? he looked up frantically. There! I pointed. But 15 seconds later, the streak vanished. I checked my app which said we had a 60% chance of seeing the lights if we went more east. So we turned on the car and sped away, officially chasing the Northern Lights in Iceland.
When we got to Seljalandafoss waterfall, I saw a line in the sky again and this time, they were bright green streaks. There were no denying it, it was definitely the Northern Lights! We pulled over quickly, pulled out our cameras and spent the next 30 minutes watching the lights dance, flicker and shine across the dark sky.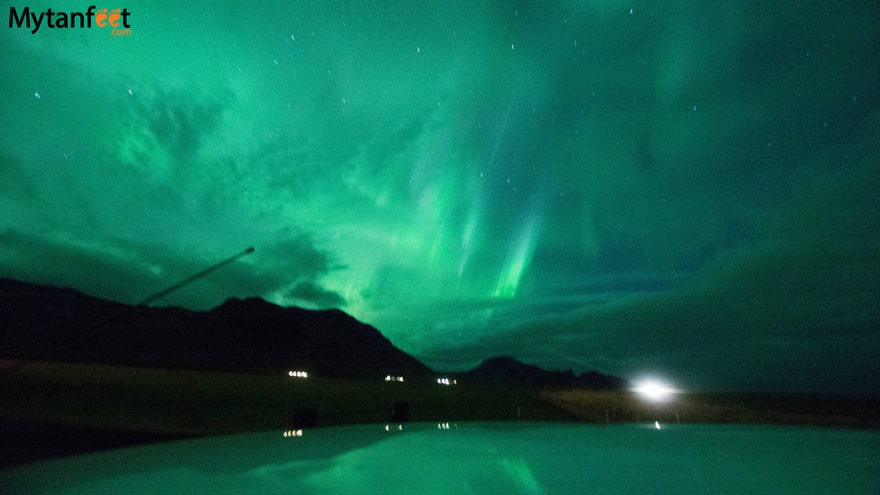 This is the reason why we love to travel. To have unexpected moments like this. To have one in a lifetime experiences. To see our beautiful world.
Seeing the Northern Lights like this, on our own in the middle of the night was better than I could have imagined. Yeison and I huddled in the cold together, watching the lights dance in front of us with a 60 meter waterfall thundering behind us.
Day 6 & 7: Reykjavik, Blue Lagoon

We spent the last two days in Reykjavik. We walked around downtown to see the church and check out the city which we absolutely loved. We aren't city people but Reykjavik is small and cute, very different to typical cities in Europe like London and Dublin. It was so clean and there weren't that many cars.
We splurged on a visit to the Blue Lagoon on our last night, we actually hadn't gone to any hot springs in Iceland yet so I figured we might as well go to the most famous one.
Day 8: Fly Out

Although we were sad to leave, we were ready to go to our next destination, Ireland. We got to check everything we wanted to see for our first trip to Iceland: glaciers, lava fields, Icelandic ponies, sheep, waterfalls, rivers and lakes. But there were so many more things we wanted to see that we're already making plans to go back to Iceland summer 2019!
Two months later as I'm writing this post, I'm still reminiscing about our Iceland trip and nostalgically flipping through Instagram looking at other people's amazing pictures. Our Iceland trip was full of wonderful surprises and I'll never forget every moment, even the rainy, cold and windy ones.
Everyone leaves Iceland with their own special memories as the country is full of surprises. No two trips are exactly the same, even if they're the same itinerary. We bumped into some other bloggers who were in Iceland the exact time as us, doing the exactly same thing but they didn't see the Northern Lights or Kviarmyrarkambur glacier. But they did get to see Skaftafell waterfall and other things we missed.
So I hope our trip inspires and encourages you to buy that plane ticket to Iceland. You will not regret it!
Just remember that Iceland is an expensive country, check out how much we spent for a week in Iceland.
You can also read our Iceland fall packing list for more tips.